Welcome to Check Your Shelf. This week as I dive into the week's banned book news, each headline is a reminder of the pervasiveness of the anti-LGBTQ rhetoric that emboldened the shooter in Colorado Springs. The book bans, the anti-trans legislation, the attack on public education, the threats against Drag Queen Story Times…it's all linked, and it all led to last weekend's shooting. I am so angry and so sad, and I know that whatever I'm feeling is nothing compared to those of you who have to actively navigate this danger. Friends, I am so sorry that this keeps happening, and I'm so sorry that you have to face it in your personal as well as your professional lives.
Collection Development Corner
Publishing News
The FBI shut down Z-Library, one of the world's largest online pirated libraries, and BookTok experienced a significant clash between reader and authors.
Amazon makes cuts to its Books business.
TikTok will sell books directly to users via its marketplace.
How publishing is raising money for Georgia's Senate runoff election.
How to support the HarperCollins union during their strike.
New & Upcoming Titles
Bernie Sanders is publishing a new book, It's Okay to Be Angry About Capitalism.
Michael Lewis' next book will focus on crypto exchange FTX founder Sam Bankman-Fried, as well as the recent FTX collapse.
Caroline Kepnes announces a fourth Joe Goldberg novel for April 2023.
Mary J. Blige is publishing a picture book in 2023 called Mary Can!
First look at Emily Henry's upcoming romance novel, Happy Place.
Andrea Bartz has the cover reveal for her next book, The Spare Room.
And here's the cover for Riley Sager's upcoming Gothic thriller, The Only One Left!
7 of the best romance novels for the fall.
The best books of the year from Amazon, Esquire (nonfiction), Kirkus (fiction, mysteries/thrillers, book club fiction, historical fiction, romance, SFF, debut fiction, fiction in translation), Time, Washington Post (general, fiction, mysteries/thrillers, nonfiction).
30 most-anticipated books for Winter 2022.
Weekly book picks from Crime Reads, LitHub, The Millions, New York Times, USA Today.
Want to read books from this newsletter? You can, for free! Get three free audiobooks with a trial to Audiobooks.com. Claim your 3 free audiobooks now!
What Your Patrons Are Hearing About
The Light We Carry: Overcoming in Uncertain Terms – Michelle Obama (New York Times, OprahDaily, People, Time, USA Today, Washington Post).
The Queen: Her Life – Andrew Morton (New York Times, Time, Vanity Fair, Washington Post)
No Filter: The Good, the Bad, and the Beautiful – Paulina Porizkova (New York Times, Shondaland)
How to Survive Everything – Ewan Morrison (New York Times)
Flight – Lynn Steger Strong (USA Today)
Now is Not the Time to Panic – Kevin Wilson (Washington Post)
On the Riot
New and recent YA romances to get you in the holiday spirit.
9 great new queer middle grade books.
The best weekly new releases to TBR.
Reading pathways for Jesse Q. Sutanto.
All Things Comics
On the Riot
YA and middle grade native and Indigenous graphic novels and comics.
7 female superheroes who were better than their male counterparts.
Audiophilia
LeVar Burton will be narrating a new audiobook version of A Christmas Carol, available exclusively on Apple Books.
Book Lists, Book Lists, Book Lists
Children/Teens
9 YA books with fierce women leaders like Black Panther.
Adults
10 long-running series to last you through the winter.
4 romance books where the heroine makes the first move.
Cookbooks with recipes that come together in a snap.
9 vegetarian cookbooks that even meat lovers will adore.
8 books about the reality of living with chronic illness.
Books about Princess Margaret, Princess Diana, and Queen Elizabeth II.
11 historical novels about women misbehaving and making history.
5 SFF books about spies and espionage.
7 nautical thrillers above, below, and around the seven seas.
10 coffee table books perfect for pop culture fans.
8 romance novels featuring trans women, by trans authors.
What to read during the World Cup.
On the Riot
9 inventive robot books for kids.
10 picture book biographies of authors to show kids how to use their words.
Books about ocean life for all ages.
8 books about drugs, from science to politics.
21 books that went viral on TikTok.
10 of the most popular mystery books on TikTok.
8 amazing works of SFF in translation.
10 of the best sci-fi/horror novels.
42 of the best fantasy novels from the last 10 years.
The blank men of horror and thrillers.
9 of the best Christmas novels.
Twisty romantic duologies to devour.
Level Up (Library Reads)
Do you take part in Library Reads, the monthly list of best books selected by librarians only? We've made it easy for you to find eligible diverse titles to nominate. Kelly Jensen has a guide to discovering upcoming diverse books, and Nora Rawlins of Early Word has created a database of upcoming diverse titles to nominate, as well as including information about series, vendors, and publisher buzz.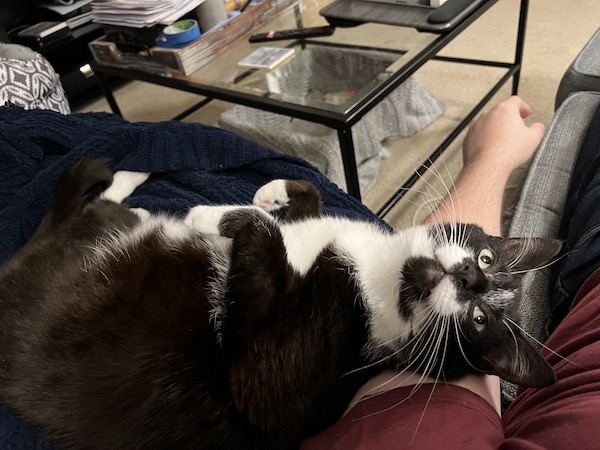 Blaine sent me this photo while I was at work…apparently Dini was being very needy and making sure everyone could see how adorable he is!
Okay, friends, I'll check in again on Friday. Please be kind to yourselves, and I hope you all get to spend time this holiday week with people who make you feel happy and loved and safe.
—Katie McLain Horner, @kt_librarylady on Twitter.