Hello Epic Insiders, and happy holiday week to those celebrating, particularly to those celebrating Native American Heritage Day! We've got some great posts about Indigenous and Native authors to browse if you're looking for gifting ideas and/or ways to support their community.
We also have some amazing Cookbook Showdown posts if you're looking for recipe ideas and inspiration (I've never been so tempted to stray from my grandmother's recipe as I was when I saw the pumpkin pie post).
Alright, that's it from me — onto book talk!
-Jenn
What Are You Reading?
People of the Riot: we are gathered here today to lament my reading plans. They showed such promise, such hope, such potential! But ultimately they succumbed to an enemy that could not be vanquished: a stomach flu. I don't actually know if what happened to me was the virulent stomach bug that seems to be going around or if it was food poisoning, actually. All I know is that I spent this last week becoming uncomfortably close friends with a porcelain bowl and developed a brief fear of ingesting solid food for a minute there. I'm better now, but when I tell you I didn't read a single page or listen to a single second of the books I thought I'd read, I mean it!
So here we are, a brand new week, a brand new reading plan, except that plan is basically the same as last week's for the reasons mentioned above. But I already told you about those reads, so instead I thought I'd tell you about a few of the shows and movies that brought me comfort in between trips to toss my cookies, and then share a few holiday recs just for funsies.
What I Watched
The Dragon Prince: Mystery of Aaravos (Netflix) – Jenn came through with this recommendation and it was just perfect! It's an animated show about half-brother princes Callum and Ezran and a moonshadow elf named Rayla, who are on a mission to end a thousand-year-old conflict between humans and the mystical creatures of the magical realm of Xadia. To do this they must transport (and keep safe!) a dragon egg that was long rumored to be destroyed. The episodes are less than a half hour each, there are four seasons to marathon, and the brothers have this hella grumpy pet Glowtoad named Bait (because he's tasty to underwater creatures lol) and I want one of him SO MUCH.
See How They Run (HBO Max) I cannot tell you how up my alley this light and silly movie was, but lemme try: it's a murder mystery set in 1950s London that revolves around the cast of the long-running West End Show, Agatha Christie's The Mousetrap (it's still running today and I've seen it, it too is silly and over-the-top fun). When one of the show's crew members is found dead, a weary inspector and the very peppy, eager rookie assigned to work with him must figure out whodunit. That peppy pepperson is played by Saoirse Ronan whom I love and absolutely kills it in this role! The movie also features fun performances by Sam Rockwell, Adrien Brody, Ruth Wilson, Reece Shearsmith, Harris Dickinson and David Oyelowo.
Vatican Girl (Netflix) – I've come to a deeply jaded place when it comes to true crime shows, podcasts, and books, which so often feel exploitative and gross in how they rehash traumatic events with varying degrees of accuracy and little to no respect for the victims of these horrifying acts. But this one caught my eye because the family of the missing girl at the heart of the story participated in the documentary, it never gets super intensely graphic, and because Vatican conspiracies are an easy way to reel me in, in general. The case begins in 1983 Rome when 15-year-old Emanuela Orlandi vanishes after leaving a music lesson. The decades-long mystery appears to have some gross ties with the Vatican and unfortunately remains unsolved. It was still very interesting to learn about, I hope it somehow helps the family find answers.
What to Read
And now for some holiday reading recs in case you're starting to look for those, or if you're in the mood for them now. Tis the season!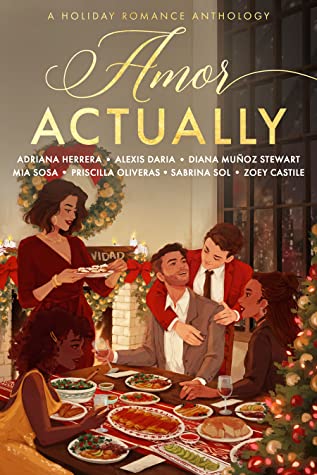 Amor Actually: A Holiday Romance Anthology by Zoey Castile, Alexis Daria, Adriana Herrera, Diana Muñoz Stewart, Priscilla Oliveras, Sabrina Sol, and Mia Sosa – This anthology came out last year and was the romance read of my dreams: love and spicy stories set during the holidays featuring a Latine cast? Mi corazon!! The lineup of authors is bananas good and the nine stories, all of which take place during Nochebuena, or Christmas Eve, are all so satisfying. Treat yourself to this one.
A Christmas Spark by Diana Biller – I have been chasing the high of The Widow of Rose House for years, and last year Trisha Brown (of our When in Romance podcast) reminded me that A Christmas Spark exists. This is a delightful little morsel of a read on its own, but if you did read and love Widow of Rose House, here's a treat: this novella is about Sam's parents when they first met! And it's adorable.
The Christmas Murder Game by Alexandra Benedict – This one comes to you from my TBR because it just sounds like a thing I will love: Christmas + a murder mystery! Here's the pitch: Twelve clues. Twelve keys. Twelve days of Christmas. But who will survive until Twelfth Night? I am so in.
Stay bad, bookish, and healthy, friends!
Vanessa