Welcome to Check Your Shelf. This weekend, I actually managed to spend time with not one, but TWO groups of friends! I can't remember the last time I engaged in this much socialization, and I'm still slightly confused that I spent so much time doing something that wasn't work or sleeping. I should probably try this "socialization" thing more frequently!
Collection Development Corner
Publishing News
Judge Florence Pan releases her written opinion on the decision to block Penguin Random House's merger with Simon & Schuster.
HarperCollins union workers go on indefinite strike over pay disputes.
The American Booksellers Association charts the negative impact that Amazon's expansion has had on retailers.
New & Upcoming Titles
Karin Smirnoff's entry in the Millennium series, The Girl in the Eagle's Talons, will be out in August 2023.
Jake Gyllenhaal announces his debut children's book, The Secret Society of Aunts and Uncles.
Not surprisingly, Riley Sager has another book coming out next summer!
Here's the cover reveal for Sian Gilbert's debut novel, She Started It, which is getting comparisons to Liane Moriarty and Lucy Foley.
16 historical romances new to shelves this fall.
51 new books to read for Native American Heritage Month.
The best books of 2022 so far.
Weekly picks from Crime Reads, LitHub, The Millions, and USA Today.
November picks from Goodreads, Lambda Literary, Tor.com (fantasy).
What Your Patrons Are Hearing About
Flight — Lynn Steger (LA Times, New York Times, Washington Post)
Dr. No — Percival Everett (LA Times, Washington Post)
The Stories We Tell: Every Piece of Your Story Matters — Joanna Gaines (People, USA Today)
Novelist as a Vocation — Haruki Murakami (Guardian, New York Times)
Now is Not the Time to Panic — Kevin Wilson (New York Times, USA Today)
RA/Genre Resources
Some of the trends that Harlequin editors are noticing in romance novels.
Why New Mexico is a great place for sci-fi.
On the Riot
New LGBTQ holiday romances for 2022.
Amazon is adding Goodreads ratings to book listings.
Why we need more Thanksgiving romances.
All Things Comics
Kevin Conroy, the iconic voice of the animated Batman series, has died at 66.
Kevin O'Neill, British comics artist and co-creator of the League of Extraordinary Gentlemen, has died at 69.
On the Riot
Romantic YA comics and graphic novels.
10 grimdark comics for gloomy nights.
Audiophilia
Jordan Peele's Monkeypaw Productions is launching its first horror audio series on Spotify. SIGN ME UP.
Barnes & Noble picks their best audiobooks for 2022.
7 audiobooks to help you find perspective and create peace.
Book Lists, Book Lists, Book Lists
Children/Teens
Children's books about Thanksgiving without the myth.
16 YA books if you're a fan of Colleen Hoover.
Adults
14 books to read for your Fifty Shades of Grey fix.
The best robots in science fiction.
9 books that tackle the myth of the American hero.
12 inclusive histories for Veterans' Day.
10 books that celebrate feral girls.
5 scary novels that use setting to embody horror.
15 memoirs about chronic illness and disability that might change the way you see the world.
Want to read books from this newsletter? You can, for free! Get three free audiobooks with a trial to Audiobooks.com. Claim your 3 free audiobooks now!
On the Riot
Timely books about young people making a difference.
The best middle grade fantasy series to discover.
YA books about social media and online fame.
22 must-read Indigenous authors.
8 captivating World War II books about books and libraries.
The 25 best books about climate change to add to your TBR.
9 books like God of War: Ragnarok.
12 books to make you ugly cry.
8 mystery novels with non-detective main characters.
8 fictional books about philanthropy, nonprofits, and wealth.
8 of the best books about ceramics to pique your interest.
9 gloriously feral goblincore books for winter reading.
Queer space adventures that are out of this world.
Level Up (Library Reads)
Do you take part in Library Reads, the monthly list of best books selected by librarians only? We've made it easy for you to find eligible diverse titles to nominate. Kelly Jensen has a guide to discovering upcoming diverse books, and Nora Rawlins of Early Word has created a database of upcoming diverse titles to nominate, as well as including information about series, vendors, and publisher buzz.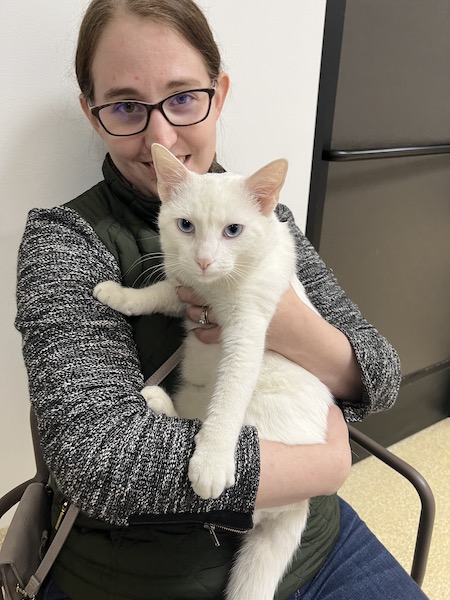 This issue's cat photo was taken at a local animal shelter over the weekend. My husband and I sometimes visit to love on the cats, and we got to meet this GORGEOUS blue-eyed boy, who's super chill and loves being held! Honestly, if we didn't have a limit on the number of pets we can have in our apartment, we probably would have left with him — he was such a sweetheart!
All right friends — I'm out. I'll see you all on Friday!
—Katie McLain Horner, @kt_librarylady on Twitter. Currently listening to Last Call: A True Story of Love, Lust, and Murder in Queer New York — Elon Green