It is Actual Halloween, and I always feel thrown off when it's on a Monday, but Caitlin is bringing you all the correct vibes below. May you have some of the treats you like and may the tricks be minimal, today and all days.
It is also time for a (really chill) vote! The Book Riot Podcast would like your input for their last bonus episode of 2022, and you can weigh in right here. Voting is open until Sunday if you need time to mull.
Onward to books!
-Jenn
What Are You Reading?
Happy Monday and Happy Halloween, Insiders! I hope your weekend was filled with spooky delights or cozy comforts or gorgeous leaf peeping or whatever this season means for you! I, for one, am declaring that it is still Halloween season for the next three weeks because October just didn't October hard enough for me this year, so here is your permission to lean into the meaninglessness of time and create your own rules too *throws glitter and biodegradable confetti*
I've been a little down on myself because my reading volume has been low this month, but this past week, I feel like I've gotten my groove back!
I mentioned a couple weeks ago that I've been experimenting with where my reading enjoyment falls on the horror spectrum. Well, I've also been experimenting with trying to enjoy audiobooks. It feels like I should love audiobooks given my love for podcasts, but I haven't quite been able to get onboard. I don't like being read at, nor do I love different character voices (I can appreciate the art of it, it's just not for me). I want a narration that feels natural, conversational, and only uses subtle vocal changes to indicate different character dialogue if necessary. So I've been thinking nonfiction is probably my best route for enjoying audiobooks — though I have another whole laundry list of my particularities when it comes to nonfiction (that's for another time).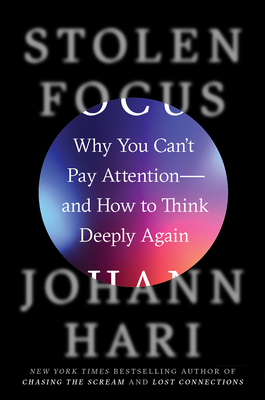 A couple folks had been reading/talking about Stolen Focus by Johann Hari in our staff Book Riot Slack, so I thought that would be a great title to try on audiobook — and it was! Did you know that your brain rinses itself when you're sleeping? That an average adult working at an office only stays on-task for 3 minutes before switching focus? That it takes you 23 minutes to get back to focus after you switch tasks? 🤯 There were some good nuggets in here, but more importantly, I enjoyed Johann Hari's narration — it felt natural and conversational in a way that kept me engaged. Next up, I'm trying the audiobook of How We Show Up by Mia Birdsong.
Last week I also devoured my DRC of The Crane Husband by Kelly Barnhill (set to publish February 28). I didn't realize it was a novella when I picked it up and read it completely in one sitting. This one is based on folk tales from several different places of partners who are actually animals but take the shape of a human. It was so weird and eerie and deliciously folkloric. I think I might pair it with Flyaway by Kathleen Jennings to begin a collection of short, dark, with a kiss of magic books. And of course up next (I'm just waiting for my library hold to come in), I also have Kelly Barnhill's When Women Were Dragons to look forward to.
What are you reading this week? Share in the comments!
-Caitlin