Hi Book Friends!
How are we doing? It's Thursday and it's almost Halloween. What are your Halloween plans? I'm going to watch some scary movies and read some scary books this weekend, and then on Monday, I'm thinking I might hit up a NaNoWriMo kickoff party. Because if October is all about everything Halloween, November is all about getting some serious writing done. Anyone else participating in NaNoWriMo in November? Let's hold each other accountable! Anyway, let's talk books.
Book Deals and Reveals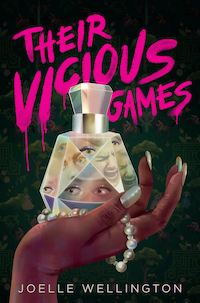 Gossip Girl meets Hunger Games in Joelle Wellington's debut novel Their Vicious Games, and just check out the cover! This YA mystery thriller is out in summer 2023.
Nikki May's Wahala will be out in paperback soon! And here is the cover reveal for the upcoming paperback, which will be out from Doubleday Books in February 2023.
Literary Hub's got the exclusive cover reveal of Stephen Buoro's debut novel The Five Sorrowful Mysteries of Andy Africa, which will be published by Bloomsbury in April 2023.
And check out the gorgeous cover for Ann Aguirre's The Only Purple House in Town! This book is set for release on July 11th, 2023.
Peloton instructor Emma Lovewell's memoir Live Learn Love Well: Lessons from a Life of Progress Not Perfection, will be out on May 2, 2023, and here is the cover reveal.
Last week when Roxane Gay spoke at Lesbians Who Tech, the author announced that her podcast, The Roxane Gay Agenda, will be returning in November. You can subscribe to the podcast on Luminary to hear the first new episode as soon as it comes out.
Netflix has revealed the streaming date for the upcoming adaptation of Elena Ferrante's The Lying Game. The six-episode show debuts on Netflix globally on January 4, 2023.
Image Comics' bestselling series Geiger, created by Geoff Johns and Gary Frank, is being adapted for television by Justin Simien alongside Johns for Paramount Television Studios.
The Young Adult Library Services Association has announced their Teens' Top Ten YA Books of 2022, voted on by teenagers in 16 book groups.
And Barnes & Noble Booksellers chose the 11 books that they have "felt the most pride in recommending to readers of all interests through the year."
Book Riot Recommends
I'm a Contributing Editor at Book Riot, I write the Today in Books newsletter, and I'm a Bibliologist for Book Riot's Tailored Book Recommendations subscription service. I also have a PhD in English, so I'm basically a doctor of books. Books are my life, in other words, so in this section of the newsletter, let me share with you some upcoming books I'm super excited about. And I think you will be too!
Can't Wait for This One!
A House with Good Bones by T. Kingfisher (Tor Nightfire, March 28 2023)
You know it's almost Halloween. We've talked about it. So you know I had to tell you about one of my most highly anticipated horror novels of 2023. Seriously. Can't. Wait. Especially because I just read (and really enjoyed) this author's 2022 horror novella What Moves the Dead.
A House with Good Bones is about Sam Montgomery, who is really worried about her mother. Out of nowhere, Sam's mom is acting jumpy and nervous, and she's starting to make strange changes to the family home on Lammergeier Lane. Sam wonders if her mother's behavior has anything to do with her late grandmother. And as shocking family secrets are revealed, Sam will discover that she's not wrong. Now Sam struggles to uncover the truths behind their family home before Lammergeier Lane completely consumes her.
Want to read books from this newsletter? You can, for free! Get three free audiobooks with a trial to Audiobooks.com. Claim your 3 free audiobooks now!
Fave Horror Books & Movies
As I said, Halloween is almost here, and I'm going to be participating in the Weekend-Ween Readathon this weekend. I'll also be watching some scary movies. Just to share my excitement with you a bit more, I thought I'd share some of my favorite horror novels and horror movies. Because seriously this is the best time of the year, and we have to savor these last moments.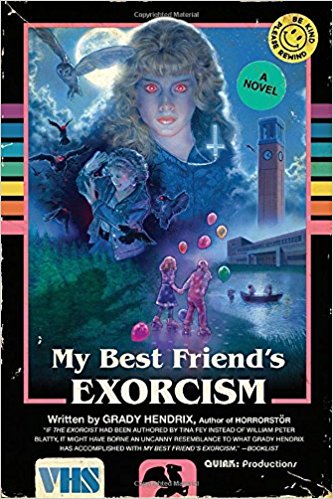 My favorite horror novels:
My Best Friend's Exorcism by Grady Hendrix
White Smoke by Tiffany D. Jackson
The Only Good Indians by Stephen Graham Jones
The Shining by Stephen King
Beloved by Toni Morrison
Head Full of Ghosts by Paul Tremblay
The Last House on Needless Street by Catriona Ward
My fave from this year: Just Like Home by Sarah Gailey
My favorite horror movies:
Us (Jordan Peele)
Hereditary (Ari Aster)
The Witch (Robert Eggers)
Jennifer's Body (Karyn Kusama)
Evil Dead 2 (Sam Raimi)
Some big faves from this year:
Bodies, Bodies, Bodies (Halina Reijn)
Barbarian (Zach Cregger)
And one more people need to watch: His House (Remi Weekes) — it's on Netflix! Do it this weekend!
Disclaimer: I'm not saying these are THE BEST, but these are my own personal faves. And there are a ton I love that aren't listed here. So if you don't agree, make your own list. Respectfully.
And Here's A Cat Picture!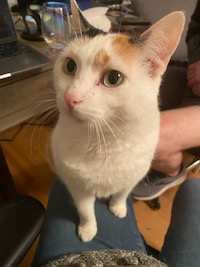 I was playing some JackBox Games with friends last night, and this sweet calico girl jumped up on my leg. I just wanted to share Cersei's cute face with you all today.
Anyway, I hope your weekend in amazing. And I will talk to you again on HALLOWEEN! OooooOOOooOooooooooOOO.