Welcome to Read This Book, a newsletter where I recommend one book that should absolutely be put at the top of your TBR pile. Recommended books will vary across genre and age category and include shiny new books, older books you may have missed, and some classics I suggest finally getting around to. Make space for another pile of books on your floor because here we go!
Today's pick hits all the right notes: a queer vampire archivist romance set in San Francisco.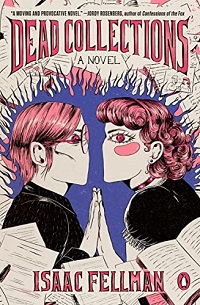 Sol (short for Solomon) Katz is a Jewish trans man who is also an archivist and also a vampire. Most people don't know he's a vampire. Well, human resources at the archives where he works knows but his co-worker, Florence, doesn't. Florence is really transphobic and every interaction she has with Sol makes me clench my jaw and shout expletives. They work at the Historical Society of Northern California.
The archives are, of course, in a basement devoid of windows so Sol is totally safe from the sun down there. He has been living in/sleeping in his office, which is totally against the rules. He is too terrified of trying and maybe failing to sun-proof an apartment so he just lives and works in the archives and sometimes goes out around town at night. He goes out at least once a week or so to get his blood transfusion. He doesn't actually attack people. Vampires are a known entity in the world of this book and there are night clinics where they get blood that can't be given to the living, such as blood that has viral infections.
Our other main character is Elsie. She has decided to donate her deceased wife's papers, ephemera, etc. to the Historical Society and Sol has accepted. The deceased, Tracy, was the creator of Feet of Clay, a '90s cult classic show that was kind of a knock-off of the X-Files. Sol was absolutely obsessed with Feet of Clay back in the '90s and was super into the fandom.
Elsie, it seems, is super into Sol and flirting blooms into a tentative romance. More than once in the book, Sol comes out as transgender. And then as a vampire. And sometimes both at once. The book is not only told through Sol's point of view, but from bits and pieces of Tracy's papers that were donated, old emails, fan fiction, and scripts. It's an intricate story about the histories of the main characters involving meditations on identity, grief, love, and empathy and it is absolutely lovely.
Want to read books from this newsletter? You can, for free! Get three free audiobooks with a trial to Audiobooks.com. Claim your 3 free audiobooks now!
---
That's it for now, booklovers!
Patricia
Find me on Book Riot, the All the Books podcast, Twitter, and Instagram.
Find more books by subscribing to Book Riot Newsletters.