Hey‌ ‌there‌ horror fans, ‌I'm‌ ‌Jessica‌ ‌Avery‌ ‌and‌ ‌I'll‌ ‌be‌ ‌delivering‌ ‌your‌ ‌weekly‌ ‌brief‌ ‌of‌ ‌all‌ ‌that's‌ ‌ghastly‌ ‌and‌ ‌grim‌ ‌in‌ ‌the‌ ‌world‌ ‌of‌ ‌Horror.‌ ‌Whether‌ ‌you're‌ ‌looking‌ ‌for‌ ‌a‌ ‌backlist‌ ‌book‌ ‌that‌ ‌will‌ ‌give‌‌ you‌ ‌the‌ ‌willies,‌ ‌a‌ ‌terrifying‌ ‌new‌ ‌release,‌ ‌or‌ ‌the‌ ‌latest‌ ‌in‌ ‌horror‌ ‌community‌ ‌news,‌ ‌you'll‌ ‌find‌ ‌it‌ ‌here‌ in‌ ‌The‌ ‌Fright‌ ‌Stuff.
Happy Hauntings, everyone! Welcome to the second week of October. Here in New England, the temperatures are getting cooler, the leaves are getting crunchier, and the days are getting shorter. And while the long, dark hours of the night are a perfect time for reading horror, between the shortening days and the incoming holiday season, it does start to feel like there's just not enough time. So if you've been starting to feel the pinch lately, and your reading time is taking a hit, one of this week's Riot recommendations might do the trick! They're all exciting recent indie horror titles under 200 pages.
I've also got a special treat for you: an excerpt from Eric LaRocca's delightful and disturbing forthcoming title They Were Here Before Us! So make sure to stay tuned at the end of the Riot Recommendations section for a sneak peek!
Bookish Goods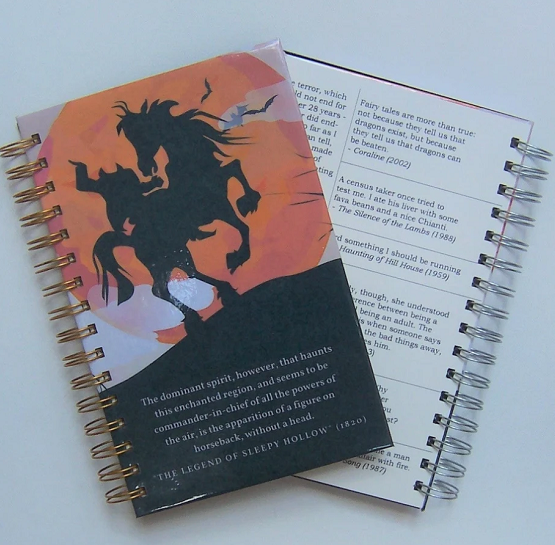 Yes it is I, returning to you once again with a (somewhat) Legend of Sleepy Hollow-themed item. A handful of years ago, I started keeping a reading journal because all my recent reads were starting to blur together. Journaling became a habit, and now I'm always on the lookout for fun journals (book themed when possible) to jot down book details and quotes in, and hey ho what do you know: I found a horror novel-themed one! It even has quotes from famous horror novels inside the covers, so not only can you keep track of your current read, but you might pick up a few new ones as well!
$21
New Releases
This novel. Oh wow, this novel. HellSans is a brick of a sci-fi horror novel about a dystopic future where mainstream society is a chemically placated population of "blissed" out people living lives carefully monitored by robot companions meant to help everyone be "their best selves." A custom typeface known as HellSans is everywhere, and fills readers with a peaceful sense of euphoria, keeping everyone content. Except for those who are allergic to it. HSAs are outcasts, discarded from society and left to deal with their debilitating reactions to the ever present HellSans. The novel is told from the dual perspectives of two women living in this stratified society, one who played a role in its creation, and one with the key to its salvation.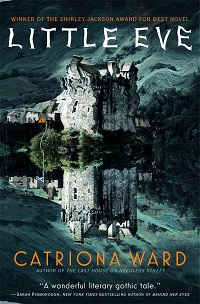 By now I'm guessing that Catriona Ward is at least on most of your radars, if not yet on your bookshelves. Her deeply psychological The Last House on Needless Street was released in the U.S. last year by Tor Nightfire, followed by the Southwestern horror of Sundial earlier this year. But if neither of those suited your fancy, I recommend checking out her newest U.S. release, the gloriously gothic Little Eve. Set on an isolated island off the coast of Scotland, Little Eve is about a clan preparing for the arrival of a being know as The Adder, who they believe will bring about the end and rebirth of the world. And when it comes, the Adder will choose one of their own to gift with its powers. Eve is determined that chosen one will be her, but a murder and an unwelcome visitor from the mainland may spell disaster for her plans.
For a more comprehensive list, check out our New Books newsletter!
Riot Recommendations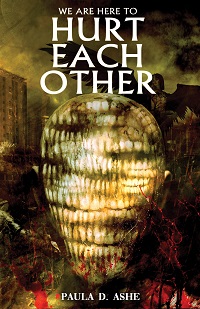 I've said before how much I love collections as one of the best ways to get familiar with an author's work— their style, their voice, the themes and images that inspire and inform their work. The synopsis of We Are Here to Hurt Each Other promises 12 tales of a "dark and bloody world" and wow does Ashe deliver. Grotesque and disturbing, the collection explores the depths to which a person can be driven and the limits to which they'll go. These stories will sink their claws into you and good luck getting them out again. We Are Here to Hurt Each Other tops out at 152 pages, making it the perfect choice for a short autumnal afternoon.
I've been a fan of Cynthia Pelayo since I first read Loteria, and after the heartbreaking beauty that was Into the Forest and All the Way Through, I leapt at the chance to read her newest book. Crime Scene (out October 13th) is a story told in narrative verse in the model of an epic poem. Starting with Report 0001, readers follow the journey of a hero, Agent K, in the quest to solve a girl's brutal murder. We all know how the story goes, a missing young woman, a gruesome death, another crime to be investigated but too often left unsolved. But Pelayo challenges our complacency with this narrative, urging us, through Agent K's eyes, to invest ourselves in the case, to let ourselves feel the tragedy, the grief of the loss, the painful hope that maybe, someday, there will be answers. At 128 pages, Crime Scene is a short read, but a devastating one.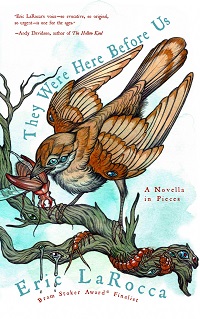 You might have noticed that Eric LaRocca is a frequent flyer on this newsletter, for a couple of reasons: 1) Eric's work is honestly some of the most unique, disturbing, delightfully queer horror that I've had the joy of reading, and 2) They are an amazingly prolific author. I am honestly in awe. But also delighted by how frequently I get to add a new LaRocca to my TBR! They Were Here Before Us is the newest novella — a "novella in pieces" — and it's a series of unnerving vignettes that share a thematic heart, forming a single story of death, bodily destruction, and love. I've had the chance to read it and it's amazing. Odd, dark, disgusting but beautiful — I definitely recommend ordering a copy, and at 104 pages, it's the perfect book for a busy fall day.
But reader be duly warned: I also recommend heeding the content warning at the beginning for "graphic depictions of dismemberment, disembowelment, interspecies necrophilia, heavily implied interspecies love affairs, and art-as-torture."
Keep scrolling for a sneak peek of They Were Here Before Us!
ALL THAT REMAINS IS YOURS TO KEEP
I can still so distinctly recall the moment when it first happened to me: the crucial, soul-defining moment when I realized that I loved her and loved her in such a way that I understood I could never fully possess her as I had always intended.
Perhaps "love" wasn't exactly the right word.
In fact, perhaps "love" was far too benign of a word given the intensity of my feelings for her.
After all, the word "love" usually implies that there are two consenting individuals, both capable of giving and receiving respect, admiration, esteem, tenderness. Though she might have once loved me — might have cared for me, nurtured me the way I had hoped, the way I had dreamed and wanted — that opportunity was now decidedly nonexistent, considering the fact that she was dead and had been dead for several weeks when my parents first stumbled upon her corpse in a shallow ditch not far from a busy motorway.
For my siblings and I, she was our first cradle, our bassinet — the very framework of our existence. All thirty of us were more than grateful for her body as we had already begun to make
our home, our refuge, our haven from the delicate intricacy of her cadaver. Her nostrils were our secret passageways where we could lose ourselves, where we could wander aimlessly until we were found. Her lips were our velvet cushions, luxurious pillows where we could sleep and dream until our next feeding. Her pried-open, ever-vigilant eyes — our relaxing sauna, far more preferable and far more tepid than any mountain spring. Her flesh — our holy communion, our sacred bond, the thing that kept us tethered as a family.
We had gorged ourselves on her body's offerings day in and day out, our parents sometimes feeding us with bits of her they had taken and tucked away for safekeeping. For a family of beetles, we were keenly aware just how fortunate, how privileged we were to maintain such a luxurious environment. Our parents often regaled us with tales of former residences where they had to make do with the corpse of a shrew or the rotted body of a small possum. To find a human so healthy and in such excellent condition as she hadn't been dead for too long was a work of pure magic, an object of enchantment.
Of course, as I look back on the moment when it first occurred to me that I loved her and loved her in earnest, I comprehended that those feelings, those sentiments, were present as long
as I had been a living thing — a measly insect that crawls, creeps, and chews its way through the brawn of existence.
After all, her body was all I had ever known.
Still, as I looked back and recalled the moment I had first described these feelings as "love," I realized I had always been innately curious as to how such a radiant, mesmerizing creature ended up flat on her back in a small ditch hidden away in the darker corner of a lonely thicket. I couldn't help but wonder what had happened to her. I wondered why she always appeared frightened, her eyes and mouth permanently open as if forever caught in the moment of some terrible surprise. I wondered why parts of her silky auburn hair were now crusted black with bits of dried blood as dark as motor oil.
I yearned to know her secrets. Perhaps the most beguiling and mystifying one had to do with the fact that her stomach was always distended. Our parents assured us that this was normal and that all different types of bodies often decompose in such a way that causes them to bloat obscenely or inflate with gases.
Regardless, I will always recall the moment when I was crawling my way across her belly and I felt a distinct sense of affection, an indescribable feeling of joy and how it seemed to overcome me almost instantly. It wasn't because I felt safe or because I knew my parents cared for their brood in such a way that meant we would never want for anything as long as we lived. Although those feelings were quite frequent and were well founded given the love we were afforded, the thought that suddenly came crashing into my mind had nothing to do with that.
It was a tremendous, remarkable moment — when I realized that I loved her and loved her for far more than the mere use of her body as my home, my shelter. It wasn't long until I found myself scurrying across her face and weaving in between her nostrils, playing a game with myself that I knew she might appreciate if she were able to see me in all my glory.
A curious part of me wondered if she might be disgusted with me, if she might despise me for all I had taken from her or simply detest me for the fact that I was a mere bug — a small, pathetic insect undeserving of such beauty, such magnificence, such grace. After all, my parents had ravaged her and made a nest, a viable home in her body for their starving, insatiable young.
To her, we might have been monsters. Perhaps we were. But she didn't object. How could she?
As always, you can catch me on twitter at @JtheBookworm, where I try to keep up on all that's new and frightening.