Hi mystery fans! I am obsessed with the trailer for Shotgun Wedding and need this movie NOW. Apparently I am here for all the romance + thriller mixes. Now for the mysteries I have for you: new releases, backlist true crime memoirs, something new to watch, and news.
Bookish Goods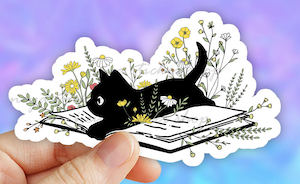 I love using stickers like this as bookmarks. ($5)
New Releases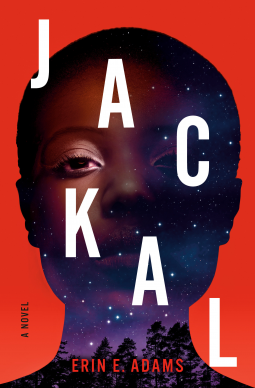 Jackal by Erin E. Adams
For fans of MCs returning home to their hometown, past and present missing girls mysteries, and a dash of horror. Liz Rocher is returning to her small hometown in Pennsylvania and has a strained relationship with her mom. She's only there for her best friend Mel's wedding. That is until Mel's daughter goes missing and Liz is forced to deal with sudden memories of her childhood, hiding in the woods the night another girl was murdered…
This is my current audiobook listen, which has dual narrators I'm enjoying: Sandra Okuboyejo and William DeMeritt.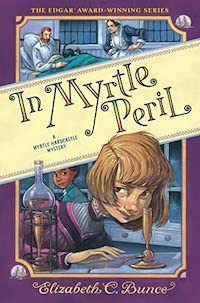 In Myrtle Peril (Myrtle Hardcastle Mysteries #4) by Elizabeth C. Bunce
For fans of Victorian mysteries and delightfully precocious kids. Myrtle Hardcastle's father has a new case: prove or disprove that a girl who once went missing is in fact the current person claiming her family's fortune. She's either the girl once lost at sea with her parents or a con artist after money. But things get extra complicated when Mr. Hardcastle is in the hospital for surgery and claims to witness a murder. Now Myrtle has to figure out if it was a delusion or ifin fact her father may be in danger…
This is a delightful series I've thoroughly enjoyed. If you want to start at the beginning, pick up Premeditated Myrtle.
Looking for more new releases? Check out our New Books newsletter!
Riot Recommendations
Here are two true crime memoirs that focus on a case while talking about larger issues. With a bonus that both are great audiobooks.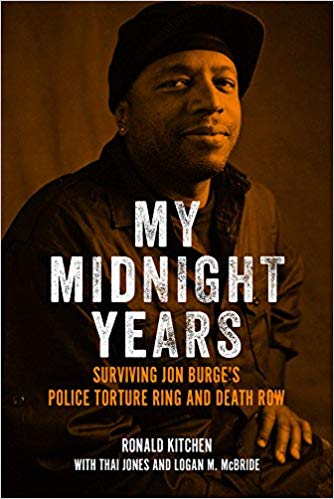 Readers of Just Mercy and A Knock at Midnight should pick this excellent true crime memoir up for the change in view point from lawyer trying to fight the justice system to wrongfully convicted inmate trying to fight the justice system. Ronald Kitchen was a low-level drug dealer in Chicago in the '80s when he was arrested for murder. He was not the person who'd committed the crime they were accusing him of but after being tortured he signed the confession statement the police had written hoping it would stop the cruelty. From there the justice system continued to fail him on every level and he ended up on death row. This is his story from childhood, wrongful arrest and conviction, life on death row, studying law in prison, and his appeals.
(TW torture/ suicide)
This is a true crime memoir that focuses on the missing persons case of Jacob Gray — who disappeared from Olympic National Park — and his father Randy who dedicated his life to finding him. We also hear about a lot of other missing persons cases along with the systems that exist, and don't, for finding a missing person. We also go into the world of conspiracy theorists who believe things like Big Foot is responsible, and the heartbreaking grief of not having any answers to what happened to a loved one. I found this to be as much about the cases, missing people, their loved ones, and missing people trackers as it is about the unknown and what it does to us.
(TW suicide but I didn't keep detailed notes because it was all mentioned in the same way the news does throughout the book when talking about cases and people. There wasn't any sexual assault though.)
Watch Now
Do Revenge on Netflix: For fans of revenge, dark academia, and fun '90s high school films, this takes the idea from Strangers on a Train by Patricia Highsmith, except instead of swapping murders they swap revenge. Drea and Eleanor are strangers who have a chance meeting and swap tales of the horrible things recently done to them: Drea's ex-boyfriend released a nude video of her while they were together and Eleanor's first crush outed her along with a lie that she was a predator. Starting the new school year, they decide to continue pretending not to know each other in public while setting up full take downs of the other's nemesis. Starring Camila Mendes and Maya Hawke, you can watch the trailer here.
News and Roundups
Fans cheer as Velma is shown crushing on a woman in the new Scooby-Doo movie
Heather Chavez revealed the cover for her upcoming book Before She Finds Me
Best-Selling Author James Patterson Establishes Scholarships for New Writers at Howard
For Mur Lafferty, Genre Is Everything
Readers' Most Anticipated Books of October
Censorship News (Get involved in your local library and school boards/meetings, vote against book banners trying to hold these positions, and actively fight book bans!)
A group of angry library patrons in Texas has gone to court over book removals
Drag Queen Bingo at Library Cancelled After Threats, Though Majority Support It