Welcome to Check Your Shelf. I am relieved to report that the cough I've had since testing positive for COVID is apparently nothing to worry about. However, there is a small part of me that's a little cheesed off whenever I go to the doctor and they're like "Yeah, you're totally fine." I'm like, "I'M NOT MAKING IT UP, I SWEAR." But now I get to spend this week reassuring all of my coworkers that I'm not about to keel over from coughing, I swear.
Anyway…books?
Collection Development Corner
Publishing News
Court dismisses "implausible" price-fixing suits against Amazon and the Big 5 publishers.
HarperCollins Union files an unfair labor practice charge against HarperCollins.
New & Upcoming Titles
Tom Hanks will publish his debut novel next year.
Ali Hazelwood is publishing her first YA novel, Check & Mate, next year.
Rachel Howzell Hall is publishing her first fantasy novel next fall.
Former US Capitol Police Chief Steven A. Sund has a book coming out in January about the January 6th insurrection.
Here's a look at Kelly Ripa's Live Wire: Long Winded Short Stories.
And here's a look at the upcoming Madly, Deeply: The Diaries of Alan Rickman.
First look at White House photographer Pete Souza's new book The West Wing and Beyond.
The best new true crime books out now.
Weekly book picks from Bustle, Crime Reads, LitHub, New York Times, and USA Today.
September picks from Amazon, Vanity Fair.
October picks from Barnes & Noble, Epic Reads, New York Time, The Root, and Tor.com.
Fall 2022 picks from Buzzfeed (memoirs), OprahDaily (fiction, nonfiction)
What Your Patrons Are Hearing About
The Furrows: An Elegy – Namwali Serpell (LA Times, New York Times, Shondaland)
Making a Scene – Constance Wu (People, Today, Vanity Fair)
When McKinsey Comes to Town – The Hidden Influence of the World's Most Powerful Consulting Firm – Walt Bogadanich & Michael Forsyth (New York Times, Washington Post)
Less is Lost – Andrew Greer (NPR, Washington Post)
Stay True: A Memoir – Hua Hsu (LA Times, Shondaland)
Best of Friends – Kamila Shamsie (Electric Lit, LA Times)
Our Missing Hearts – Celeste Ng (SF Chronicle)
RA/Genre Resources
Where to start with the work of Langston Hughes.
On the Riot
The best weekly new releases to TBR.
10 new queer horror novels to read this fall.
From monsters to mayhem: 9 types of horror plots.
How Vivien Chien's Noodle Shop series made this reader love cozy mysteries again.
If you liked this book, you DEFINITELY shouldn't read…
All Things Comics
Blade loses its director two months ahead of production.
10 of the most underrated manga for romance fans.
On the Riot
On rereading and slowing down with YA graphic novels.
Comics for goths and goth wannabes.
I don't usually feature quizzes, but I love Peanuts so much…which Peanuts character are you? (I'm Marcie, although some days I feel like Sally… "YOU OWE ME RESTITUTION!!")
Book Lists, Book Lists, Book Lists
Children/Teens
17 slightly scary Halloween picture books for kids.
15 books to bridge the gap between middle grade and YA.
13 YA books that don't make you choose between romance and scifi.
8 YA books with Afro-Latinx representation you'll love.
Adults
Barnes & Noble booksellers pick their favorite horror reads for October.
15 romantic suspense books to send chills down your spine.
5 genderbent SFF retellings and reimaginings.
Psychological thrillers with gobsmacking twists. (I love being gobsmacked.)
A reading list of fictional diaries.
5 SFF books about the aftermath of the apocalypse.
8 novels about monstrous mothers.
9 books to make you cry, every time.
7 essential books about Marilyn Monroe.
Want to read books from this newsletter? You can, for free! Get three free audiobooks with a trial to Audiobooks.com. Claim your 3 free audiobooks now!
On the Riot
10 of the best Halloween read-alouds for elementary school kids.
11 of the best picture books for social-emotional learning.
15 must-read YA novels that center Black boys.
YA books about teens working in indie bookstores.
20 must-read witchy mysteries and thrillers.
8 authors that make you feel taken care of.
9 books for fans of Buffy the Vampire Slayer.
20 must-read genre-blending literary fiction books.
12 awesome books translated from Arabic.
15 of the best small-town romance books.
8 of the best horror books by Latine authors.
The most popular horror novels of the last 5 years, according to Goodreads.
Readalikes for Only Murders in the Building.
Unique nonfiction to add to your TBR.
12 short horror novels under 300 pages.
9 literary fiction novels similar to Transcendent Kingdom.
10 compelling series where Book 2 is even better than Book 1.
Level Up (Library Reads)
Do you take part in Library Reads, the monthly list of best books selected by librarians only? We've made it easy for you to find eligible diverse titles to nominate. Kelly Jensen has a guide to discovering upcoming diverse books, and Nora Rawlins of Early Word has created a database of upcoming diverse titles to nominate, as well as including information about series, vendors, and publisher buzz.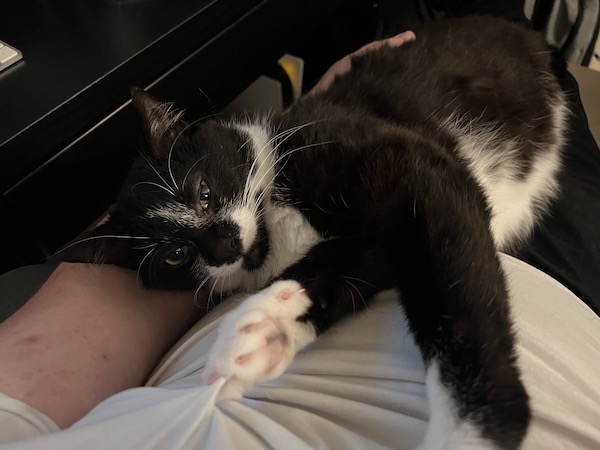 Here's the part where I complain about how Dini has been extra snuggly with Blaine, and not with me. I mean, look at that little Doodle face! And those toe beans! Unlike Gilbert, he's very particular with his snuggles, so you have to be prepared for when the mood strikes.
All right. I'll check in again on Friday. Peace out, peeps.
—Katie McLain Horner, @kt_librarylady on Twitter. Currently reading The Year of the Witching by Alexis Henderson