We're giving away three copies of Roses, in the Mouth of a Lion by Bushra Rehman to three lucky Riot readers!
Enter here for a chance to win, or click the image below!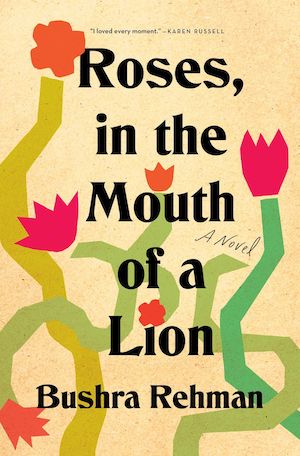 I LOVED EVERY MOMENT. –KAREN RUSSELL, AUTHOR OF SWAMPLANDIA!
ENCHANTING. –MIRA JACOB, AUTHOR OF GOOD TALK

Razia Mirza grows up amid the wild grape vines and backyard sunflowers of Corona, Queens, with her best friend, Saima, by her side. When a family rift drives the girls apart, Razia's heart is broken. She finds solace in Taslima, a new girl in her close-knit Pakistani-American community. They embark on a series of small rebellions: listening to scandalous music, wearing miniskirts, and cutting school to explore the city.
When Razia is accepted to Stuyvesant, a prestigious high school in Manhattan, the gulf between the person she is and the daughter her parents want her to be, widens. At Stuyvesant, Razia meets Angela and is attracted to her in a way that blossoms into a new understanding. When their relationship is discovered by an Aunty in the community, Razia must choose between her family and her own future.
Punctuated by both joy and loss, full of '80s music and beloved novels, Roses, in the Mouth of a Lion is a new classic: a fiercely compassionate coming-of-age story of a girl struggling to reconcile her heritage and faith with her desire to be true to herself.