Welcome to Read This Book, a newsletter where I recommend one book that I think you absolutely must read. The books will vary across genre and age category to include new releases, backlist titles, and classics. If you're ready to explode your TBR, buckle up!
A couple of weeks ago I was scrolling through Instagram while waiting in line somewhere, as a millennial does, when I saw an ad for an upcoming movie and I thought, "Why does it seem like I should know what this is about?" Well, turns out it was a trailer for a movie adaptation of Catherine, Called Birdy, and I am here to tell you it looks delightful. In keeping with the trend of injecting modern sensibilities into historical contexts, it looks a little irreverent and very funny and I thought, what the heck. I haven't read that book since I was a kid, I'll give it a re-read!
Want to read books from this newsletter? You can, for free! Get three free audiobooks with a trial to Audiobooks.com. Claim your 3 free audiobooks now!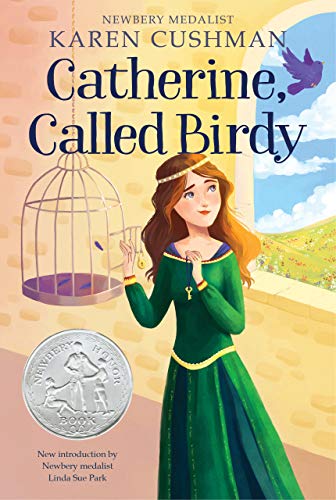 This was Karen Cushman's debut novel, and she received the Newbery Honor for her epistolary story of Catherine, called Birdy, who is thirteen-going-on-fourteen and lives in England in 1290. Her father is one of the landed gentry and so her life is a little more comfortable than most, but as a girl she is expected to marry young. When her father begins searching for a husband for her, an odious string of suitors comes to call and Birdy becomes determined to run them all off—she'd much rather be a crusader, a goat herder, or literally anything else but a wife. But it's difficult for even the most spirited of girls to shake off convention, especially in a world where women have narrow roles.
What I truly appreciate about epistolary novels is that when they are very well done, you get the unfiltered day-to-day thoughts of your narrator in all of their obsessive, mundane, or even brief glory. Birdy's entries flit from topic to topic, she's frequently (hilariously) frustrated to learn about the realities of life, and while she grapples with big questions about her place in the world she also records her crushes and her opinions, her random insights and song lyrics, and her hopes and dreams and disappointments. This format allows readers to dive right into her world without being weighed down by lots of description, and Cushman's genius is that she's able to impart so much about this strange world through the eyes of her protagonist. The exposition and world-building is all done subtly and beautifully, and the reader hardly notices it because they are preoccupied with Birdy's wit. She's not the perfect protagonist–she's sometimes cross and often impatient. She's unruly and disobedient, but she's also passionate and loving and it's a joy to see her change her mind about certain beliefs and matters over the course of the year she keeps her journal.
It should also be noted that Cushman is really, really frank about how living in 1290 is not glamorous. There are fleas. So. Many. Fleas. And no sense of hygiene. And everyone lives on top of each other, death comes often and quickly, and Birdy's father is not a nice man—he seems her as a commodity to be traded and often mistreats her. For being wealthy and privileged, they still must work very hard to survive. So just be aware going into the book that you are getting an unfiltered and sometimes gross view of life! It's a wonder humanity has survived to now! But it's refreshing to get a realistic and also very human look at life back then, and I am in awe of Cushman's abilities!
Happy reading!
Tirzah
---
Find me on Book Riot, Hey YA, All the Books, and Twitter. If someone forwarded this newsletter to you, click here to subscribe.