Sponsored by THE IT GIRL by Ruth Ware, audiobook read by Imogen Church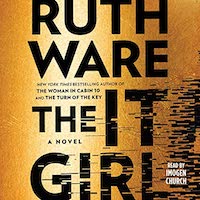 tk
'Why Should Adults Judge Children's Books?' Australian Kids Take Over Prestigious Book Awards
This year, the winners of the Children's Book Council of Australia (CBCA) inaugural shadowers' choice awards were decided by 155 panels made of around 2,000 primary and high school-aged readers from all states and territories. These children used the same judgment criteria as the adult-appraised CBCA book of the year awards, resulting in a completely different set of winners from the result judges. Children's book author Victoria Mackinlay, who acted as a judging group facilitator, said it was been empowering for young readers to not just air their opinions but see them count.
Michigan Town Defunds Library So Kids Can't Read LBGTQ Books
Jamestown Township in Michigan voted to defund their only local library due to complaints that the books were "pornographic" (such as Gender Queer: A Memoir, Kiss Number 8, and Spinning) and that the library staff was indoctrinating children. The vote left Patmos Public Library with enough funding to remain open until next year, and a resident-led GoFundMe campaign to save the library has already raised over $180,000.
Good News for Books: The Washington Post's Book Section is Back!
In the face of declining readership, budget cuts, and mergers in 2006, The Washington Post cut its book review section, but Washington Post book critic Ron Charles announced in his newsletter that the paper's standalone print book section is coming back on September 25. This broadsheet section is devoted entirely to book reviews and literary features, including reviews, Q&As, publishing stories, author profiles, and more.
Get Out Your Brooms for These New Witchy YA Books
Spooky season is right around the corner, and luckily YA continues to offer more and more witchy books that are representative of the world at large. Check out some outstanding new witchy books that have hit shelves this year.