Hello everyone!
I hope your week has been going well. This week, I've been attempting to perfect my home cold brew recipe, reading lots of books, and (truthfully) fighting off a terrible headache—not the cold brew's fault! Oh, and I guess this week has also been all about reading regency-era romances. I rewatched Emma earlier this week, and today I watched Mr. Malcolm's List. Have you seen these movies? What are your thoughts, friends? Or have you been reading anything good this week? Always feel free to pop me a note and let me know. Love hearing from you. And in the meantime, let's talk books.
Book Deals and Reveals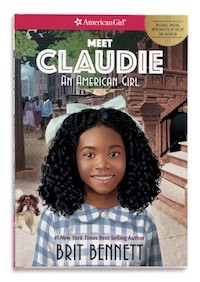 Brit Bennett, bestselling author of The Mothers and The Vanishing Half, has a new exciting book to add to her list—Meet Claudie, the book introducing the newest historical American Girl. "I grew up reading these books," Bennett said. "And I've always admired how authors like Ta-Nehisi Coates, who wrote the comics based on the Black Panther movie, could do things that were so different from the work they're primarily known for, and honor who they were when they were younger."
Want some cover reveals? I love the cover of this upcoming middle grade novel Deadlands by Skye Melki-Wegner. This book is set to be the first in a new trilogy, and it'll be out in April!
And Literary Hub has revealed the cover for Joy Castro's novel One Brilliant Flame, which will be published by Lake Union in January, 2023.
Literary Hub also revealed the cover for Tiffany McDaniel's On the Savage Side, out from Knopf on February 14, 2023.
Olivie Blake's got a new book coming out, and Tor.com has revealed the cover. One for My Enemy will be out on April 4, 2023.
Birds of Prey director Cathy Yan is set to executive produce and direct a live-action adaptation of Paprika, based on the 1993 sci-fi novel of the same name by author Yasutaka Tsutsui.
Kalynn Bayron, author of Cinderella is Dead and This Poison Heart, has announced her next project: a young adult slasher novel entitled You're Not Supposed to Die Tonight.
Peacock has unveiled their first trailer for Vampire Academy, the upcoming young adult fantasy series based on the novels by Richelle Mead.
Neve Campbell is set to star in the upcoming ABC series Avalon, based on a short story by Michael Connelly.
The results are in: these are the 15 bookstores most featured on Instagram.
Book Riot Recommends
I'm a Contributing Editor at Book Riot, I write the Today in Books newsletter, and I'm a Bibliologist for Book Riot's Tailored Book Recommendations subscription service. I also have a PhD in English, so I'm basically a doctor of books. Books are my life, in other words, so in this section of the newsletter, let me share with you some upcoming books I'm super excited about. And I think you will be too!
Can't Wait for This One!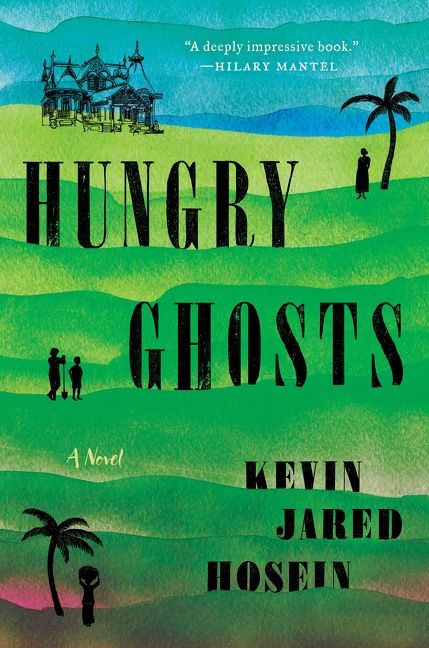 Hungry Ghosts by Kevin Jared Hosein (Ecco, February 7)
Here's a new book coming from Caribbean author Jared Hosein, and it's a story of family. Wait, no, two families are involved. Okay, this sounds so good, everyone. Let's chat about what's happening here.
So. Okay. This one is set in Trinidad in the 1940s, at the end of American occupation and British colonialism. Dalton and Marlee Changoor live in luxury on their farm on a hill overlooking Bell Village. Below them is the Barrack, a building made of wood and tin, divided into rooms that each house whole families. This is where the Saroops—farmhand Hans, Shweta, and their son, Krishna—live.
When Dalton goes missing, Marlee feels like her safety is compromised, and so she asks Hans to move to the farm and post up as a watchman. As the story progresses, the mystery surrounding Dalton's disappearance begin to unfold, and the stories of these two families from very different background become intertwined.
Don't forget you can get three free audiobooks at Audiobooks.com with a free trial!
Word of Literary Wisdom
"And that's something I've learned in the years since, that there are so many different types of love, so many ways someone can stay committed to you, stay in your life even if y'all aren't together, you know? And none of these ways are more important than the other."
— You Made A Fool of Death with Your Beauty by Akwaeke Emezi
What's Up in the Book Community?
My iPhone is constantly telling me I spend too much time staring at my screen, which is honestly so rude. But this means I spend a lot of time scrolling around the online book community: BookTube, Bookstagram, BookTok, BookLinkedIn (JK. That's not a thing… I don't think). You get the idea. Don't have the time, energy, or the will to do all of that yourself? No problem. I got you. In this weekly section of Book Radar, we'll take a look at something cool, interesting, and/or newsy that's going on in the book community.
I'm sure you all have heard about all of the drama with Barnes and Noble and not carrying hardcover books? No? Well, here are a few places you can get a good overview. Check out what our very own Jenn Northington had to say on Book Riot. And then head over to one of my favorite YouTube series Book CommuniTEA to see what Jess Owens has to say about it.
And while you're watching Book CommuniTEA, Jess has a great summary of the DOJ vs PRH trial also.
And Here's A Cat Picture!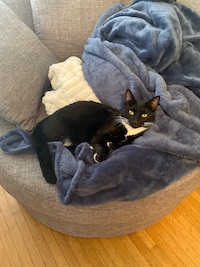 It seems like we're having a weekly reading chair check-in at this point. Is it just me, or is Remy starting to look like a full grown cat? They grow up so fast! And doesn't he look cozy in the kitty's favorite chair?
And now I'm off to see if there are any other new regency romances for me to watch. I hope you have a wonderful weekend! See you soon, friends!