Welcome to Check Your Shelf. For the next couple of weeks, CYS will be brought to you as Blaine and I vacation through Asheville, Charleston, and Savannah. What does this mean for you? Well, fewer cat photos, for one, but also, slightly shorter newsletters. Specifically, I'm going to take a breather on compiling book ban news each week, mainly because that's by the far the most time-consuming (and emotionally draining) section to put together, and I just need a bit of a break. I'll make sure to link to Kelly Jensen's weekly news roundup so you won't all be left completely in the dark, but I think a break will be healthy. I'll fill the space with photos of all the barbecue and biscuits and gravy that I'll be eating.
Don't forget to apply by August 8th to work at Book Riot as an Editorial Operations Associate!
---
Libraries & Librarians
News Updates
The White House and ALA are holding a COVID pediatric vaccination public education event at the Prince George's County Memorial Library System in Maryland.
Cool Library Updates
The popular Chicago Tool Library is expanding.
This librarian is collecting all the things she's found left behind in library books.
Worth Reading
Libraries must stop pretending they can be neutral about human rights.
Genrefying the high school library.
Book Adaptations in the News
Leonardo DiCaprio and Martin Scorsese are working to adapt David Grann's nonfiction book, The Wager: A Tale of Shipwreck, Mutiny, and Murder.
Jenna Bush Hager is developing a series adaptation of Kirk Wallace Johnson's nonfiction book The Feather Thief.
Amazon has greenlit a series based on the YA novel My Lady Jane.
The new Percy Jackson series will likely air in early 2024.
On the Come Up gets a release date.
Peacock is reviving the Vampire Academy storyline with a series set to air in September.
Disney+ is developing a live-action series adaptation of Eragon.
Netflix cancels First Kill, based on the short story by V.E. Schwab, after only one season.
All of the trailers released at this year's Comic-Con.
Trailer for the upcoming film, Blonde.
Everything to know about the upcoming film adaptation of Red, White, and Royal Blue.
Don't forget you can get three free audiobooks at Audiobooks.com with a free trial!
Banned & Challenged Books
Book banners don't seem to know what a book ban is.
The School Board Project, round 2.
Louisiana School Librarian of the Year Amanda Jones is seeking legal action after being subjected to a coordinated slander campaign.
Pride Month displays at the St. Tammany Parish Libraries (LA) drew a large crowd of supporters at a recent board meeting.
A Livingston (LA) library board member's "inappropriate" book list draws vocal opposition from community members opposed to book bans.
An angry Sarasota County (FL) resident has filed a civil lawsuit against the county school district in an effort to to remove a specific list of books. The lawsuit also includes multiple criminal allegations against the superintendent and other school board members.
Polk County (FL) Public Schools announce an opt-in policy for controversial books, meaning that the default for this policy to restrict access across the board.
New York prisons lift a ban on Heather Ann Thompson's Pulitzer Prize-winning book about the Attica Uprising.
The Hanover (VA) chapter of the NAACP is asking the county board of supervisors to reconsider the appointment of specific school board members, as well as for the supervisors and school board to undergo DEI training.
Catawba County (NC) community members continue to debate the appropriateness of several books in the school libraries, while the Board discussed changes to its challenge policy, as well as its new book flagging system, which will limit the books that students can check out.
Antioch (IL) village officials reject calls to ban sales of Gender Queer from a downtown bookstore, saying "It's important to carry titles that widen our worldview." Bookstore. Not a school, not a library.
Parents in Madison County (MS) are pushing for answers about 22 books that have been pulled from the school system, as well as a way for parents to weigh in and evaluate the books available in school libraries.
Gulfport (MS) pastor clarifies his thoughts on LGBTQ books in Harrison County public libraries, saying that he doesn't want to ban books — he just doesn't want these books promoted or made available to children. (Guess what? That's still a ban.)
A Tennessee parent group is suing local and state education leaders over curriculum that allegedly discusses race and gender.
Oklahoma State Superintendent of Public Instruction Joy Hofmeister demands the removal of "pornographic" materials from a Tulsa Public School library. (Gender Queer appears to be the primary targeted title.)
Laramie County (WY) school district continues to face opposition from parents who want the district to use an "opt in" system for specific books. Again, they want the district to default to restricting access for students.
The Utah State Board of Education's new policy opens the door to additional book bans.
Related: 52 books by 41 authors will be removed from the Alpine School District in Utah, which PEN America calls a worrisome escalation of censorship.
Librarians prepare for continued efforts to ban books. The article focuses on Idaho librarians, but the same could be said for virtually every librarian right now.
In the wake of the ImagineIF Library (MT) board shakeup, book removal advocates appear emboldened.
The Curry County (OR) Board of Commissioners voted to write a letter to the county's five public libraries, asking that certain books be placed in restricted areas away from unsupervised children.
The San Lorenzo Library (CA) has started a year-long programming series called "Every Month is Pride Month." This is in direct response to the Proud Boys storming a Drag Queen Story Hour event in June.
A Drag Queen Story Time event was disrupted by protestors in Bristol.
The right in the US has a new boogeyman: libraries.
Books & Authors in the News
Prolific thriller author Stuart Woods has died at 84.
George R.R. Martin tested positive for COVID after Comic-Con and missed the premiere of House of the Dragon.
A new mini-podcast. Book Exploder, is being released on August 3rd, which will feature Susan Orlean in conversation with authors Celeste Ng, George Saunders, Carmen Maria Machado, and more.
Numbers & Trends
How the crypto revolution may influence the book ecosystem.
How Americans' reading habits have changed from childhood.
Are eBooks on the decline again?
A new survey indicates that Americans are already cutting entertainment spending amidst economy concerns.
Award News
The Center For Fiction announces the longlist for its 2022 First Novel Prize.
The Ursula K. Le Guin Prize for Fiction shortlist is out.
The 2022 British Fantasy Awards shortlist has been announced.
Bookish Curiosities & Miscellaneous
A man has been sentenced to 16 years in prison for an Amazon scam that netted him $3 million.
9 authors talk about book arranging methods.
On the Riot
Growing as a school librarian in a post-school shutdown world.
Should we still study Shakespeare?
---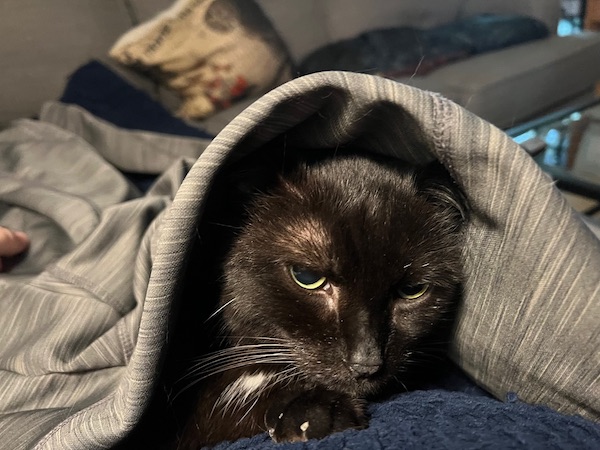 May I present…Sith Lord Darth Gilbertine.
Welp, that's it for me folks. By the time you read this, I will have reached the end of my first week as interim director. It's been…a lot. Successful so far, but a lot. Despite the bad timing with work, I'm very much looking forward to this vacation. Catch you on Tuesday!
—Katie McLain Horner, @kt_librarylady on Twitter.