Welcome to Check Your Shelf. My first official week as Interim Director will have begun by the time you read this newsletter. I'm already feeling exhausted, as my anxiety compels me to pre-plan as much stuff as possible, but of course, you can't plan for everything. For example, who could have predicted our phones would be out of service for almost a week because the phone company couldn't get its act together in time to start working on the problem until SUNDAY, the one day of the week when we don't have staff on site. (Thankfully my coworker is handling this one, but good grief, people…)
Send positive thoughts, y'all. (And don't forget Book Riot is hiring an Editorial Operations Assistant!)
---
Collection Development Corner
Publishing News
The Big 5 publishers and Amazon have asked the court to dismiss a potential price-fixing conspiracy lawsuit.
More legal news: The DoJ's bid to block Penguin Random House's acquisition of Simon & Schuster is headed to trial.
Inside The New Yorker's very public conflict with their recently fired archives editor, Erin Overbey.
Nicola and David Yoon are ready to change the world with their new Joy Revolution imprint.
Why do publishers have beef with the Internet Archive?
How do algorithms help (and hinder) book sales?
New & Upcoming Titles
Barack Obama shared his 2022 summer reading list!
Margaret Atwood will publish a new collection of "highly personal" stories next year.
Nightfire will be publishing an upcoming horror novel from the one and only Dr. Chuck Tingle.
Chloe Gong announces two new novellas set in the world of These Violent Delights.
Sneak peek of the upcoming Star Wars novel, The Princess and the Scoundrel by Beth Revis.
Here's the cover for Geena Davis' upcoming memoir, Dying of Politeness.
And a cover reveal for Garth Brooks' upcoming book, Anthology Part II: The Next Five Years.
And take a peek at this upcoming historical fiction novel based on the true story of Beauty and the Beast!
200+ new books for 2022, plus 100+ mystery and thriller books and 100+ romance novels to keep you reading all summer.
30 Canadian authors on the rise in 2022.
Weekly book picks from Bustle, Crime Reads, LA Times, LitHub, Locus, The Millions, New York Times, and USA Today.
July picks from Entertainment Weekly.
August picks from AV Club, Epic Reads, Kirkus, and New York Times.
What Your Patrons Are Hearing About
Mercury Pictures Presents – Anthony Marra (New York Times, San Francisco Chronicle, Washington Post)
The Last White Man – Mohsin Hamid (Time)
Hokuloa Road – Elizabeth Hand (Washington Post)
The Daughter of Doctor Moreau – Silvia Moreno-Garcia (USA Today)
Delphi – Clare Pollard (San Francisco Chronicle)
RA/Genre Resources
New and diverse voices in crime fiction.
Sci-fi recommendations for people who don't usually like sci-fi.
How to read the Lord of the Rings in order.
On the Riot
8 surprising new memoirs to add to your TBR ASAP.
20 must-read queer books for the second half of 2022.
All Things Comics
Barry Windsor-Smith's Monsters wins the 2022 Eisner Award for Best New Graphic Novel. You can see the full list of winners here.
This is pretty cool…a recent donation to the University of Adelaide Library's Special Collections included a graphic memoir of a German cartoonist's account of life in a WWI Australian internment camp, which may be the world's first autobiographical graphic novel.
Stevie Nicks stars in a new comic.
Ben Affleck is returning as Batman for the upcoming Aquaman sequel.
Good news: Brian K. Vaughan and Cliff Chiang apparently love the Paper Girls adaptation on Amazon!
On the Riot
17 novels that would make great graphic novels.
Super vacation: a comic book travel guide.
10+ cat manga purrfect for all you feline fanatics.
Audiophilia
The New Yorker profiled Julia Whelan, who they dubbed "the Adele of audiobooks."
On the Riot
Why you should start your audiobooks all over again.
Book Lists, Book Lists, Book Lists
Adults
8 lesbian historical romance novels to fall in love with.
26 enemies-to-lovers recommendations.
17 books to empower women.
Top 10 stories of modern India.
25 best horror books of all time.
35 of the best thrillers to read now.
5 stone-cold SFF bummers to make you feel better about your own life.
9 books about chosen families.
9 books every sports lover should read.
Bookseller noir is a thing?
5 Beauty and the Beast-inspired romance novels.
On the Riot
Hopeful picture books to help kids push through hard times.
12 fantastic early chapter books for beginning readers.
10 books about lying for kids.
YA books starring 14-year-old protagonists.
What to read after you've seen Nope. (Did you see it?? It was bonkers!!)
12 amazing Asia-inspired fantasy novels.
8 fun and festive Christmas murder mystery novels.
10 sultry summer vacation romances.
8 books that fictionalize real historical figures.
20 must-read horror novels that deserve adaptations.
12 stunning German language books available in translation.
10 adult books with animal narrators.
8 mysteries and thrillers about dysfunctional families.
9 of the best witchy mystery novels.
The best dark academia books, according to Goodreads.
20 must-read queer nonfiction books from around the world.
Level Up (Library Reads)
Do you take part in Library Reads, the monthly list of best books selected by librarians only? We've made it easy for you to find eligible diverse titles to nominate. Kelly Jensen has a guide to discovering upcoming diverse books, and Nora Rawlins of Early Word has created a database of upcoming diverse titles to nominate, as well as including information about series, vendors, and publisher buzz.
---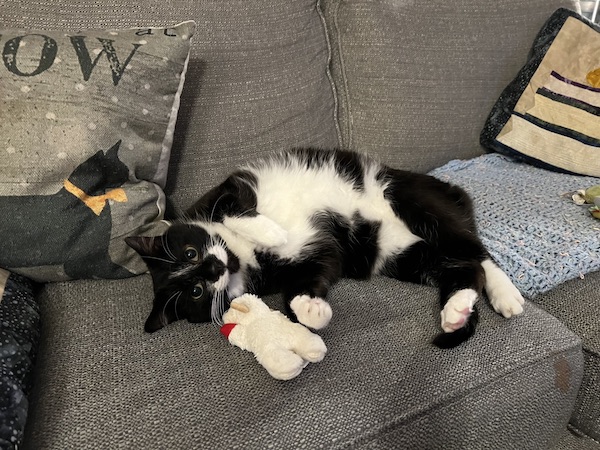 Well, I had a super cute photo of Gilbert to share this week, but I also just remembered that today (the day I'm writing this newsletter) is Dini's second Gotcha Day! (Sorry, Gilbert…) We've had this knucklehead for two adorably chaotic years, and I predict many more years of him supervising our household activities and waking us up at 4 AM for snuggles.
That's all I've got for now, friends. I'll check in again with you on Friday.
—Katie McLain Horner, @kt_librarylady on Twitter.