Welcome to Check Your Shelf. I spent part of this weekend purchasing a stack of books that I didn't need, and also needed very badly. Plus I got a couple extra books as a belated birthday gift, and now I've got a couple decent-sized stacks piled up on my bookshelves in front of the books already on the shelves. My husband says it's chaotic, while I say it's pleasingly haphazard.
So let's talk about more books now.
(And don't forget that Book Riot is looking for an Editorial Operations Associate! Application deadline is August 8th and women, individuals with disabilities, and people of color are strongly encouraged to apply.)
Collection Development Corner
Publishing News
New Yorker archive editor Erin Overbey published a scathing Twitter thread about the publication, specifically that she was put on internal review only after she raised concerns about gender parity, and that two of the issues that were raised about her work were actually due to factual errors that Overbey claimed were inserted into her writing by The New Yorker's editor-in-chief David Remnick.
Stephen King, Andrew Solomon, and more are set to testify in the Penguin Random House antitrust trial.​​
Workers at America's Test Kitchen have voted to unionize.
Amazon's self-publishers are looking at legal options to fight piracy.
At least three publishers have been excluded from Hong Kong's annual book fair, which some say is because they have published "politically sensitive material."
New & Upcoming Titles
Brace your holds lists: Michelle Obama has a new book coming out this fall: The Light We Carry.
Publishers Weekly has listed their Spring 2023 Children's sneak previews.
Bolu Babalola is writing a sequel to Honey and Spice.
Poet Rupi Kaur talks about her upcoming writing book.
Cover reveal for Emma Straub's debut children's book.
Nana Kwame Adjei-Brenyah, author of Friday Black, posted a cover reveal for his upcoming debut novel.
Cover reveal for Sylvain Neuvel's upcoming novel, For the First Time, Again.
11 new releases that make for excellent summer book club picks.
8 poetry collections in translation for 2022.
Weekly book picks from Bustle,The Millions, New York Times, and USA Today.
12 noteworthy books for July and August.
49 queer and feminist books coming out this summer.
July picks from Smart Bitches, Trashy Books.
The best crime fiction books of the year (so far).
Don't forget you can get three free audiobooks at Audiobooks.com with a free trial!
What Your Patrons Are Hearing About
The Haunting of Hajji Hotak and Other Stories – Jamil Jan Kochai (New York Times, Shondaland)
Dirtbag, Massachusetts: A Confessional – Isaac Fitzgerald (New York Times)
The Kingdoms of Savannah – George Dawes Green (New York Times)
We Lie Here – Rachel Howzell Hall (LA Times)
Came the Lightning: 20 Poems for George – Olivia Harrison (Pittsburgh Post-Gazette)
Crying in the Bathroom – Erika L. Sánchez (Washington Post)
RA/Genre Resources
How several new novels use satire to grapple with racism and identity politics.
How literature is taking gaming more seriously.
Why are so many long-running crime series thriving?
On the Riot
The best new weekly releases to TBR.
What's the difference between mysteries, suspense novels, and thrillers?
A science fiction subgenre primer for new fans.
A primer on domestic horror.
How gothic romance led to contemporary romantic suspense novels.
Why mysteries and thrillers make such great beach reads.
Why it matters that horror protagonists make such bad decisions.
8 mystery/thriller TikTokers and BookTube channels to follow right now.
All Things Comics
Legendary comic book writer Alan Grant has died at 73.
Marvel released a powerful new trailer for Black Panther: Wakanda Forever at Comic Con.
Netflix's Sex Education gets a manga adaptation, with the first chapter out now.
The best comics for fans of Thor: Love and Thunder.
On the Riot
Less credit, longer hours: illustrators' roles in graphic novels.
2022 LGBTQ comics and graphic novels that should be on your radar.
10 great YA fantasy graphic novels.
High school romance manga for all your back-to-school reading needs.
Audiophilia
6 great audiobooks to listen to this month.
On the Riot
15 recent award-winning audiobooks.
10 new full-cast audiobooks to listen to for an incredible reading experience.
Start with mysteries, thrillers, and true crime if you're new to audiobooks.
8 fantastical audiobooks for your TBR.
Book Lists, Book Lists, Book Lists
Children/Teens
12 YA books about siblings that will make you want to hug yours.
Adults
13 books by Latina authors to read this summer.
The best heart-pounding romantic suspense novels to read in the summer.
8 spicy romance novels to turn up the heat.
7 books about climate change.
20 dystopian books to read now.
The 10 best fantasy novels of the 21st century.
Private school thrillers that adults will love.
12 books to help you be a better ally to disabled people.
5 romance novels for Disability Pride Month.
3 Black female authors to read for fans of Taylor Jenkins Reid.
13 fungal horror novels to rot your brain.
The 50 greatest fictional deaths of all time.
The 72 most popular fantasy novels of the past three years.
5 books to help you boss it as you get older.
On the Riot
10 farm books for preschool and beyond.
Fun, feel-good, and empowering middle grade and YA SFF.
YA mystery and thriller novels about vacations gone very wrong.
10 starter books to introduce readers to disability literature.
8 new cookbooks to level up your culinary skills.
A map to the best treasure hunting mysteries.
8 books that spoil the mystery up-front.
8 novels that explore the pros and cons of the writing life.
8 mysteries and thrillers that use fear to explore racism.
Books to read when you're looking for some 80's or 90's nostalgia.
The best mystery books featuring dogs.
The best romance books you've never heard of.
10 books to read if you loved The Nightingale.
10 cozy mysteries for a gentle thrill.
8 chilling novels for true crime fans.
20 must-read books about ambitious women.
8 of the best procedural series to add to your TBR.
Level Up (Library Reads)
Do you take part in Library Reads, the monthly list of best books selected by librarians only? We've made it easy for you to find eligible diverse titles to nominate. Kelly Jensen has a guide to discovering upcoming diverse books, and Nora Rawlins of Early Word has created a database of upcoming diverse titles to nominate, as well as including information about series, vendors, and publisher buzz.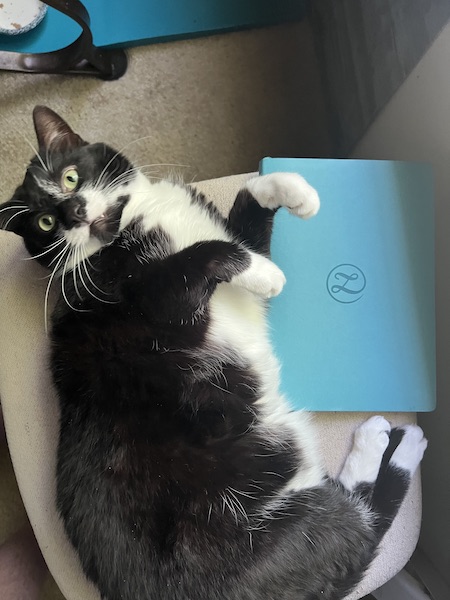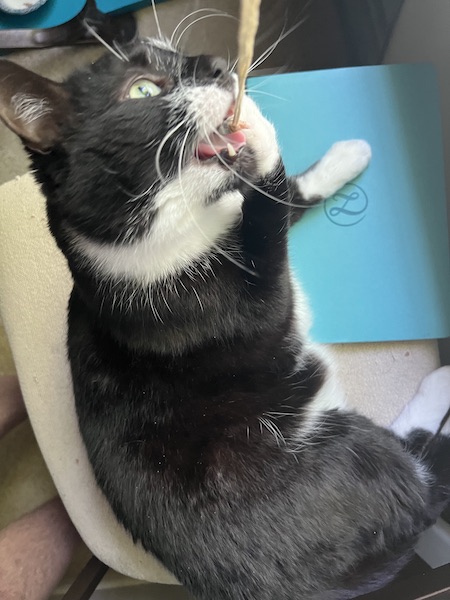 Last week, I realized I had left my work bullet journal at home, so I texted Blaine and asked him to send me a photo of my weekly to-do list. He said, "Let me check with my manager first" and sent me a bunch of photos of Dini guarding my notebook. These were two of the best, even though Mr. Manager got a little distracted by the end…
Well, let's get through another week, shall we? This is also the last week before my director leaves for his new job and I'm suddenly left with the keys to the kingdom…what could go wrong? I'll check in again on Friday.
—Katie McLain Horner, @kt_librarylady on Twitter.