Hey readers!
It's rain nonstop here right now, but the temperature is going way up. I'm an indoor girl at heart, nothing irks me more than warm weather so I'll be snuggling up in my air conditioning (yes, I turned mine on!) and doing some reading.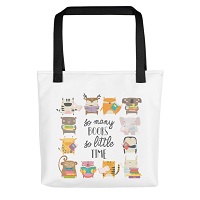 If your little one needs a bag to cart all their precious books in, look no further than this one, which is too cute and the perfect size. $30
New Releases
This is an adventurous middle grade fantasy set in Vittoria, said to be the last city after a magical war destroyed the others. The only thing left beyond the walls are terrible monsters. But when Octavia meets another girl beyond the walls, someone who isn't from Vittoria, she has to question everything she knows.
Don't forget you can get three free audiobooks at Audiobooks.com with a free trial!
Riot Recommendations
We Do Not Eat Our Classmates by Ryan Higgins: I just recommended this to someone this week who's reading with her son, and now I shall do the same to you because you really can't go wrong with this adorable and hilarious read about a little t-rex going to school for the first time. When Penelope realizes her classmates are humans, she doesn't know what to do with them. Besides eat them. It's not as dark as it sounds (the kids are all spit up and unharmed) but no one wants to be friends with Penelope).
When Life Gives You Mangos by Kereen Getten: This is a compelling middle grade set on a small island in the Caribbean where, after a hurricane the previous summer, Clara's memory isn't the same and her bet friend isn't acting like much of one anymore.
Fatima's Great Outdoors by Ambreen Tariq, illustrated by Steve Lewis: For the outdoorsy among you, this cheerful picture book follows Fatima and her family on their first ever camping trip.