Welcome to Check Your Shelf. As I put together this newsletter, my husband and I are recovering from what we think was food poisoning. Thankfully, the worst of it only lasted 24 hours and I didn't have it as bad as Blaine did, but yesterday was not great.
So while I try to rehydrate myself, let's talk about libraries.
---
Libraries & Librarians
News Updates
Blackstone Audio ends its 3 month library embargo on newly published digital titles.
Maryland gives up on its library eBook law.
After losing state funding, Kalispell's ImagineIF Library (MT) faces a lack of donor confidence.
Multnomah County librarians say that they're no longer willing to work as de facto security guards.
Cool Library Updates
The Medford Library in Oregon has started offering special morning hours for people experiencing homelessness, where they can get food, hygiene kits, clean socks and outerwear, and time to clean up in the bathrooms.
The Linda Lindas return to the LA Public Library for an NPR Tiny Desk (Home) Concert.
How to host your own cardboard carnival.
Worth Reading
Activities for National Poetry Month.
Book Adaptations in the News
Tom Hiddleston will be starring in the adaptation of David Grann's The White Darkness.
Nimona by NB Stevenson is being made into a Netflix movie!
Walker Scobell has been cast as Percy Jackson in the upcoming Disney+ series.
Ragnar Jónasson's Outside will be adapted as a feature film.
Whoopi Goldberg will play Bird Woman in the upcoming Amazon adaptation of Anansi Boys.
Locke and Key will end with its third season on Netflix.
Casting updates for Truth Be Told, Saint X, and The Lincoln Lawyer.
Hulu released an extended trailer and a premiere date for Conversations With Friends.
Here's a teaser trailer for Interview With the Vampire.
Banned & Challenged Books
ALA has not offered any meaningful support to librarians dealing with book bans. Here's a look at their 2022 State of America's Libraries report, but honestly, if you want a more accurate recap, you'll be better off checking out this Twitter thread.
PEN America released a statement, a new Index of School Book Bans, and an accompanying report, Banned in the USA, which documents the book bans that have occurred over the last 9 months. They discovered 1,586 book bans in 86 school districts, and 1,154 unique titles being challenged.
What it feels like to be a librarian during an attempt to ban books.
Banning books makes for bad parenting. Well, I'm glad someone said it.
Brooklyn Library is offering access to banned ebooks to teens across the country.
Three Pennsylvania students and one librarian were invited to testify at last week's banned book hearing in front of Congress. Here are a couple more complete updates.
Ballotpedia's guide to understanding school board politics.
LGBTQ groups sue Florida over its "Don't Say Gay" bill.
Two books about transgender kids, I Am Jazz and Call Me Max, have been removed from Palm Beach (FL) schools in response to the "Don't Say Gay" bill.
Polk County (FL) schools decide to keep Nineteen Minutes and Beloved on high school shelves.
The Texas Educational Association has encouraged parental input on library materials.
The National Coalition Against Censorship has issued a statement in response to the removal of Me and Earl and the Dying Girl and The Perks of Being a Wallflower from Fredricksburg ISD (TX).
Parents in the Keller ISD (TX) are still upset over "pornogragraphic" books being allowed to stay in the library, and say that the school board isn't removing enough of them.
Katy ISD (TX) elects to keep Maus and Maus II available in their middle school and high school libraries. ​​
Cherokee County (GA) Board of Education continues to hear from upset parents about "inappropriate books" in school libraries.
Forsyth County (GA) parents are outraged by the presence of Call Me By Your Name and Extremely Loud and Incredibly Close on library shelves, and one mom has been banned from board meetings after a particularly noteworthy outburst.
Gender Queer is back on library shelves at Antioch (IL) High School as the board re-evaluates its decision to remove the book.
Here's an update on the ROWVA (IL) School Board openings, after two board members resigned last month. There are now ELEVEN candidates in the race.
The city of Pella (IA) will not pursue exclusive governmental control of the Pella Public Library, which several citizens have called for after the library refused to remove Gender Queer from library shelves.
Johnson County (IA) librarians share their opposition to book banning.
Arlington Public Library (DC) takes a stand against banning books in schools with their "Wake Up and Read" event.
The Missoula (MT) library board wrote a letter emphasizing their stance against censorship.
This letter to the editor from a Rhode Island parent is alarming, specifically because it outlines their retaliatory efforts that a lot of people are resorting to when the school board/public library refuses to remove the requested materials. ​​
Heather Ann Thompson, the Pulitzer Prize-winning author of Blood in the Water: The Attica Prison Uprising and Its Legacy, has sued the state of New York for its ban on her book being made available to incarcerated people.
Williamson County Schools (TN) temporarily removed access to its digital library on Epic! in response to concerns about the book An ABC of Equality being made available on the app.
Wilson County School Board (TN) elected to keep Eleanor and Park and The Bluest Eye in their high school libraries.
A reading list on CRT and book bans happening in Tennessee schools.
Tennessee students say that CRT laws promote bias in schools and hurt students' mental health.
The Madison County Library System and the city of Ridgeland (MS) have yet to come to an agreement that would ensure continued funding for the library.
Francis Howell School Board (MO) candidates discuss controversial books and critical race theory ahead of upcoming elections.
Voters cite CRT, book bans, and teacher pay in the Springfield (MO) school board election.
After the Derby School District (KS) removed The Absolutely True Diary of a Part Time Indian from a list of approved classroom materials, a former member of the Derby City Council asked the district to review and remove the Bible from its approved classroom materials as well, in an effort to highlight the consequences of censorship. She cited references to murder, masturbation, genocide, incest, and other "mature topics." The Board refused to remove it, but other committee members have questioned the decision to remove The Absolutely True Diary of a Part Time Indian.
One mom in Broomfield, Colorado is upset over Gender Queer and Lawn Boy being available to high school students, even though Gender Queer isn't held at any of the district school libraries.
Monte Vista School District ( CO) unanimously approved the use of The Hate U Give in its high school curriculum after a parent complained.
Montgomery High School (NJ) heard complaints against The 57 Bus and Tomboy: A Graphic Memoir being made available to teenagers.
Librarians and parents weigh in on the Hempfield Area School District's (PA) library book policies.
The Hudson City School Board (OH) is preparing to vote on whether or not Gender Queer can be returned to the school library.
The impact of censorship is discussed at an online event at the Bexley Public Library (OH).
It's Okay to Be a Unicorn is under fire in the Buckeye Valley School District (OH).
Speak up for school librarians in Ohio.
The Burke County Public School Board of Education (NC) heard proposals on centralizing the district's material selection and giving an additional set of reviews on purchased materials.
Protestors accuse the Wake County (NC) school system of promoting pornography in their schools.
Warren County High School (VA) principal Kenneth Knesh said that a parent contacted the school administration and asked them to pull a book from the shelves for the parent to review, which the administration did. Once the parent is finished looking at the book, he says that the book will be returned to the library, but in the meantime, students don't have access to the book because someone outside of the school requested that it be pulled.
These kids' authors are telling the stories of trans youth. Book bans won't stop them.
Nikole Hannah-Jones calls the wave of book bans an inevitable backlash to the racial protests of 2020.
Republicans are now moving to defund libraries.
A book list for teens who refuse to be told what they can't read.
Books & Authors in the News
Here are all of the April 2022 book club picks.
Jack Higgins, author of The Eagle Has Landed, has died at 92.
Don't forget you can get three free audiobooks at Audiobooks.com with a free trial!
Numbers & Trends
Millennial and Gen Z nostalgia is bringing back book sales, indie bookstores, and Barnes & Noble.
5 of the biggest upcoming publishing trends from the London Book Fair.
A rare first edition of The Great Gatsby lists at $360,000.
Award News
The 2022 Whiting Award winners have been announced.
The 2022 International Booker Prize and Hugo Award shortlists have been announced.
YALSA's Teen Top 10 nominees for 2022 have been announced.
On the Riot
6 databases offered by public libraries to know and try.
Why this reader deleted their Goodreads TBR, and why they recommend you should too.
Please start reading books for what they are.
The most boring book opinions.
This reader learned more about science from books than they ever did in their college science classes.
Take an anti-burnout reading vacation.
How video games helped this reader fall back in love with reading. (Wow, I wish that was how it worked for me. Video games are keeping me from reading right now.)
---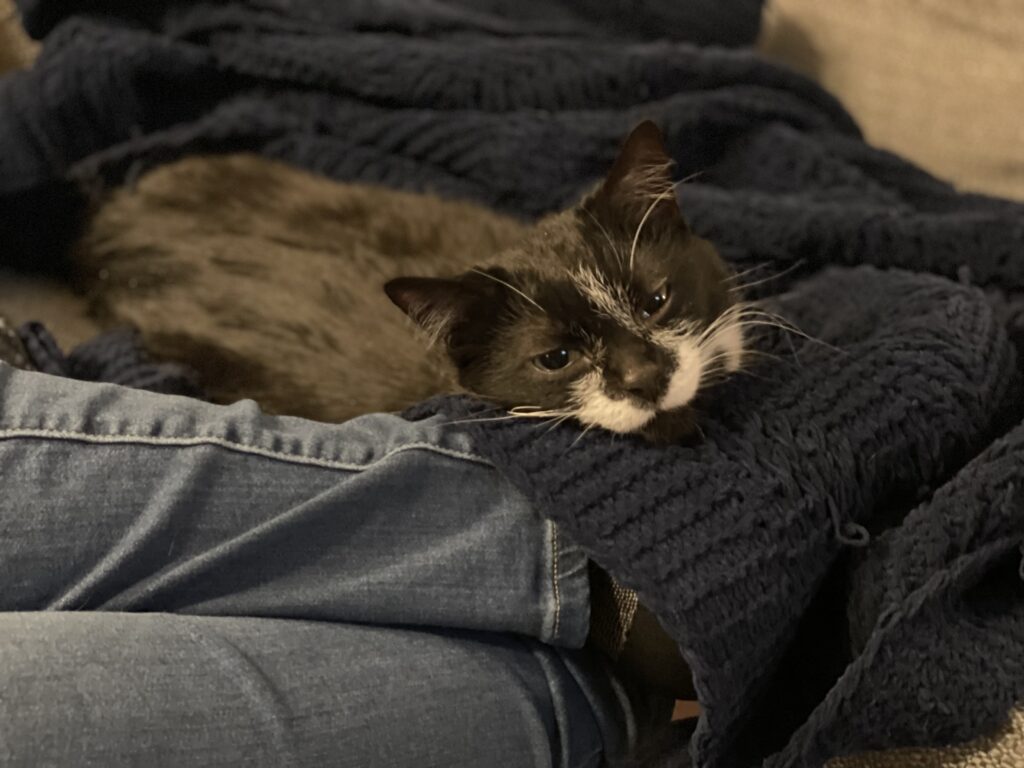 Remember Gilbert's resting head portrait from the last newsletter? Well, here's Dini's version. Those are my feet he's resting on, and he stayed that way just long enough for Blaine to take the picture.
It's the weekend, thank goodness. I'm going to be pretty careful about where we get takeout from for awhile…hopefully all of your culinary adventures will be satisfying and not illness-inducing.
—Katie McLain Horner, @kt_librarylady on Twitter.