Hey YA readers!
Kelly is out this week, so I'm hopping in to cover your YA news and new releases for the week! There's some fun stuff this week, so let's dig in!
YA News
The Along for the Ride trailer is here! This Netflix film is an adaptation of Sarah Dessen's beloved novel and it'll be available to stream on April 22.
Speaking of summer book to movie adaptations, Jenny Han shared a first peek at the TV adaptation of her debut YA novel, The Summer I Turned Pretty! The show will be hitting Amazon Prime sometime this summer, with a new edition of the book releasing May 3!
Hocus Pocus 2 has cast three drag queens who will be impersonating the Sanderson sisters—although we don't know much more than that! A few years go a YA sequel to Hocus Pocus was released that prominently featured a f/f romance. Do I think Disney will go there with their film sequel? No, but I am hopeful!
Over 100 queer YA books disappeared from Target.com, although most are now back on the shelves. But authors and readers want to know what happened.
YA author Ashley Poston is making her adult romance debut—check out a sneak peek.
Some of your favorite YA series are coming to an end in 2022—here are some of the authors on their bittersweet conclusions and what's next.
New in Hardcover
A Magic Steeped in Poison by Judy I. Lin (plus it's the new BN YA Book Club Pick!)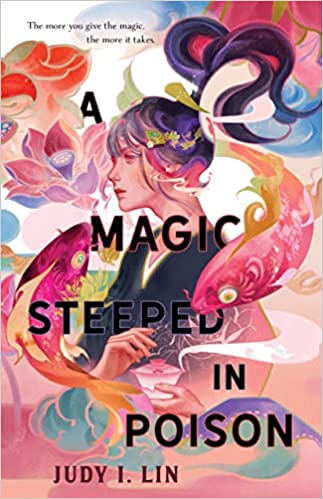 Her Rebel Highness by Diana Ma
Always Jane by Jenn Bennett
Dig Two Graves by Gretchen McNeil
A Forgery of Roses by Jessica Olson
Live, Laugh, Kidnap by Gaby Noone
Message Not Found by Dante Medema
Murder Among Friends by Candace Fleming
Practical Demonology by Clare Rees
So This is Ever After by F.T. Lukens
The Most Dazzling Girl in Berlin by Kip Wilson
This is Why They Hate Us by Aaron A. Aceves
Trigger by N. Griffin
Don't forget you can get three free audiobooks at Audiobooks.com with a free trial!
New in Paperback
Bone Crier's Dawn by Kathryn Purdie
The Desolations of Devil's Acres by Ransom Riggs
Gaslight by Rachael Rose
In Deeper Waters by F.T. Lukens
She's Too Pretty To Burn by Wendy Heard
On Book Riot
Check out some essential YA novels on grief and loss.
Love second chance romance? Then you'll love these YA books!
Sister, sister! YA novels on sister relationships that will make you want to text your sister.
Need a shot of joy? Read about trans teens in love!
That's all for now! Happy reading!
Tirzah