Sponsored by Nightfire, publisher of Echo by Thomas Olde Heuvelt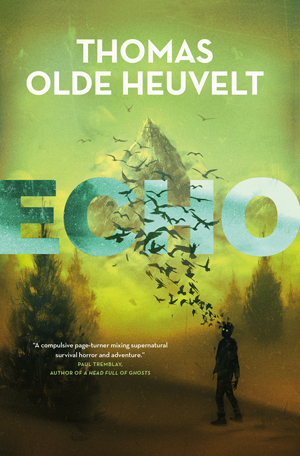 tk
Kevin Hart and Charlamagne Tha God Unveil Five Exclusive Audible Series
Kevin Hart and Charlamagne Tha God have five new projects coming to Audible in 2022 from their newly created audio production banner SBH Productions. Their goal is to "give rise to Black creatives and create content that speaks to the culture." One of those upcoming projects is Brokedown Prophets, a scripted thriller created and written by bestselling author SA Cosby. Cosby is the author of critically acclaimed novels Blacktop Wasteland and Razorblade Tears. SA Cosby tweeted the announcement on Wednesday, writing, "FINALLY can announce this!!!! I am so grateful to
@KevinHart4real and @cthagod for this incredible opportunity and to Audible for allowing us to bring BROKEDOWN PROPHETS, a gritty story of survival and redemption to your ears!! It's an amazing experience."
Drive My Car Makes History as First Japanese Film Nominated for Oscars Best Picture
Ryusuke Hamaguchi's Drive My Car has made history, becoming the first Japanese film ever to receive an Oscar nomination for Best Picture. Hamaguchi co-wrote and directed the film, which based on a short story by Haruki Murakami from his 2014 collection Men Without Women. Drive My Car was one of the most highly-praised films out of Cannes, and it won the Best Screenplay prize. Hamaguchi is also nominated for an Oscar in the Best Director category.
Nashville Bookstore Starts Book Drive After Maus Banning
Following McMinn County School Board's banning of the Pulitzer Prize-winning graphic novel Maus by Art Spiegelman, Fairytales Children's Bookstore in East Nashville started a book drive to get copies of the book to middle and high school teachers. Bookstore owner John Derr says he started the book drive after receiving a large response from customers wanting to buy the book to give to students. "I think books are a great way to teach children about history. Even parts of our history that are dark or tragic such as the holocaust," said Derr.
How to Use FOIA to Uncover Book Challenges
It's your right as a citizen to utilize the freedom of information act. Here's what it is and how to use it to fight book challenges.