Sponsored by Workman Publishing.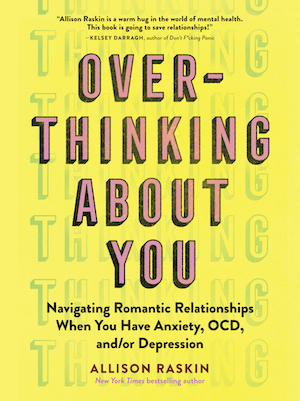 Dating is hard—but when you live with anxiety, OCD, and/or depression, dating can feel like a minefield. Overthinking About You is a book that focuses solely on mental health and dating—an intersection that demands attention, given that one in five Americans will experience a mental illness in a given year. This is a memoir-driven self-help book that explores the complex connection between brain and heart, for an engaging, useful, and relatable read for anyone whose mental health has gotten in the way of successful romantic relationships. Download an egalley now!
Welcome to Check Your Shelf. This week at work, I'm feeling the extreme lack of physical space…we need to relocate our public computers, and there really aren't any obvious places to put them, so we've got to rearrange the existing furniture and shoehorn the computers in…somewhere. Our building is absolutely tiny, so we're honestly just looking for the least bad option.
So let's talk about books so I don't have to think about computers and furniture for a moment.
---
Collection Development Corner
Publishing News
So, if you preordered the cookbooks Turkey and the Wolf: Flavor Trippin' in New Orleans by Mason Hereford or Dinner in One: Exceptional & Easy One-Pan Meals by Melissa Clark, it appears that ALL copies of the book were involved in a shipping container incident and are now at the bottom of the Atlantic Ocean.
Amazon is still selling a lot of Nazi books.
Publishers are increasing their accessibility to content.
New & Upcoming Titles
Terry Pratchett's official biography will be coming out in September.
Melanie Chishom (aka Sporty Spice) will be coming out with a memoir in September.
Kellyanne Conway's book, Here's the Deal, will be published in May.
Here's a first look at Stephen King's upcoming novel, Fairy Tale.
Weekly picks from Bustle, Crime Reads, The Millions, New York Times, and USA Today.
February picks from Barnes & Noble (adult, kids/YA), Epic Reads, Kirkus, and New York Times.
Some of 2021's biggest authors pick their most anticipated titles for 2022.
Most anticipated titles for 2022 from Buzzfeed (LGBTQ romances), Goodreads (romances), and Vogue (LGBTQ books).
Make sure to get your own Read Harder Book Journal from Book Riot to track your reading for the year!
What Your Patrons Are Hearing About
Devil House – John Darnielle (AV Club, Electric Lit, NPR, Slate)
Violeta – Isabel Allende (People, USA Today)
Notes on an Execution – Danya Kukafka (New York Times, USA Today)
Joan is Okay – Weike Wang (New York Times, NPR)
On the Riot
8 of the most anticipated YA contemporary reads for Winter 2022.
Exciting horror novels to read in 2022.
A case for genre-juggling: balancing fiction, nonfiction, and poetry.
The wonder of reading children's literature as an adult.
How does familial dysfunctionality feature in South Asian fiction?
All Things Comics
Get a first look at the upcoming David Bowie graphic novel, The Man Who Fell to Earth.
On the Riot
Here are the comics nominees for the 33rd annual GLAAD Media Awards.
8 queer graphic novels and memoirs coming out in 2022 that you don't want to miss.
8 comics if you loved Hawkeye.
9 graphic novels and comics about acceptance and belonging.
8 manga about love, just in time for Valentine's Day.
Audiophilia
Audible has a list of Disability Awareness titles.
10 great audiobooks to listen to in January.
On the Riot
9 audiobooks for #JapanJanuary.
Don't forget you can get three free audiobooks at Audiobooks.com with a free trial!
Book Lists, Book Lists, Book Lists
Children/Teens
14 YA books about getting the gang back together.
Adults
Classic books by Black authors to read now.
9 novels that pit the haves against the have-nots.
7 novels about very bad rich people.
8 queer punk and counterculture books set in the 90's.
Top 10 novels inspired by Greek myths.
10 international thrillers to cure your wanderlust (or ensure that you never want to travel again…)
8 surreal books that read like a dream.
150+ Black romance novels published in 2021 you should definitely check out.
15 second chance romance novels.
13 of the best science fiction/romance mashups.
On the Riot
10 of the best children's books that promote critical thinking.
The best genre-blending YA novels.
A reading list on learning and re-learning American history.
8 essential books on environmental and climate justice.
15 incredible leadership books for women.
The best mystery novels about dark family secrets.
10 fascinating sci fi books like The Matrix.
8 of the best queer horror books.
8 of the best queer space opera novels.
8 bewitching books about magic schools.
8 books about doing nothing to help break free from hustle culture.
Level Up (Library Reads)
Do you take part in Library Reads, the monthly list of best books selected by librarians only? We've made it easy for you to find eligible diverse titles to nominate. Kelly Jensen created a database of upcoming diverse books that anyone can edit, and Nora Rawlins of Early Word is doing the same, as well as including information about series, vendors, and publisher buzz.
---
Time for cats! Here's a throwback photo to Gilbert helping me while I was taking grad school classes online. He wants to take credit for my grades, but I think he was more responsible for any typos that showed up in my homework.
I'll catch you all on Friday. Stay hydrated and remember your moisturizer.
—Katie McLain Horner, @kt_librarylady on Twitter.