Sponsored by Northwind by Gary Paulsen.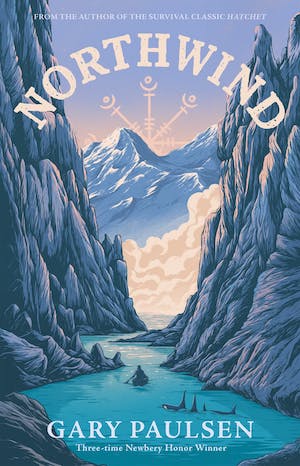 The legendary author of Hatchet adds to his legacy of renowned survival stories with this stunning new adventure. Journey to the razor's edge between life and death, where the raging seas meet a northern wilderness in the captivating novel that Booklist calls "Paulsen at his best."
Welcome to Check Your Shelf. How is it that the first two weeks of the new year have felt like such an eternity? I feel like I'm just on autopilot at the moment, and every once in a while I break out of my daze and go "HOW IS IT STILL ONLY THE FIRST HALF OF JANUARY??" Anyone else feeling like this?
However, a fun little story that I'll share happened last week when I took a phone call from someone asking about our library's passport services. When I got off the phone, my boss had seen the caller ID, and informed me that I had been on the phone for 10 minutes with one of the city's biggest pro athletes, and I had absolutely no idea! (I won't name names, but needless to say he plays for a sport that I don't follow, so I didn't automatically register the name. Also, who expects a famous athlete to contact their local library?)
---
Libraries & Librarians
News Updates
A director hire could cost the ImagineIF Library in Montana state accreditation and funding, as their top candidate does not have a master's degree.
Patience and fortitude are needed as dozens of NYC libraries close due to COVID-related staff shortages.
The South Central Correctional Facility in Tennessee rejected a donated copy of a Malcolm X biography, which had been requested by someone in the prison.
The Chicago Public Library will make Narcan available at 14 city branches in areas heavily affected by drug overdoses.
Library staff at the Baltimore County Library and the Carnegie Library of Pittsburgh have voted to unionize.
Public libraries are seeing an uptick in First Amendment audits.
Cool Library Updates
The Orland Park (IL) Public Library starts a book club for adults with developmental disabilities.
The Norwalk, Connecticut library went fines free and erased over $281,000 in existing late fines.
Public libraries partner with pro sports teams and local athletes to promote youth wellness.
This Alabama family started a Little Free Antiracist Library to promote racial justice and the importance of diverse reading.
Worth Reading
Public libraries aren't essential services. (And it's time for people to stop insisting that they are, while refusing to adequately fund services or pay staff.)
What's lost when we obscure labor.
Book Adaptations in the News
Despite her lack of formal acting training, student Aria Mia Loberti has been cast as Marie-Laure in All the Light We Cannot See. Loberti is registered blind, and disability rights advocates have applauded the casting decision. Mark Ruffalo and Hugh Laurie have also been cast.
Ottessa Moshfegh's novel Eileen is being adapted as a film, starring Anne Hathaway and Thomasin McKenzie.
FX is adapting Octavia Butler's Kindred as a series.
Wes Anderson is adapting Roald Dahl's The Wonderful Story of Henry Sugar and Six More for Netflix.
Casting updates for Manhunt and Renfield.
Banned & Challenged Books
Lamar ISD (TX) has removed seven books from library shelves following parent complaints: Me and Earl and the Dying Girl, Forever For a Year, Jack of Hearts, All Boys Aren't Blue, The Breakaways, The Nerdy and the Dirty, and Lawn Boy.
The National Coalition Against Censorship expresses concerns over the extensive book review happening at the North East ISD in Texas.
Oklahoma lawmakers favor school board control in book complaints.
The Teton (WY) Library adopts a new anti-censorship policy.
Students speak against removing controversial books from Casper (WY) school libraries.
Community members spoke out against the Pennridge School District's (PA) recent decision to remove the book Heather Has Two Mommies.
The book battle continues at the Pitt County School District (NC) over appropriate reading materials for middle schoolers. The books in question are Forged by Fire, Darkness Before Dawn, and All American Boys. I have to give props to District Media Specialist Meredith Hill for her responses as to why these books should remain on library shelves.
Gender Queer may return to the Wake County Public Library's shelves.
A Mississippi State Auditor is endorsing proposed CRT legislation, calling anti-racism materials "a cancer to our society."
Pella (IA) city leaders discuss removing Gender Queer from the public library.
The National Coalition Against Censorship offers its support to the Community High School District in Downers Grove, IL, where recent book challenges have drawn support from members of the Proud Boys.
Join the #FReadom letter writing campaign to combat censorship.
These LGBTQ and antiracist books are being review bombed by book banners.
A look at the push to remove LGBTQ books and online materials from school libraries, and the harm it will cause for marginalized students.
Books & Authors in the News
Arizona Congressman Ruben Gallego's memoir is being corrected post-publication. The correction is for an inaccurate criticism of a journalist's report from when Gallego was serving in the Marines.
Maya Angelou will be the first Black woman featured on the US quarter!
Numbers & Trends
Nearly 1 in 3 Americans are reading eBooks.
However, Americans read fewer books in 2021 than any of the past 30 years.
2021 book trends show the power of BookTok and the rise of audiobooks.
Award News
Joelle Taylor wins the TS Eliot poetry prize.
The 2022 Philip K. Dick Award finalists have been announced.
Pop Cultured
Elizabeth Holmes has officially been found guilty on four of 11 federal charges. If any of your patrons are obsessed with the trial, you may find some of these suggestions helpful to suggest for further reading/watching/listening.
Bookish Curiosities & Miscellaneous
A Jack Kerouac museum is on the road to reality in Lowell, Massachusetts.
On the Riot
New Year's resolutions for school librarians.
Keep it old school with library due date card goods.
What to do when a teen tells you they hate reading.
Is reader's block a real thing?
How to start an intentional book collection.
Tl;dr: potentially useful recaps of popular self-help books of the last decade.
What this reader learned from keeping a reading journal in 2021.
What surprised this reader when they joined a read-along.
22 new bookish podcasts to listen to in 2022.
So what exactly is Wordle, and how do you play?
Don't forget you can get three free audiobooks at Audiobooks.com with a free trial!
---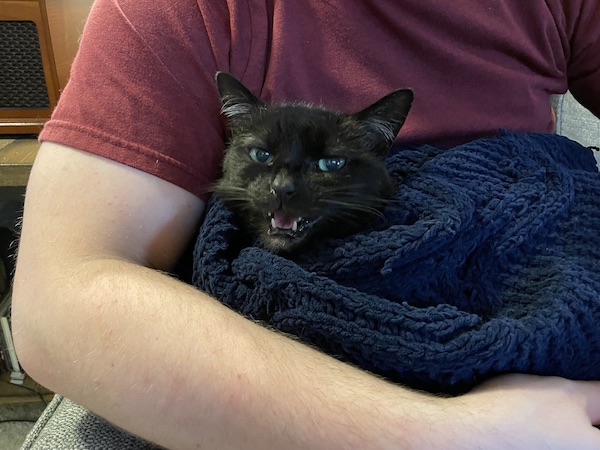 Well, you made it to the end. As a reward, here is a photo of my cranky 15-year-old cat Gilbert, wrapped up like a burrito in his favorite blanket. He's meowing to tell you how incredibly happy he is to have so much attention! (I'm dead serious…he loves being swaddled and hugged, and the grumpier he looks, the happier he actually is!)
Take care of yourselves this weekend, and remember to drink water and moisturize! I'll see you all next week.
—Katie McLain Horner, @kt_librarylady on Twitter.