Sponsored by Gilded by Marissa Meyer, with Fierce Reads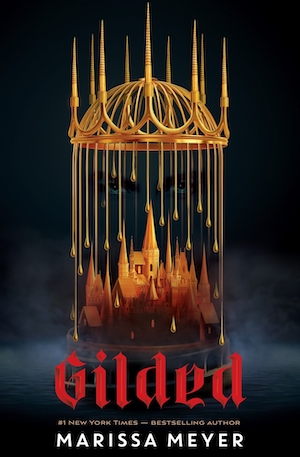 tk
Mariko Tamaki Debuts Surely Books, A New LGBTQ+ Graphic Novel Imprint
Comics writer Mariko Tamaki is launching a new LGBTQ+ graphic novel imprint Surely Books, starting with the graphic novel Lifetime Passes by writer Terry Blas and artist Claudia Aguirre, later this month. The imprint has also revealed a new list of titles that will be released in 2022 and 2023. The first is scheduled for spring 2022: Talia Dutton's M Is for Monster is a sci-fi retelling of Frankenstein mixed with a heartwarming sibling story. Homecoming by Kaitlin Chan and Mimosa by Archie Bongiovanni are slated to release in fall 2022. And in spring 2023, Surely Books will release Kacen Callender and Seth Smith's The Page's Guide to Being a Guy and Washington's Gay General by Josh Trujillo and Levi Hastings.
Paul Newman Memoir to be Published in 2022
Publisher Alfred A Knopf announced on Wednesday that Paul Newman's memoir, which was left unpublished during the actor's lifetime, will come out in fall 2022. According to the publisher, the yet-to-be-titled memoir will include Newman's thoughts on "acting, directing, boyhood, family, fame, Hollywood, Broadway, love, his first marriage, his 50-year marriage to Joanne Woodward, drinking, politics, racing, his ultimate ride to stardom, and aging gracefully." Newman began writing the book in the 1980s with screenwriter Stewart Stern. Stern also spoke to Newman's friends and associates for the book. The manuscript was recently found in Newman's Connecticut home where Joanne Woodward still lives.
NBCC Launches New Prize for Translated Literature
The National Book Critics Circle has announced a new prize for translated literature that will start with the 2022 publishing year. The Gregg Barrios Book in Translation Prize will honor the best book translated into English and published in the United States. All genres will be considered, as will new translations of previously translated books. The winner of the Gregg Barrios Book in Translation Prize will be announced in March along with other NBCC prize winners. Both the author and translator will be awarded the prize. The prize is named in honor of Latino poet, playwright, and book critic Gregg Barrios, who joined the board of the National Book Critics Circle in 2010. Barrios passed away in August at age 80.
2021 Booker Prize Winner Announced
The Booker Prize has announced that its 2021 winner is The Promise by Damon Galgut. The Promise is South African author and playwright Damon Galgut's ninth novel and first in seven years.