Sponsored by Sankofa, an Amazon Books Editors' Pick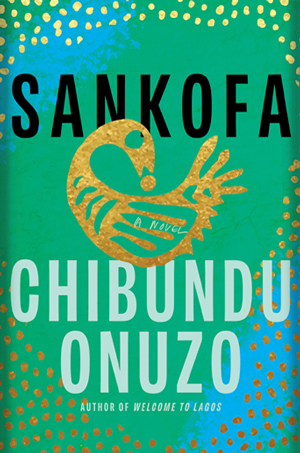 tk
Keke Palmer and Jasmine Guillory Collaborate on a Short Story Collection
Keke Palmer (who you can see soon in Jordan Peele's highly-anticipated horror film Nope) has teamed up with romance author Jasmine Guillory to write a short story collection for Amazon Original Stories. The five short stories in Southern Belle Insults will be voiced by Palmer's alter ego, Lady Miss Jacqueline. Palmer told Entertainment Weekly, "Anyone who has followed me on social media probably knows how unpredictable, fashionable, and feisty Lady Miss Jacqueline can be with her Southern Belle Insults. I am excited to share more of her complex world with her existing fans and introduce her to new readers on this journey filled with humor, inspiration, and self-discovery!" The stories will debut on November 9th and will be free to Amazon Prime members.
Cookbook by Elizabeth Haigh Withdrawn Due to Plagiarism Allegations
Cookbook publisher Bloomsbury Absolute has withdrawn Makan, Mei Mei owner Elizabeth Haigh's debut cookbook, due to plagiarism allegations. Sharon Wee, the author of Growing Up in a Nonya Kitchen, claims Haigh's book plagiarizes her cookbook, which came out in 2012. Wee issued a statement on Instagram, saying that she was "distressed to discover that certain recipes and other content from my book had been copied and paraphrased without my consent in Maken by Elizabeth Haigh… I am grateful that Bloomsbury has responded to my concerns by withdrawing Makan from circulation." Further allegations followed Wee's, which suggests that Haigh's cookbook has pulled/plagiarized recipes from multiple sources.
Netflix's You Has Been Renewed for a 4th Season
The third season of Netflix's popular series You is out Friday, October 15th, but the series has already been renewed for a fourth season. Showrunner Sera Gamble said, "We're deeply grateful that Netflix has shown You such monumental support, and that people around the world have enjoyed watching Joe really get it all very wrong over the past three seasons. The whole You team is excited to explore new, dark facets of love in season four." When the show will return for a fourth season and additional casting will be announced at a later date.
Gary Paulsen Has Died at Age 82
Beloved children's author Gary Paulsen, winner of three Newberry Medals, and Margaret Edwards Award-winner, passed away on October 13, 2021.