Sponsored by Saga Press.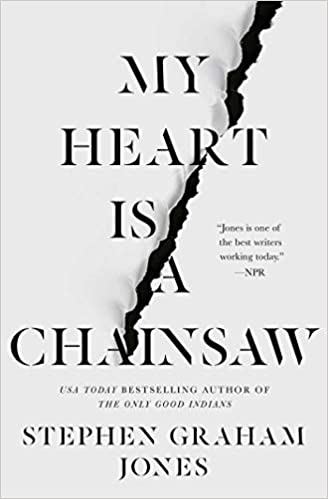 In her quickly gentrifying rural lake town Jade sees recent events only her encyclopedic knowledge of horror films could have prepared her for in this latest novel from the Jordan Peele of horror literature, New York Times bestselling author Stephen Graham Jones.
Hey‌ ‌there‌ horror fans, ‌I'm‌ ‌Jessica‌ ‌Avery‌ ‌and‌ ‌I'll‌ ‌be‌ ‌delivering‌ ‌your‌ ‌weekly‌ ‌brief‌ ‌of‌ ‌all‌ ‌that's‌ ‌ghastly‌ ‌and‌ ‌grim‌ ‌in‌ ‌the‌ ‌world‌ ‌of‌ ‌Horror.‌ ‌Whether‌ ‌you're‌ ‌looking‌ ‌for‌ ‌a‌ ‌backlist‌ ‌book‌ ‌that‌ ‌will‌ ‌give‌‌ you‌ ‌the‌ ‌willies,‌ ‌a‌ ‌terrifying‌ ‌new‌ ‌release,‌ ‌or‌ ‌the‌ ‌latest‌ ‌in‌ ‌horror‌ ‌community‌ ‌news,‌ ‌you'll‌ ‌find‌ ‌it‌ ‌here‌ in‌ ‌The‌ ‌Fright‌ ‌Stuff.
It's my favorite day of the month once more, it's new releases day! Since the first Monday in September is a holiday and your usual Fright Stuff newsletter will be MIA, we're jumping into September's forthcoming scares a little early. But you know me! I never hesitate to herald in the fall just as soon as I possibly can. Particularly when the season is as packed with new releases as this one promises to be. My bank account weeps, and my TBR carts will be o'er burdened but wow are we in for some amazing horror.
This list is just a sampling of the books set to be released next month, but features some of the titles I'm looking forward to most!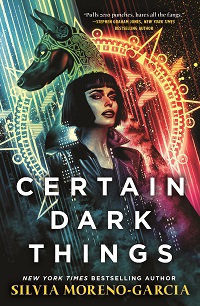 I have been looking forward to Certain Dark Things ever since Nightfire announced that they were going to re-release it. The new cover is a neon dream, and you can never go wrong with vampires! In Mexico City, street kid Domingo is just trying to survive when he meets vampire-on-the-run Atl. Atl is the descendent of Aztec blood drinkers, on the run from a rival vampire clan. Their meeting happens by chance, but as time goes on the two find themselves working together to escape the dark streets with their lives (life and un-life?) intact. I've heard that Moreno-Garcia's vampire worldbuilding is really unique, and I'm excited to get to read it with my own eyes!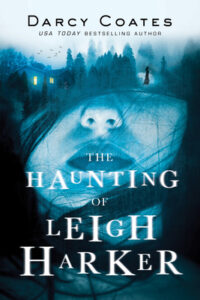 I just recently finished the excellent haunted house story by the Queen of Extremely Suspect Realty herself, and let me tell you, if you are looking for a clever, creepy take on the classic haunted house narrative, The Haunting of Leigh Harker needs to be on your radar. Something is living in Leigh's house, stalking her every move. But the more that she fights back, determined not to be locked out of her own home, the more strange and unexpected things become. Something is deeply wrong with the door beneath the stairs. The very house around her seems to sicken and rot, and if Leigh can't find out why she may be next.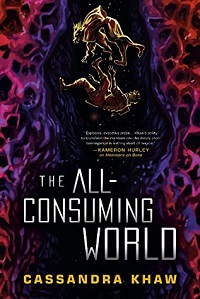 I know I've been talking this book up higher than the starry firmament it's set in, but I am a simple girl. And this simple girls likes space, scary things, and scary things in space. And I just know that Khaw is going to deliver. Starring a cast of former criminals, as broken as they are dangerous, The All-Consuming World pits its unusual band of protagonists against a universe ruled by powerful, evolved AI who will do anything to maintain their control. The answer to defeating them and regaining control of the universe lies with the secret at the heart of a plant called DImmuborgir, but between their own traumas and a fleet of something called "sapient ageships" (just contemplating what that might mean is conjuring up some horrible potential concepts) the odds seem insurmountable.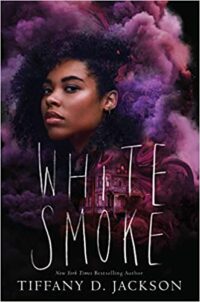 White Smoke by Tiffany D. Jackson (September 14th)
You've seen White Smoke on Fright Stuff before, more than once, and now it's finally almost release day for one of best haunted house stories of the fall. For Marigold, recently arrived from her California hometown by the sea, Cedarville is supposed to be a new beginning. But there's something sinister lurking beneath the renovated facade of their new house. Things move on their own, doors open, lights turn off. Marigold sees shadows, hears voices, and there's a bad smell inside that house that no one else seems to notice. The more she learns about the house, the more she realizes that the danger isn't contained just within its wall. All of Cedarville is haunted by secrets from its past that will no longer be contained.
This book was so not what I expected, in the very best way, and I cannot wait to hold a finished copy in my hands and read it all again. Fantastical and horrifying, Slewfoot is a dark, magical story about how monsters, and witches, are made. And listen, if you are an aesthetics person, or a book collector, you are going to want this gorgeous, semi-illustrated hardcover. When Abitha is widowed suddenly by a suspicious accident, she finds her self desperately trying to hold on to her freedom in the midst of a pious and patriarchal society that would rather see her tucked neatly under the thumb of another man. Enter Slewfoot, a newly woken spirit who, like Abitha, is searching for his place in the world for good or for evil.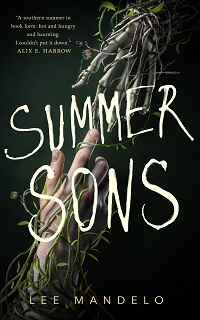 Summer Sons by Lee Mandelo (September 28)
I feel like that Elmo fire gif. Just throwing my arms up like "IT IS TIME". But listen, if you like your horror gothic, queer, and critical of the institutional academia, Summer Sons needs to be on your September list. Andrew and Eddie have always been inseparable, ever since they were kids. Until Eddie dies suddenly, just days before Andrew was supposed to join him for their grad program at Vanderbilt. He leaves Andrew a car, a small fortune, a house, a pile of secrets, and a haunt that clings to Andrew's shadow, dropping hints that Eddie's death was not all that it seems.
Fresh From the Skeleton's Mouth
As I said, the titles on this list are just a small selection of the amazing books being released this September. So if you're looking for even more horror to add to your fall reading lists, make sure to check out Nightfire's list of all the horror books they're excited about in 2021!
Speaking of horror content, over at Book Riot we've got 8 of the Best Horror Books To Creep You Out This Fall, and 10 of the Best Horror Novels Featuring Cults. Which, I mean, I am always down for creepy cult times. Anyone else?
There's an excellent essay on the Tor blog about the Gothic! Don't miss "Becoming the Thing That Haunts the House: Gothic Fiction and the Fear of Change"
---
As always, you can catch me on twitter at @JtheBookworm, where I try to keep up on all that's new and frightening.