Sponsored by Sisters: Better Together by Alice & Doris Lieu, published by Workman.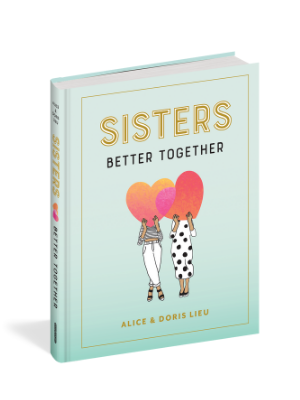 Tell your sister how you really feel! A sister is . . . A sidekick. An accomplice. A sometime nemesis. And your teammate for life, there to give you peace of mind and believe in you unconditionally (even when you don't). Sisters: Better Together is the perfect tribute one sister can give to another to say how much she appreciates her. A gift of humor, camaraderie, and love, Sisters is written by a sister duo, Alice and Doris Lieu, who bring all of the bright, bold artwork, funny and engaging text, and attitude of their ILOOTPAPERIE paper products to the idea of sisterhood.
Welcome to the almost-end of the week, book friends. I hope you've been having a great one so far. I myself was excited Monday by the announcement of a new Emily St. John Mandel book. But that excitement was nothing compared to how excited I was when I actually got the book a little later that day. I was like "AHHHHHHHHHHHHHHHHH." No, really. You probably heard me. 😂
Moving on to today's newsletter and book talk: I have a lot of fun news, including adaptation deals, a lot more book cover reveals, and a look at an upcoming essay collection I am excited to read. Plus I've included a picture of my orange monsters and their Muppet twins, some trivia, and more! I love writing these newsletters and I appreciate your support so much. Whatever you are doing or watching or reading this week, I hope you goodbob and we same place again very now. – xoxo, Liberty, Your Friendly Neighborhood Velocireader™
Trivia question time! What recent YA fantasy novel takes place in Allward? (Scroll to the bottom for the answer.)
Deals, Reals, and Squeals!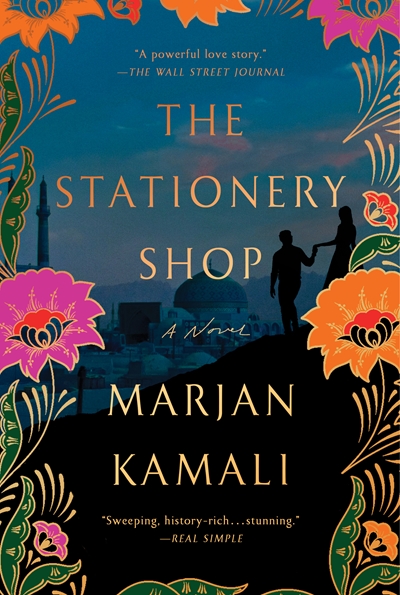 Marjan Kamali's The Stationery Shop is being developed for HBO.
Here's the cover reveal for The Merciless Ones, the sequel to The Gilded Ones by Namina Forna
Viola Davis has written a memoir, which will be released in 2022.
Knopf announced that a new novel is coming in 2022 from Emily St. John Mandel: Sea of Tranquility.
Patricia Highsmith's diaries will be available to the public for the first time.
Byung-hun Lee will produce and star in Maureen Goo's I Believe In A Thing Called Love for Netflix.
Prince Harry, The Duke of Sussex, is publishing a memoir.
Ocean Vuong has a new collection of poetry coming in 2022: Time is a Mother.
Reese Witherspoon's newest YA pick for her book club is The Downstairs Girl by Stacey Lee.
Charlize Theron will have a hand in helping develop The Final Girl Support Group by Grady Hendrix for HBO Max.
Here's the cover reveal for Nuclear Family by Joseph Han.
Here's the first trailer for The Last Duel, based on the book by Eric Jager.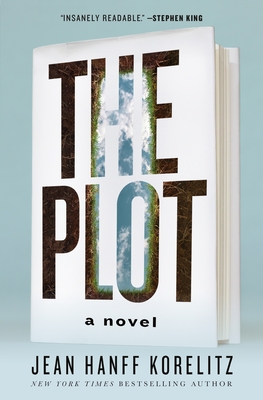 The winner of the Tonight Show Summer Reads is The Plot by Jean Hanff Korelitz.
Here's the cover reveal for Heartbroke by Chelsea Bieker.
Here's the cover reveal for Diamond Park by Phillippe Diederich.
Here's the cover reveal of Sundial by Catriona Ward.
Book Riot Recommends
At Book Riot, I work on the New Books! email, the All the Books! podcast about new releases, and the Book Riot Insiders New Release Index. I am very fortunate to get to read a lot of upcoming titles, and learn about a lot of upcoming titles, and I'm delighted to share a couple with you each week so you can add them to your TBR! (It will now be books I loved on Mondays and books I'm excited to read on Thursdays. YAY, BOOKS!)
Excited to read: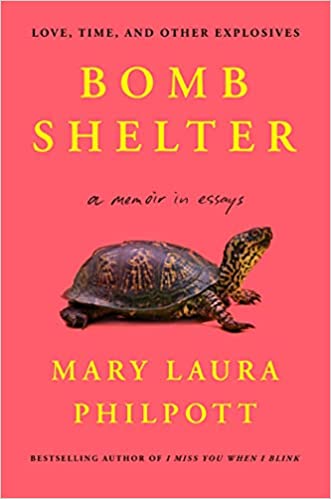 Mary Laura Philpott is one of my favorite people to follow on Twitter, and I loved her last essay collection I Miss You When I Blink. So I was wildly delighted to learn she has a new essay collection on the way. It will deal with events of the last year, plus Frank the Turtle, a turtle who started visiting Philpott's yard a couple years ago. No lie, he crawls up to her home and knocks on the door. He is a regular visitor now, and even has a lady friend. And that's really Frank on the front cover! You can read about the cover shoot here. And in the meantime, check her out on Twitter and read her last book. I promise, she is a funny delight.
What I'm reading this week.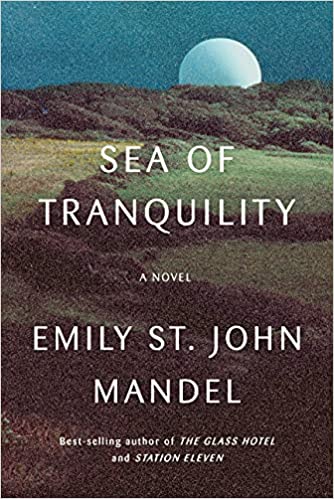 Sea of Tranquility by Emily St. John Mandel
Mirror Girls by Kelly McWilliams
The White Ship: Conquest, Anarchy and the Wrecking of Henry I's Dream by Charles Spencer
'Salem's Lot by Stephen King
Far from the Light of Heaven by Tade Thompson
Song stuck in my head:
The Greatest by Sia. (Stupid cable commercial.) (Also, I'm still really into listening to songs I loved when I was young. You can listen to a lot of them in this playlist I made!)
And this is funny:
A glimpse of me in the future.
Happy things:
Here are a few things I enjoy that I thought you might like as well:
Schmigadoon: This is more delightful than I can say.
Purrli: This website makes the relaxing sounds of a cat purring. (Why do I include this every time? Because it's really that helpful.)
And here's a cat picture!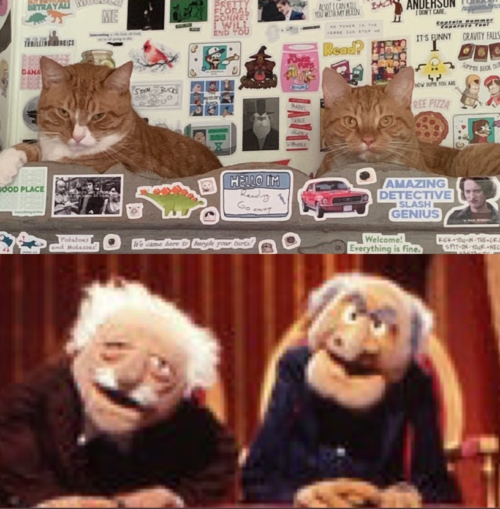 My little furry Waldorf and Statler. It's funny because it's true.
Trivia answer: Realm Breaker by Victoria Aveyard.
You made it to the bottom! High five. Thanks for reading! – xo, L