Sponsored by Oni Press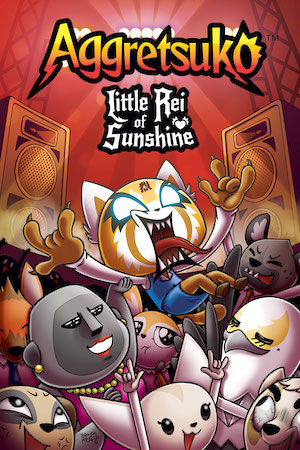 The office queen of karaoke meets her match when Retsuko's favorite band reunites for a special concert. The Brides of Resonance return, but why do they want to take over the karaoke bar? Retsuko and friends have to fight for their right to party in a METAL vs. METAL vocal battle that pits Retsuko against a shadowy enemy. Will Gori survive a night of metal and moshing? Is Haida truly in love? Find out in Aggretsuko: Little Rei of Sunshine!
Hey YA friends!
It's been so fun hanging out with you all these last few months, but this is my last week writing What's Up In YA, as Kelly will be returning from leave next week! I'm sure she'll have lots of fun stuff planned, and I can't wait to read all about it. For my last Monday newsletter, I thought it was only fitting that I look back at the first six months of 2021 and share some of my favorite YA reads! Obviously this is a totally incomplete list, because I am only human and can't read everything, but do know that it is on my TBR!
I feel like I waited forever for this book and was not disappointed! It's the story of Lily, a Chinese American girl living in San Francisco in 1953. When a chance encounter with a white classmate and an ad for a male impersonator send the two of them sneaking out to the Telegraph Club one night, they find excitement, possibility, and even community among the queer women they meet there…but they also learn about the dangers of being queer in the 1950's. I just want to say straight up that while this is a historical novel with homophobia, this isn't a traumatic and tragic book, and I really appreciated that!
I am here for all of the queer girl thrillers, and Tess Sharpe doesn't disappoint! Nora is the daughter of a con artist, and she's in hiding when an innocent visit to the bank with her girlfriend and her ex to deposit money from a fundraiser goes horribly sideways. When two armed men hold up the bank, Nora and her people are trapped inside, and she must rely on everything that she has learned in order to get them all out alive.
Nala is looking forward to summer in the city, with plans to eat ice cream, hang out with friends, and enjoy her Netflix queue. Then she meets Tye at an open mic night, and her summer plans shift to romance. But there's just one big problem: Nala has let Tye believe that she's more active in community initiatives and projects than she really is. As she falls for him, she also has to balance all of the lies and partial truths she's told as she figures out what true love and acceptance really looks like.
Izzy is a Chicago teen who always lets everyone talk over her—people at school, her boyfriend, even her own family. She has a constant inner dialogue going, all the snappy things she would say if given the chance…and she finally is given the chance when she accidentally signs up for an open mic slot at a comedy club. And she does pretty well. Soon, Izzy has new some cool new friends and she's practicing her sets at bars all over the city. There's just one problem: Her new friends don't know she's a high school student. I really adored this funny, angsty book about a teen girl discovering her own power and agency and leaving a bad relationship!
Yolk by Mary H.K. Choi
I've really enjoyed everything Choi has written, and this new book might be my favorite! Jayne and June are two sisters who live in NYC but barely have any contact with each other—they couldn't be more different. But when June shows up unexpectedly one day, wanting to talk, Jayne learns her perfect older sister has cancer. Now, even though they can barely get along, these sisters are going to have to figure out what it means to care for one another as they both face some pretty scary health crises.
For a laugh out loud book about the tumultuous and anxiety-ridden early days of high school, you need this book! Parvin is an Iranian-American teen who starts high school with a boyfriend—the guy she met on vacation over the simmer. But when he dumps her on her first day, Parvin is bereft…and she becomes determined to find a homecoming date to show her ex what he's missing. But her relationship woes pale in comparison to what happens when her Iranian aunt tries to come visit.
What are your favorite books of 2021 so far? Let me know on Twitter or Instagram!
Thanks for hanging out!
Tirzah
Thanks to Oni Press for making today's newsletter possible!