Sponsored by Tor Books.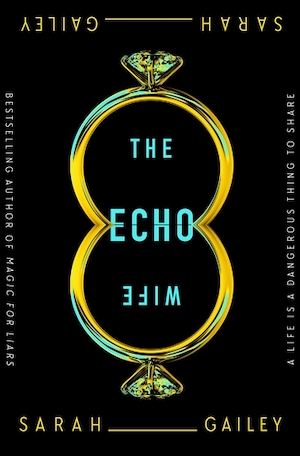 Orphan Black meets Killing Eve in what Newsweek calls "a genre-bending, roller coaster of unsettling fun." Martine is a genetically cloned replica made from Evelyn Caldwell's prestigious research. She's patient and gentle and obedient. She's everything Evelyn swore she'd never be. And she's having an affair with Evelyn's husband. Now, the cheating bastard is dead, and both Caldwell wives have a mess to clean up. Good thing Evelyn Caldwell is used to getting her hands dirty.
Hello mystery fans! This week I have two opposite ends of the crime genre reads for you: a historical mystery set in India for Sherlock fans and a fictional serial killer with young adults tapped by the FBI to help catch a serial killer.
Here's a great mystery for fans of historical mysteries, Sherlock, and Acorn TV mystery shows. Captain Jim Agnihotri, born to an Indian mother and British father, is recovering in a military hospital in 1892, Bombay. After reading Sherlock Holmes as well as a case about two young women who fell from a university's clock tower, he ends up on the case, hired by the women's widow and brother (one woman was his wife, the other his sister, in case you thought something gross).
For Sherlock fans: you get walked through the investigation step by step as he asks questions and digs into the story, including him wearing disguises. For history fans: you get little known history (this is based on real events you can fall down a rabbit hole looking into) and submerged into India under British rule and the Parsee community. There's also a nice romance subplot as Captain Jim falls in love but is warned by the woman's family that he isn't allowed to be with her because of their culture. For Acorn TV fans: this does deal with real life history and cruelties but does not go into graphic detail beyond what you'd see in historical mystery shows.
(TW case believed suicide at first/ mentions domestic abuse, no detail/ child marriages, slavery/ child death)
This book has the comps for "The Silence of the Lambs meets Sadie" and I never say this: I can totally see it. For Silence of the Lambs you have the young woman sent in to interview the captured serial killer, and for Sadie you have a great voice of a young woman trying to survive her past, and the writing also takes care to not be graphic for the sake of it or be problematic.
This did a great job of balancing the things I like from fictional serial killer stories without being dark and graphic for the sake of it, and being catnipy like a network show without being too networky (I swear that makes sense in my head). Oh, and bonus points for being set in the '80s! Although sadly no one gets assaulted by an Aqua Net spray can.
It starts with Emma Lewis and Travis Bell, two young adults, being recruited by the FBI to interview teen serial killers in the hopes of gaining more knowledge about them. Lewis is a serial killer survivor and Bell is a US Marshal candidate whose father died in the line of duty at the hands of a serial killer. Yes, they are being used. And they quickly realize it and go rogue every opportunity they can because there is an active serial killer and they want to help catch him.
This has all the elements of great backstory to the characters that fits perfectly with where they currently find themselves, the young "recruits" clashing with the bureaucracy, the tension of a serial killer, "you in danger!" scenes, and a great partnership unfolding between Lewis and Bell. This is definitely one of 2020's best thrillers. And if you see the YA tag and are skipping it because you don't read YA, I'd give this one a try, it reads adult for me, or at the very least the line between the two genres and does not have the elements I hear non-YA readers complain about.
I really enjoyed the audiobook which is narrated by Christine Lakin (you'll know if you watched Step by Step!), Maxwell Hamilton, and Zach Villa (American Horror Story: 1984) so you get the multi voice narration, including for the serial killer's chats with Lewis. It's really well narrated and produced and totally worth my libro.fm credit!
(TW mentions past child abuse/ talks about serial killer cases/ briefly mentions past suicide, no details/ mentions past animal cruelty)
From The Book Riot Crime Vault
Why is This Ted Bundy Book So Hard to Find?
Read or Dead podcast ep 85: Rincey and Katie talk about mysteries featuring technology and social media, along with some mixed feelings about adaptation news recently announced.
---
Browse all the books recommended in Unusual Suspects previous newsletters on this shelf. See upcoming 2021 releases. Check out this Unusual Suspects Pinterest board and get Tailored Book Recommendations!
Until next time, keep investigating! In the meantime, come talk books with me on Twitter, Instagram, Goodreads, and Litsy–you can find me under Jamie Canavés.
If a mystery fan forwarded this newsletter to you and you'd like your very own, you can sign up here.