Sponsored by SYGNYL Podcast: A General Mystification Vol. 1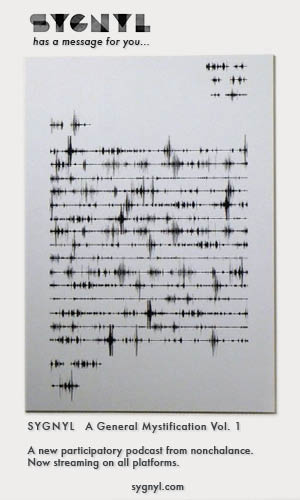 The SYGNYL is a participatory-arts podcast that subtly invites listeners into a hidden world existing all around you. In each episode there are challenges and small collaborative acts you can participate in, in the real world. Will you choose to follow the instructions within?
Hola Audiophiles! Hello again from Portland where we're allegedly going to get up to four days of snow! I probably need to go stock up on a few things since this Californian isn't used to driving in these conditions, so I'll get this intro over with quickly and get to the part about books.
Ready? Let's audio.
---
New Releases – Week of February 9th
publisher descriptions in quotes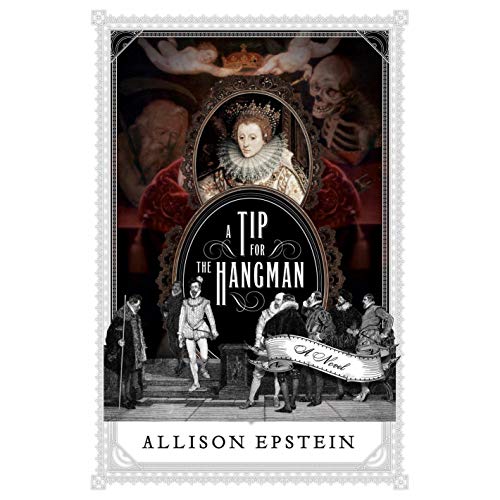 I will do a full review for this one probably next week, because I just finished it and loved it so much! This Elizabethan spy thriller is a fictional account of a story many believe to be true: playwright Christopher Marlowe was recruited as a spy by the Crown while working on his Master's at Cambridge in the 1580s. The Queen's spymaster shows up one day and is all, "Get in loser, we're going to prove that papist Mary Stuart is plotting treason." He sort of gets voluntold, so off he goes, and in that moment his life—and history—are forever changed. It's got a queer romance and a lot of snark and plenty of spy novel aaah-is-he-going-to-pull-this-off-or-die suspense stuff. This one is great for history nerds; it sent me down a Google rabbit-hole for sure. (historical fiction)
Read by James Meunier (Murder Ballads and Other Horrific Tales by John Hornor Jacobs)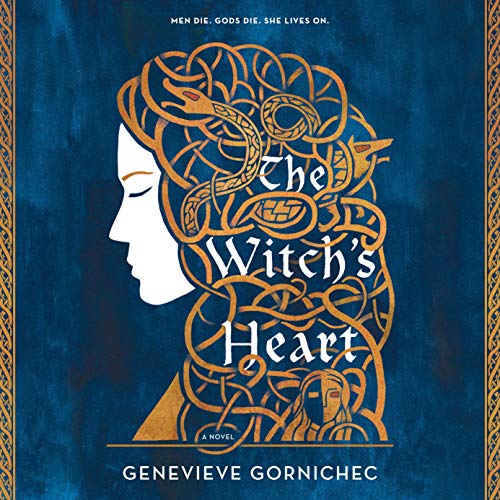 You know I love mythology, but I'm especially excited to read this one because it's rooted in Norse mythology. Why, you ask? Because I went to a high school called Valhalla and our mascot was The Norsemen, and I've been way into Norse mythology ever since the first day of my freshman year when I completed Odin's March up and across a rainbow bridge and touched Thor's hammer at the end (it's a big ol symbolic ceremony that students do again in reverse when they graduate to this day, at least in non-COVID times. I'm not kidding). And now that you know another nerdy fact about me, go get this audiobook! It's narrated by one of my faves and is all about the banished witch Angrboda who falls in love with that trickster Loki and risks the wrath of the gods in so doing. (mythology, fiction)
Read by Jayne Entwistle (Alan Bradley's Flavia de Luce series, The Poison Thread by Laura Purcell)
I make a gleeful little noise every time I see a romance or cozy mystery with characters of color at the center, especially when they involve food! In this YA rom-com. Bao Nguyen and Linh Mai are two Vietnamese-American teens who each work at their parents' neighboring pho restaurants. Bao is stable and reliable, Linh a creative, artsy firecracker. For years, the Nguyens and the Mais and their competing establishments have been at odds, so Bao and Linh have mostly avoided each other. But a chance encounter brings them together and pow! Sparks fly. Sound familiar?! Like maybe a tale that takes place in fair Verona? (YA romance)
Read by Ryan Do (The Writer's Library by Nancy Pearl, Jeff Schwager), Vyvy Nguyen (Quiet As They Come by Angie Chau)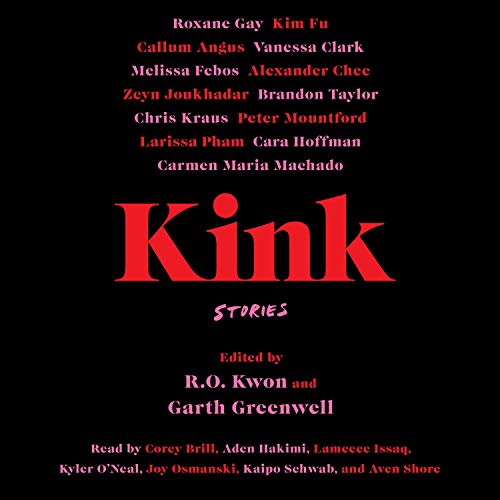 Kink: Stories by R.O. Kwon (editor) and Garth Greenwell (editor)
I knew I wanted to read this book before I knew wtf it was about; I saw a black cover with bright pink text and a contributor list that included R.O. Kwon, Garth. Greenwell, Roxane Gay, Alexander Chee, and Carmen Maria Machado. Then I read it, and what a reward. This passage from the intro to the book really sums it up beautifully: "By taking kink seriously, these stories recognize how the questions raised in intimate, kinky encounters…can help us to interrogate and begin to re-script the larger cultural narratives that surround us." This collection of stories spans the sexual spectrum and ranges from the relatively mild to the super explicit, examining desire, consent, safety, and power dynamics, and asking readers to think about the ways in which gender, politics, and cultural norms inform those power dynamics. I love the framing of kink as empowerment, and the challenge to examine any discomfort you feel in reading these stories. Be warned: it's NSFW. Don't come crying to me if you forget to connect your ear buds to your phone at the office. (short stories, erotica)
Read by an ensemble cast: Corey Brill (The Paper Menagerie and Other Stories by Ken Liu), Aden Hakimi (Asymmetry by Lisa Halliday), Lameece Issaq (They Never Learn by Layne Fargo), Kyler O'Neal (singer, writer, and actress), Joy Osmanski (This Time Will be Different by Misa Sugiura), Kaipo Schwab (Black Sun by Rebecca Roanhorse), Aven Shore (Notes on a Killing by Kevin Flynn, Rebecca Lavoie), and Ashton Grooms (actress you may know from Fox's Star).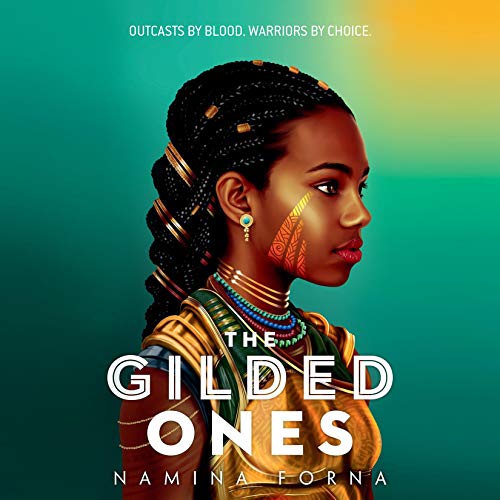 Sixteen-year-old Deka is a nervous wreck ahead of the blood ceremony that will determine if she will become a member of her village. She already stands out because of her powers of intuition, so she really, really needs her blood to run red. But on the day of the ceremony, her blood runs a brilliant gold. If like me, you're thinking, "oooh pretty," hold that thought. In Deka's world, gold is the color of impurity, and Deka will thus face a consequence worse than death. There's hope though—maybe. A mysterious woman approaches her with a proposition: she can stay in the village and submit to her fate, or she can join an army of girls like her and go fight for the emperor. Does she choose acceptance for an uncertain fate? And is anything—or anyone—what it seems? (fantasy)
Read by Shayna Small (The Vanishing Half by Brit Bennett, Red at the Bone by Jacqueline Woodson, Trouble the Saints by Alaya Dawn Johnson)
Latest Listen
I finally see what all the fuss about this feminist historical f/f romance was about. When we first meet Lucy Muchelney, her lover of several years has ditched her to marry a man for "security." But her spirits perk up when she receives a letter from Catherine St. Day, the recently widowed Countess of Moth, looking for someone to translate a groundbreaking French astronomy text. Hey! Lucy happens to be an astronomer. Heartbroken and with no other professional prospects, Lucy takes a gamble and shows up at the countess' estate unannounced to be like, "Yo, so, hire me!" She doesn't expect to be bowled over by the countess' beauty, but she is.
The countess is also taken aback, and not just because she's feeling some things that she's never felt for a woman before when she lays eyes on this unexpected guest. She'd only reached out to Lucy in the first place hoping she might know of a person who could help because Lucy's recently deceased father was a renowned and respected astronomer. Lucy explains that her father not only taught her everything he knew, but that Lucy herself did a lot of the work her father was commissioned for. The countess is all about women's empowerment, but fears introducing Lucy to society and giving her this important project will piss off the the Very Serious male scientists in the field.
She's right of course, and it's only when those science dudes show their entire misogynist asses at a society meeting that the countess makes up her mind: she'll withdraw the funding she'd committed to that group for the project and will instead allow Lucy to live in her home while she works on the translation by herself. And that's how Lucy comes to spends her days interpreting the complicated French text at this lovely estate. At night, Catherine and Lucy explore each other's celestial mechanics if you know what I'm sayin'. Life would be grand if things stayed this way, but old wounds and sabotage by some salty (and inferior) science bros threaten to undo all this happy.
This one is read by Morag Sims (A Little Light Mischief by Cat Sebastian), whose delivery I found so delightful. The banter felt natural and matched the mood (tension! frustration! lust! science feelings!) of every conversation, and the steamy sexy times scenes were wonderfully executed (listen, not everyone can pull this off, but Miss Sims had me asking if it was hot in here). In light of my enthusiasm for this performance, I can't tell you how excited I was to learn that Morag Sims will read the audiobook of Pride and Premeditation, our very own Tirzah Price's debut Austen-inspired YA murder mystery novel out this spring!!!
But back to the book at hand: there are two more books in the Feminine Pursuits series if you like this one as much as I did: The Care and Feeding of Waspish Widows is out now (just… don't judge the cover) and The Hellion's Waltz comes out in June.
From the Internets
Audible editors share the listens that changed their lives.
Audiofile has some romance-themed content just in time for Valentine's/Galentine's/Palentine's Day: 5 Audiobooks about Love, Unbidden and Romantic Suspense for Valentine's Day Listening
at Libro.fm: take a quiz to find your next Black History Month listen
Over at the Riot
5 of the Best YA Audiobooks – You know how I feel about Cemetery Boys!
Short audiobooks that enhance the reading experience
---
Thanks for hanging with me today! Shoot me an email at vanessa@riotnewmedia.com with with all things audiobook or find me on Twitter and the gram @buenosdiazsd. Sign up for the In The Club newsletter and catch me once a month on the All the Books podcast.
Stay bad & bookish, my friends.
Vanessa