Sponsored by Sourcebooks.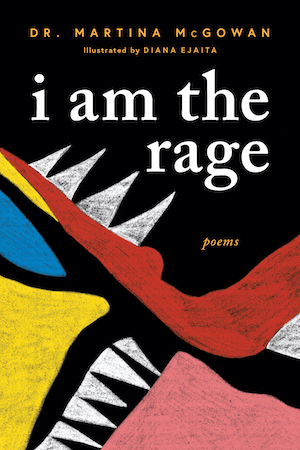 From two Black women of two different generations, I am The Rage provides insights that no think piece on racism can; putting readers in the unique position of feeling, reflecting, and facing what it means to be Black in America. Dr. Martina McGowan, a retired doctor and grandmother, uses powerful free verse poetry to express the range of emotions and thoughts she had following the deaths of Breonna Taylor and George Floyd, and the subsequent Black Lives Matter protests, giving readers a glimpse into an experience that may or may not mirror their own.
I don't know about you all, but it is FREEZING in the Midwest, and I mean negative zero freezing, so really an ideal time to just grab a blanket and read, if you're able. And what a nice time for new releases then! Let's check some of them out.
Keeler is an activist of Dineh and Yankton Dakota heritage who co-founded Eradicating Offensive Native Mascotry, which launched and trended the hashtag #NotYourMascot. 2016 saw the Standing Rock Sioux Tribe's protest against an oil pipeline in North Dakota and the armed takeover of Oregon's Malheur Wildlife Refuge led by the Bundy family. Keeler "examines these episodes as two sides of the same story that created America and its deep–rooted cultural conflicts."
A true crime book about the 1910 murder of 10-year-old Marie Smith, the dawn of modern criminal detection, and the launch of the NAACP. Tresniowski tells the story of Smith's murder in New Jersey and the attempt to tie the crime to an innocent Black man, making this the third legal case ever handled by the NAACP. This one's recommended by Kim of the For Real podcast!
A "study of the intersections between Jewish and Latin American culture," Lomnitz's family memoir goes back to his grandparents' immigration to South America as Jewish emigrants, and "the almost negligible attention and esteem that South America holds in US public opinion." Lomnitz is an anthropologist and historian who was born in Chile and currently teaches at Columbia University.
A handbook for the youth climate movement! I love an anthology, and this is a collection of pieces on the climate justice movement using a "feminist, indigenous, antiracist, internationalist" lens. If you're interested in the Green New Deal or in learning more about it, this could be an easy primer or way to hear new voices.
---
For more nonfiction new releases, check out the For Real podcast which I co-host with the excellent Kim here at Book Riot. If you have any questions/comments/book suggestions, you can find me on social media @itsalicetime. Until next time, enjoy those facts, fellow nerds.