Sponsored by Blackstone Publishing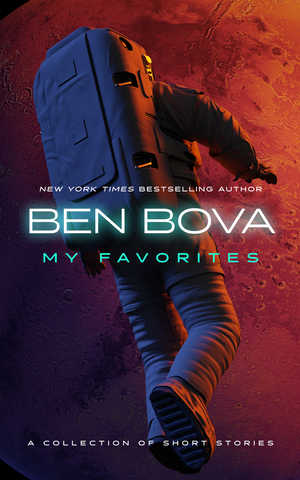 Exploring the boundaries of the genre, Ben Bova not only writes of spaceships, aliens, and time travel in this new anthology that collects fourteen of his favorite short stories, but also speculates on the beginnings of science fiction in "Scheherazade and the Storytellers," as well as the morality of man in "The Angel's Gift." Stories such as "The Café Coup" and "We'll Always Have Paris" dip into speculative historical fiction, asking questions about what would happen if someone could change history for the better. This expansive collection is a key addition for Bova fans and sci-fi lovers alike – Read My Favorites now!
Happy Friday, shipmates! It's Alex, and I want to tell you about a bunch of SFF series today, so I'll keep this very brief. I hope you're well, I hope you're safe, and let's keep sailing for the sunset together!
But if you need to smile, see what the Dora Milaje have been doing with their lockdown.
---
News and Views
My apologies; it looks like I (and Publisher's Weekly) spoke too hastily last week about the Tattered Cover: Black Booksellers Denounce Tattered Cover Announcement
Leonard Roberts writes about his time as cast member in Heroes and the racism he suffered.
Read this piece: The Other Columbus: All Black people are time travelers
Polygon has more information about #DisneyMustPay—including that there are at least three other authors Disney hasn't been paying.
ZZ Claybourne on Functional Nerds
Cover reveal: This Poison Heart by Kalynn Bayron
Anthony Rapp did an adorable thread about his most recent Discovery D&D session
On Book Riot
Cover Reveal: Folklorn by Angela Mi Young Hur
4 stories to adapt after The Haunting of Bly Manor
2020 Elgin Award Chapbook Winners and more Specpo in small doses
Chilling Christmas magic: My annual reread of The Dark is Rising
This week's SFF Yeah! Podcast is about the best SFF of 2020
This month you can enter to win a $100 Books-A-Million Gift Card and a 1-year Kindle Unlimited subscription.
Free Association Friday: A Celebration of Series
I'm sure you don't need me to remind you that you should definitely buy books that are part of a series before the series finishes, or the series probably won't get to finish. That said, here are twelve series that finished this year, and I'm sure the authors also wouldn't mind if you wanted to pick them all up in one swoop and marathon them!
This is the final book of The Poppy War fantasy trilogy, the whole of which is an incredibly tense fantasy series about colonialism and war and the horrible things those both do to people. If you want to give it a whirl, start with The Poppy War.
Final book of The Witches of Lychford fantasy series. Lychford has been a strange place from the start of this five book series, where witches are real and this almost model country village is always threatening to slip into another world. Start with Witches of Lychford.
This is the final book of The Daevabad Trilogy, which is about a canny con woman in Ottoman-era Cairo who finds out that she's far more than she could have ever imagined, and gets taken into the mysterious world of djinn and immersed deeply in its internecine politics and historical struggles. Start with The City of Brass.
Second in a fantasy duology that starts with The Merciful Crow. A fantasy society with a caste system where the Crows take the dead. A dying king and a prince may or may not keep a promise to change it all.
Second in the duoloy that starts wth The Brothers Jetstream: Leviathan. Epic space opera where crews of total badasses just try to live their lives while the galaxy definitely has other ideas.
Third book in The Salvagers trilogy; start with A Big Ship at the Edge of the Universe. This science fiction series is about the rag-tag salvage crew of the Capricious, who are just trying to make ends meet out in the black and keep getting themselves into a whole lot of trouble.
Second book in The Blood in the Stars fantasy duology. Start with Spin the Dawn. A girl who dreams of being a tailor poses as a boy to compete in place of her father in a competition to make the magic gowns for an emperor's reluctant bride. Her craft will cost her more than she can know.
Final book in the Green Creek series; start with Wolfsong. A pack of humans, witches, and werewolves live in a town called Green Creek, defending the people and palce they love from all comers.
This book finished the fantasy duology that starts with The Never Tilting World about the twin goddesses that have ruled the world of Aeon until one sister betrayed the other. Now there's half a realm of eternal light, the other of eternal night—and the daughters of the goddesses hope to heal their broken world.
Final book of the Chronicles of Ghadid trilogy; start with The Perfect Assassin. A fantasy series about assassins, first tasked with solving a murder, then forced to fight the undead.
Final book of The Harwood Spellbook fantasy series; start with Snowspelled. In an alternate "Angland," the ladies rule politics with an iron fist and the more softly emotional gentlemen limit themselves to the practice of magic. But of course no one follows the rules…
---
See you, space pirates. If you'd like to know more about my secret plans to dominate the seas and skies, you can catch me over at my personal site.