Sponsored by Holiday House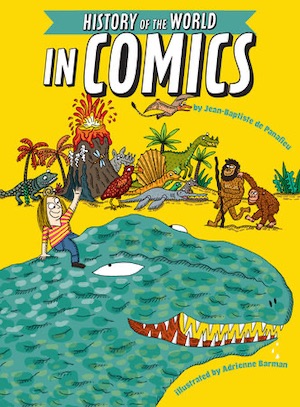 Fans of Nathan Hale will love this history of Earth in a comic book format. Never has natural history been so fun!
Accuracy and humor combine as a paleontologist and a storyteller take two children through the birth of our planet and the heydays of protozoans, dinosaurs, and early mammals with unfailing enthusiasm.
The art accurately portrays prehistoric animals and landscapes, but also adds humorous touches: a google-eyed fish looks startled to be walking and the kids pop out of a tree to surprise a Brachiosaurus.
The expertise of biologist author Jean-Baptiste de Panafieu and illustrator Adriene Barman, the creator behind Creaturepedia, makes for a science read you can trust.