Sponsored by 5 More Sleeps 'til Christmas by Jimmy Fallon.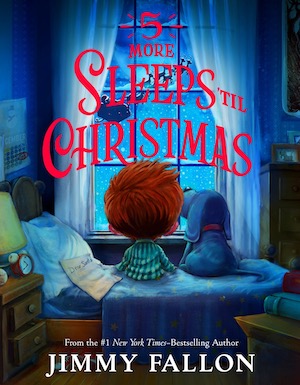 Host of NBC's The Tonight Show and four-time #1 New York Times-bestselling author Jimmy Fallon returns with this sweet and spirited picture book. Everyone who grew up celebrating Christmas remembers the excitement that built up to the most magical day of the year. But why not make the last week until Christmas more fun by counting how many sleeps until the arrival of Santa and his reindeer? Accompanied by the beautiful and energetic artwork of Rich Deas, enjoy the humor of Jimmy Fallon as he prepares readers for the most exciting week of the year in this new holiday tradition for your family—5 More Sleeps 'til Christmas.
Hey readers! We're back with another week of children's new releases!
For everyone watching Netflix's Jingle Jangle on a loop, there are also some tie-in children's books to keep the good time going! This picture book is based on the song from the film, about a down-on-his-luck inventor and the granddaughter hoping to inspire him to get back to work.
If you're musically inclined, this book comes with downloadable music and accompanying CDs, about a conductor auditioning instruments for the orchestra.
This colorful picture book is about Ritu and Chandhi's upcoming wedding, and Ritu's niece Ayesha, who's looking forward to the celebrations. But not everyone feels the same way and has vowed to stop the wedding, but Ayesha is determined to save her cousin's big day.
Just in time for the holidays, Dav Pilkey drops a new graphic novel about friends who introduce a group of frogs to the ins and outs of comic writing, focusing on creativity and persistence in making dreams come true.
This new series from the author of The Descendents follows Filomena Jefferson-Cho, a girl who suddenly meets one of the heroes from her favorite book series. When he tells her that the story is real, Filomena is swept up in a world-saving adventure and a battle against an evil enchantress.
It's the end of an era! The seven kids who met in Mr. Terupt's fifth grade class are finally eighth-graders, and preparing to say goodbye at last to their favorite teacher.
Tamal is new in town and living in an infamous house that no one wants to go into. At first it seems no one wants to talk about what happened there, but then Tamal meets the terrifying ghost who resides in the house, who only he can see. And she wants to talk about it. And she wants something from Tamal.
Until next week!
Chelsea (@ChelseaBigBang)