Sponsored by Page Street Publishing Co.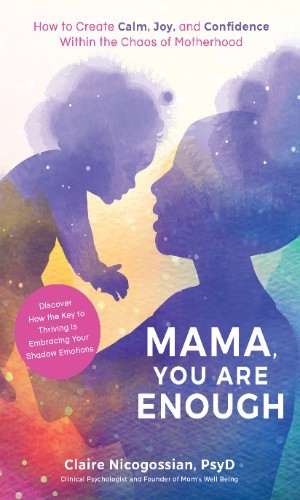 Being a mother is a hard, tiresome role that, although not regularly discussed, can often bring up feelings of sadness, anxiety, anger, disgust, and embarrassment, or, as clinical psychologist and mother of four Claire Nicogossian, PsyD, calls them, shadow emotions. Mama, You Are Enough is a compilation of clinical advice and practical strategies that guides struggling mothers through understanding these shadow emotions, working on overcoming them, and ultimately moving to a place of self-care, where they can enjoy mothering their children once again.
Welcome to Read This Book, a weekly newsletter where I recommend one book that I think you absolutely must read. The books will vary across genre and age category to include new releases, backlist titles, and classics. If you're ready to explode your TBR, buckle up!
This week's book has a Thanksgiving connection! I hope all you Americans celebrating had a great turkey day and that you had pumpkin pie for breakfast! Before we dive into this week's pick, content warning for pregnancy/infant loss, alcoholism, and trauma.
Back in 2013, Ariel Levy wrote an essay for The New Yorker called "Thanksgiving in Mongolia," a devastating piece of writing that described how she went to Mongolia on assignment over Thanksgiving, while pregnant, and while she was there went into premature labor and lost her baby. It's an essay I highly recommend, and it captivated me when it first published. This memoir is an extension of that essay, giving you more details about her life and context to her trip.
The Rules Do Not Apply is a relatively short memoir, but it starts with Ariel's childhood and describes in beautiful detail her upbringing, the unconventional relationships her parents held, and how she first got her start in journalism. She covers how she learned to love travel and relished in being the type of woman who would go off on a moment's notice to a new country and dive into exciting new opportunities. This mindset informs her decisions later on in life, as she met her wife and they were married before marriage equality passed, so they made up a lot of the rules as they went.
Levy is also painfully honest about the troubles in her marriage, how she and wife fell apart after their son's death, and her infidelity. The honesty isn't always pretty or easy to read, but it's painfully raw and real, and that's what makes this book so memorable to me. Levy writes about exhilarating happiness and success, but also about the miserable lows and grief she experienced, and how she had to rebuild her life after loss. This memoir may not be for the faint of heart, but it'll certainly stick with you!
Bonus: I listened to the audiobook, which Levy narrates herself! It's a great way to experience this memoir.
Happy reading!
Tirzah
Find me on
Book Riot
, the
Insiders Read Harder podcast
,
All the Books
, and
Twitter
. If someone forwarded this newsletter to you, click
here
to subscribe.