Sponsored by Versify, Houghton Mifflin Harcourt.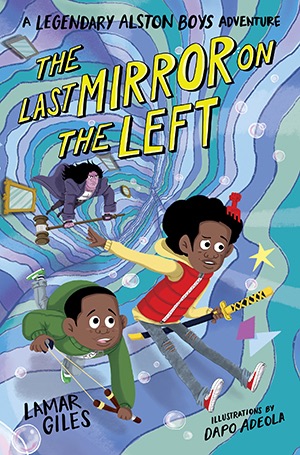 Unlike the majority of Logan County's residents, Missus Nedraw of the Rorrim Mirror Emporium remembers the time freeze from The Last Last-Day-of-Summer, and how Otto and Sheed took her mirrors without permission to fix their mess. Usually that's an unforgivable offense. However, she's willing to overlook the cousins' misdeeds if they help her with a problem. One of her worst prisoners has escaped, and only the Legendary Alston Boys can help bring the fugitive to justice. But justice in this case might not be what the boys first think . . .
Hey Readers! I'm back with another week of new children's book releases.
I Am the Wind by Michael Karg and Sophie Diao
Go on a trip around the world with the wind in this cute picture book that encourages the celebration of the world, blowing with the wind across various locations and viewing all the wonders the world has to offer.
New LLama LLama! New Llama Llama! (I love Llama Llama.) This new installment has our titular llama anxiously waiting for his loose tooth to fall out, and it's adorable.
This picture book introduces little ones to Sylvia Rivera and Marsha P. Johnson, the two trans women who kickstarted the Stonewall Riots and left a permanent mark on the fight for LGBT rights in the United States.
This picture book is set in Istanbul, following a little girl on her journey through the beautiful city. It's lyrical, whimsical, and beautifully illustrated, with a heartwarming tale of community and kindness.
For superhero fans, this fun graphic novel follows a group of sidekicks who get sick of doing all the grunge work for their grownup superhero partners and decide to set out on their own. But they have to prove themselves to their superhero partners first, and they get just the chance when their new friend is kidnapped.
Red Stars by Davide Morosinotto and Simone Tso, translated by Denise Muir
Translated from Italian, this historical mystery is told via diary entries, photos and maps. It picks up where Hitler's Germany invades the Soviet Union, pushing children onto trains that will hopefully carry them to safety. Twins Nadya and Viktor are separated and embark on a journey to find one another.
This latest installment in the Keeper of the Lost Cities series is both a continuation and a guide for super fans! This book picks up right where Legacy left off and includes a guide featuring new details of the world and characters, plus full-color illustrations, themed recipes, and a bonus map.
If you're looking for something more artistically satisfying but still educational (gift giving season is upon us after all!), this guide might be just the thing for you. This colorful introduction to the periodic table is great for curious kids and it manages to be both accessible and comprehensive.
---
Until next week! – Chelsea (@Chelseabigbang)