Sponsored by the bibliophiles at Book of the Month.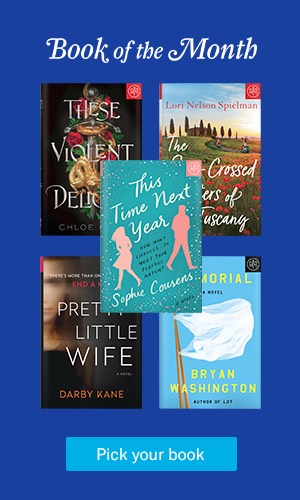 With the socially-distant holidays around the corner, gift giving can be an overwhelming undertaking. Wouldn't you rather read a book instead? Say no more. Book of the Month has you covered with 3, 6, and 12 month gift subscriptions. Let your loved ones choose their own adventure from BOTM's curated selection of new and early release books. BOTM will deliver their book picks in an iconic bright blue box – straight to your loved one's door. And while you're there, why not pick up a subscription for yourself?! It's only $9.99 for your first book, and we promise you'll love it.
It's Election Day! I am simultaneously amazed that it is already here and also feeling like the last election was decades ago. Please, please, please, if you haven't already, go vote.
Moving on to books, first I want to say how disappointed I was that Black & White & Weird All Over by Jon "Bermuda" Schwartz, which I mentioned in last week's newsletter, was moved to a new release date. So, sorry to everyone who wanted to get it last week. Which may have only been me, lol.
Annnnnnnd because it's November, and there's a pandemic, and it's an election year, the number of astounding new releases are way down the next several weeks. I read many of this week's books for All the Books and this newsletter, and I am sad to report that I only liked a few of them. That's not to say that the books aren't good or even great, but I only want to recommend books to you that I loved, because enthusiasm for a book goes a long way. It's really important to me to endorse books I love, because books have saved me countless times, and I want you to read books that make you feel the same way. I love all you meeps!
So for today's newsletter, I'm changing it up a bit and recommending three wonderful novels from this year that I loved that deserve another shout-out. Because that's what it all boils down to: GOOD BOOKS! You can hear about a few of today's amazing books on this week's episode of All the Books! Danika and I discussed White Ivy, The Book Collectors, The Best of Me, and more great new books.
And now, it's time for everyone's favorite gameshow: AHHHHHH MY TBR! Here are today's contestants:
I loved this book and I feel like it has been overlooked on the end-of-the-year lists popping up everywhere because it came out on the first Tuesday of the year. It's about two sisters in Philadelphia: Molly is a cop who is searching for her estranged sister, Kacey. They were once very close, but time and Kacey's substance addiction has come between them.
Last Molly knew, Kacey was living on the streets of their city, but when a string of murders reveals that Kacey has disappeared, Molly will do anything to solve the crimes and find her sister. In between the present-day story is a look at Molly and Kacey's childhood, making this not just a novel of suspense, but a story of family and love.
Backlist bump: The Unseen World by Liz Moore
Godshot by Chelsea Bieker
And this dynamic debut is set in Peaches, California, in a future where the land is dry. Fourteen-year-old Lacey May and her mother live as best they can without much water, and come to put their faith in a preacher, who promises to restore water to the soil and rivers. But Preacher Jim is really nothing more than a venomous, persuasive cult leader who swindles the residents of Peaches. And when Lacey's mother runs off with a stranger, Lacey is left behind to fight against Preacher Jim's insidious grasp. In order to save herself and everyone else in her town, Lacey must uncover the real truth of the preacher and return her mother home. Holy cats, do I love a searing and bleak, but brilliantly written read!
Backlist bump: gods with a little g by Tupelo Hassman (Out in paperback November 17th!)
And last, but not least, If I Had Your Face explores beauty standards in society and in different cultures. Four women live in the same apartment building in Seoul, and face different forms of misogyny and sexism. Kyuri is a gorgeous hostess in an underground club; Miho is a talented artist who is willing to deny her wishes for a new boyfriend; Ara is a hairstylist with a serious obsession with a K-pop band; and Wonna is a newlywed who desperately wants a baby. The friendship of these four women will see them through desperate, difficult situations that are all too familiar to women all over the world.
Backlist bump: Kim Jiyoung, Born 1982 by Cho Nam-Joo, Jamie Chang (Translator) (This is actually another new title from this year that I couldn't pass up recommending again.)
---
As always, I am wishing the best for all of you in whatever situation you find yourself in now. Please reach out to your friends and family if you need someone to talk to, and be sure to keep social distancing and washing your hands to keep yourself and others safe.
Thanks for subscribing! – XO, Liberty