Sponsored by Baen Books.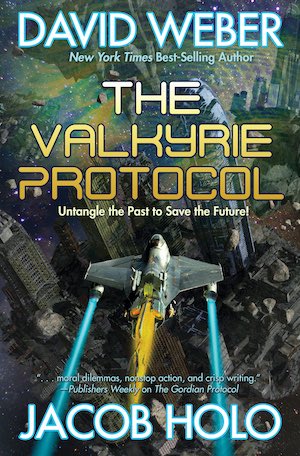 Time is running out to untangle the past to save the future. Agent Raibert Kaminski and the crew of the Transtemporal Vehicle Kleio discover careless time travel has caused a temporal implosion claiming two whole universes. Upon their return home universe SysGov, an audacious plan is put into effect by Raibert's old colleagues. They have proposed an expedition into the past to prevent the Plague of Justinian, one of the worst pandemics in human history. Meanwhile, SysGov's neighbor, the xenophobic Admin is amassing a fleet of advanced, heavily armed time machines with SysGov firmly in the crosshairs.
Welcome to Check Your Shelf. I've been staring at screens so much this week, my eyes feel like they're going to pop out of my head! I'm sure a lot of you can relate, but YOWZA my peepers need a break. (I also may or may not need more sleep.)
All right. Let's library.
---
Libraries & Librarians
News Updates
Cool Library Updates
Worth Reading
---
Book Adaptations in the News
---
Books & Authors in the News
---
Numbers & Trends
---
Award News
---
Pop Cultured
---
Bookish Curiosities & Miscellaneous
---
On the Riot
---
Okay, I'm going to bed and put on a white noise playlist. Wake me up when next week starts.
—Katie McLain Horner, @kt_librarylady on Twitter.