Sponsored by IDW Publishing.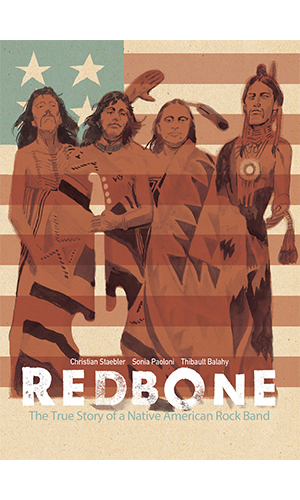 Experience the riveting, powerful story of the Native American civil rights movement and the resulting struggle for identity told through the high-flying career of West Coast rock 'n' roll pioneers Redbone. You've heard the hit song "Come and Get Your Love" in the movie Guardians of the Galaxy, but the story of the band behind it is one of cultural, political, and social importance. Part biography and part research journalism, Redbone provides a voice to a people long neglected in American history. "This book will introduce a new generation to the music and impact of Redbone." —Kirkus Reviews (Starred review)
Hey there, friends! I hope you all had a good weekend. I know it's been a rough one, what with the sad news of Ruth Bader Ginsburg's passing. The NYPL rounded up a list of great books about her life and legacy, and I highly recommend checking it out.
I hope you're all wearing your masks, staying hydrated, and are well stocked with books for the week ahead!
Trivia question: What's the name of the literary club that J.R.R. Tolkien founded while at Oxford?
Deals and Squeals
The National Book Awards longlists are here!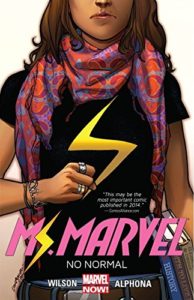 We're one step closer to a Ms. Marvel TV show on Disney+!
Stanley Tucci is releasing a memoir called Taste: My Life Through Food.
Sad news: Fantasy author of The Sword of Truth series Terry Goodkind has died.
Animal Farm and 1984 by George Orwell have new covers to celebrate Animal Farm's 75th anniversary!
Tatiana Maslany has been cast in the adaptation of She-Hulk!
All the Old Knives is being adapted with Chris Pine and Thandie Newton!
Riot Recommendations
At Book Riot, I'm a cohost with Liberty on All the Books!, plus I write a handful of newsletters including the weekly Read This Book newsletter, cohost the Insiders Read Harder podcast, and write content for the site. I'm always drowning in books, so here's what's on my radar this week!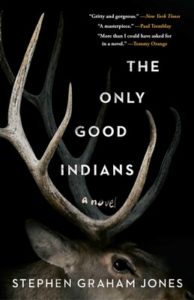 Recommended Reading: The Only Good Indians by Stephen Graham Jones
If you're in the mood for something dark and full of suspense, then definitely pick up this book, which I finished on audio over the weekend! It follows four Blackfeet men who participated in an elk hunt a decade earlier that did not go as planned. Now, one of them is dead, one of them has left the reservation, and the two men who stayed have tried to forget. But when it becomes clear that the elk have not forgotten, revenge will be exacted. This was a fast-paced book that kept me literally on edge–it's beautifully written and it closely examines tradition and how we can be bound to people and places.
What I'm reading this week:
The Cooking Gene: A Journey Through African American Culinary History in the Old South by Michael W. Twitty
Foreshadow: Stories to Celebrate the Magic of Reading and Writing YA by Nova Ren Sum and Emily X.R. Pan
The Accident Season by Moïra Fowley-Doyle
Trivia answer: Inklings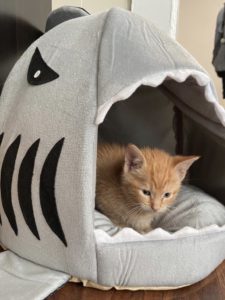 That's it for me, book nerds! I leave you with this photo of my kitten hanging out in his shark bed. It only seems appropriate, given that he loves to bite and we sing "Baby Shark" at tom approximately three times per day.
Happy reading!
Tirzah