Sponsored by The Afflictions by Vikram Paralkar from Lanternfish Press.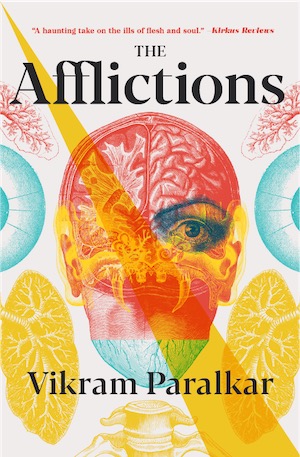 The legendary Encyclopedia of Medicine is a dizzying collection of maladies: an amnesia that causes everyone you've ever met to forget you exist, while you remain perfectly, painfully aware of your history. A wound that grows with each dark thought or evil deed you commit but shrinks with every act of kindness. A disease that causes your body to imitate death, stopping your heart, cooling your blood. Will the fit pass before they bury you—or after?
Welcome to In The Club, a newsletter of resources to keep your book group well-met, well-read, and well-fed. This week I'm back in Portland again after spending another several weeks in Southern California. Many of you wrote in to basically say, "Vanessa, it is not that hot in Portland. Relax!" I know I'm pale, but I promise I'm not just a delicate flower who can't take even the slightest exposure to sun: I was in San Diego and it was near 100 almost the entire time.
Inspired by that same es-muy-hot-so-me-no-cooky mentality, we're making ceviche this week! As for our book club theme, we're taking a look at rural stereotypes, i.e. all that we get wrong about rural America.
To the club!!
---
Nibbles and Sips – Mexican Ceviche
Ceviche means different things in different parts of Latin America, and even within Mexico varies from region to region. This is the style I grew up eating in a border city, a version typical in Mexico's northern states and coastal towns. Make a big o'l batch for book club up to a day ahead and enjoy! This recipe serves about 4.
1.5 lbs of uncooked shrimp (peeled, deveined, chopped into smallish chunks)
1 large roma tomato (firm is best), chopped
1 large cucumber, peeled and chopped (remove the seeds first)
1/2 red onion, finely chopped
About a handful of cilantro, finely chopped
Serrano peppers, diced (start with one, add more based on heat preference)
A pinch of crushed pequin peppers (may substitute red pepper flakes)
1 teaspoon of Maggi sauce (may substitute soy sauce)
1/4 cup of Clamato (optional)
salt, pepper, Mexican oregano to taste
Add some salt and pepper to the chopped shrimp and combine with the lime juice in a large bowl. Cover and allow the acid to "cook" the shrimp in the fridge for at least 15 minutes (I usually do an hour). Once that's done, drain but reserve the lime juice. Combine all the remaining ingredients, season to taste, and add back some of the lime juice for that extra citrusy punch (eyeball this part, the mixture should be wet but not drowning). Serve with sliced avocado, tostadas or chips, and hot sauce of choice! Some folks like their tostadas with mayo on them, do do that if you like. I'll just over here throwing up in my mouth.
What We Get Wrong, Really Really Wrong
This theme of books set in or about rural America is one taken straight from the 2020 Read Harder Challenge. Tirzah and I discussed this specific task in the last episode of the Read Harder challenge, and it felt important to talk about what we get wrong about rural America given, well, life in 2020 and way before that. None of these books claim that all rural stereotypes are completely off base, but they do ask us as readers to give up some of the laziness of relying solely on them. They challenge us instead to hear the important messages that the stereotyped are trying to tell us.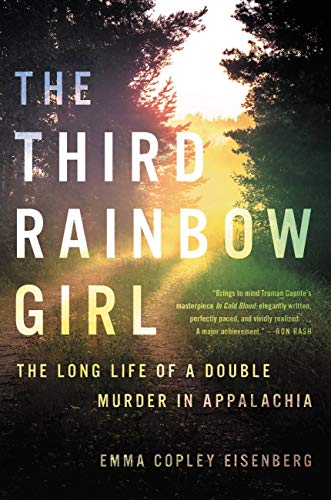 The Third Rainbow Girl by Emma Copley Eisenberg – True crime isn't generally my bag these days; so much of it wreaks of a morbid obsession with the murder and mutilation of women's bodies and I just cannot. In spite of that aversion, I was drawn to this book by Amanda Nelson's review of it on Instagram in which she starts off by describing why she would normally NOT have picked up the book and still ended up loving it. The story at its core is of the murder of two young white women in the 80s who were hitchhiking their way to Appalachia for a yearly counterculture nature meetup, but it's the analysis of the aftermath that sets this book apart. Emma Copley Eisenberg dives into the stereotypes about Appalachia that led to many false assumptions in the wake of the crime, without ignoring the violent misogyny often prevalent in this region or her own liberal do-gooderness.
Book Club Bonus: First, get deep into that rural stereotype thing because whew. Secondly, the author asks, and attempts to answer, a very uncomfortable question that I encourage you to think about too: how can we ever reckon with violence against women if we also insist on a voyeuristic obsession with it?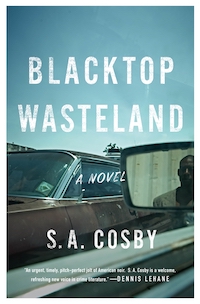 Blacktop Wasteland by S.A. Cosby – This thriller is super popular with the Book Riot crew right now! Beauregard, aka Bug, is a family man doing his best to provide for his wife and kids. But life hasn't dealt him a particularly fortuitous hand: his garage is struggling, he's unable to make ends meet, and now his elderly mother is facing eviction from her nursing home. In a bid for some fast cash, he steps back into a familiar role as a getaway driver, a job he left a long time ago. He goes into it with that good ol' "just one more job!" mentality we've heard before, pero… three guesses as to how that turns out.
Book Club Bonus: This is one of the books Tirzah covered on Read Harder and she had amazing things to say about its portrayal of rural life. As she put it, rural tropes and stereotypes do exist here, but they're paired alongside narratives on race, class, and family that fly in the face of the very limited view so often painted of rural America in literature and media. Discuss which of these stereotypes you brought with you to the reading and what you had to learn to let go of as you progressed.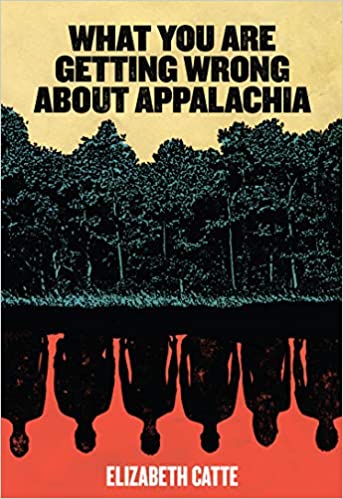 What You Are Getting Wrong About Appalachia by Elizabeth Catte – I'll be brief: don't read Hillbilly Elegy, read this instead. I've heard this advice from so many people born and raised in this region, and the more I've gotten to know about the author of that other book, the more I see why. The more official synopsis: this book is "a frank assessment of America's recent fascination with the people and problems of the region. The book analyzes trends in contemporary writing on Appalachia, presents a brief history of Appalachia with an eye toward unpacking Appalachian stereotypes, and provides examples of writing, art, and policy created by Appalachians as opposed to for Appalachians."
Book Club Bonus: The "by" versus "for" thing really got me thinking and I hope it will do the same for you. How many times have you seen a thing done "for" a group of people and have it be just so, so bad: uninformed, lazy, even harmful in how much it gets wrong?
Suggestion Section
New month, new book club picks from Good Morning America, PBS, Jenna Bush Hager, Reese, Oprah, and Vox.
Celeb Book Club: What the Stars Are Reading Right Now – Before you get all, "I'm a Serious a Reader and don't care what celebrities are reading," the list isn't all the usual suspects. Also, I kind of appreciate a dude coming out and being like, "Yeah, I'm reading Twilight. So?"
---
Thanks for hanging with me today! Shoot me an email at vanessa@riotnewmedia.com with your burning book club questions or find me on Twitter and the gram @buenosdiazsd. Sign up for the Audiobooks newsletter and catch me once a month on the All the Books podcast.
Stay bad & bookish, my friends.
Vanessa