Sponsored by Tor Books.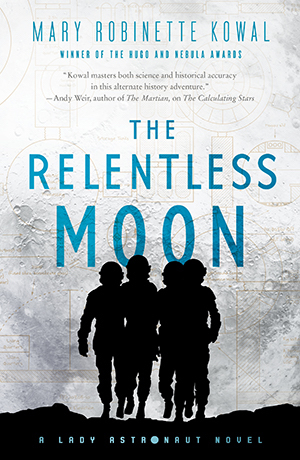 Mary Robinette Kowal continues her Hugo and Nebula Award–winning Lady Astronaut series.
The impending climate disaster of the Meteor strike is becoming clear, but the political situation is already overheated. The IAC's goal of getting as many people as possible off Earth is being threatened.
Elma York is on her way to Mars, but the Moon colony is still being established. Fellow Lady Astronaut Nicole Wargin is thrilled to be one of those pioneer settlers and keeping the program on track. But she is less happy that her husband, the Governor of Kansas, is considering a run for President.
Happy Friday shipmates! It's Alex, bringing you greetings from CoNZealand, this year's WorldCon. No Hugo news for you quite yet (the awards ceremony will be happening probably a few hours after this hits your inbox), but there's other fun stuff going on. This is my first virtual convention, and in some ways it's kind of nice (cheap, can wear sweatpants whenever I want, I control the climate in all the "conference rooms") and in others it's sad, since I was really hoping to be in New Zealand right now. Like everyone else, I'm making the best of the situation—my housemate and I have planned a fancy New Zealand menu, and it's NZ-approved!–and looking forward to attending a lot of SFF readings and panels. Stay safe out there, space pirates.
Non-SFF thing that made my day: Time lapse painting
Looking for non-book things you can do to help in the quest for justice? blacklivesmatter.card.co and The Okra Project.
News and Views
The Guardian did a great profile of author Tade Thompson. I had no idea he's a doctor!
Linguistic world building in N.K. Jemisin's Broken Earth Trilogy
The 2020 World Fantasy Award final ballot has been announced. Congratulations to all the finalists! It's a great list.
Well, July 29 was the day GRRM said we could imprison him if he wasn't done with the book… except as io9 points out, he's scot free from that promise because none of us are actually going to New Zealand! George knew! He knew!
The Recognize Fascism SFF anthology Kickstarter has… started.
Jordan Peele and Issa Rae will adapt Leyna Krow's short story Sinkhole.
Ars Technica did a roundup of trailers from Comic Con.
From the Department of Unsurprising, But Still YIKES: If you already had a feeling Marvel's Netflix shows Daredevil and Iron Fist were real racist, turns out there's a reason for that.
Star Trek: Discovery has an official season 3 start date: October 15!
Possible live volcanoes on Venus!
Scientists discover the source of Stonehenge's largest stones
On Book Riot
13 fantastic Black fantasy authors
Enter before the end of the month and you could win The Southern Book Club's Guide to Slaying Vampires by Grady Hendrix, a year of free books, or a $250 Barnes and Noble gift card.
Free Association Friday: SFF and Te Ao Māori
A panel I was really excited to attend at CoNZealand was SFF and Te Ao Māori, in which four Māori writers of speculative fiction discussed being Māori writers, their influences, and what they'd like to see in the genre moving forward. (More stories in space! Erotica! Horror! Stories of people cooperating with their worlds rather than fighting them!) It was an intensely interesting conversation to listen in on, and here's hoping it might end up being a public offering of CoNZealand, since it was recorded.
The four writers on the panel were:
Cassie Hart writes as J.C. Hart and Nova Blake. Check out her books: The Way the Sky Curves is paranormal romance about a woman with a deadly magical power and a man who can sense that power, who wants to protect her but has secrets of his own. Ebony Slumbers is urban fantasy about a woman with a murky past she doesn't even understand herself, so protectively smothered by eight men who claim they stand between her and death that she can think of nothing but escape.
Steph Matuku writes YA and children's fiction. Flight of the Fantail is about the teenaged survivors of a bus crash, stranded in the bush. Help is strangely slow to arrive, and some of the kids soon start acting strangely and having nosebleeds. Also, her children's book Whetū Toa and the Magician looks super cute.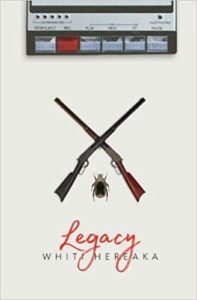 Whiti Hereaka writes plays and screenplays to go along with novels. Her novel Legacy is about a seventeen-year-old Māori boy who is hit by a bus and wakes up in Egypt in 1915, where he begins living through his great-great-grandfather's time in the Māori contigent. And she also has this incredible Twitter thread where she's been posting a book by a different Māori author every day.
Dan Rabarts writes fantasy and a bit of horror. A place to start on his books is Brothers of the Knife, in which poor Akmenos, who just wants his souffle to come out right, gets swept into a tangled web of politics and murder when an elvish prince ends up dead at his banquet.
A few more books they recommended along the way:
Ruahine: Mythic Women by Ngahuia Te Awekotuku – Retellings of Māori myths about women.
The Dawnhounds by Sascha Stronach – On his Twitter, he describes it as cops being bastards. There are also conspiracies, a pandemic, and a warlock who used to be a cop trying to shut it all down. And it's apparently queer as hell. I'm sold.
Once Upon a Time in Aotearoa by Tina Makareti – A short story collection in which the mythic is part of everyday life, and magic happens.
Bonus Fijian recommendation:
Black Ice Matter by Gina Cole – A short story collection that explores both ice and heat from a Fijian perspective.
---
See you, space pirates. You can find all of the books recommended in this newsletter on a handy Goodreads shelf. If you'd like to know more about my secret plans to dominate the seas and skies, you can catch me over at my personal site.