Sponsored by Traitor by Amanda McCrina with Fierce Reads.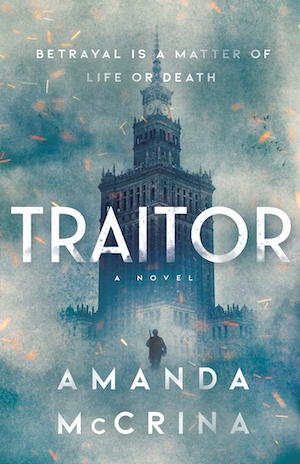 Amanda McCrina's Traitor is a tightly woven thrill ride exploring political conflict, deep-seated prejudice, and the terror of living in a world where betrayal is a matter of life or death.
"Alive with detail and vivid with insight, Traitor is an effortlessly immersive account of a shocking and little-known moment in the turbulent history of Poland and Ukraine—and ironically, a piercing and bittersweet story of unflinching loyalty. I think Tolya has left my heart a little damaged forever." —Elizabeth Wein, #1 New York Times bestselling author of Code Name Verity and The Enigma Game.
Happy Monday, book nerds! I hope you all had most excellent weekends. I packed my book and a little picnic and spent a good four hour chunk on Saturday in my hammock in the park, reading Something to Talk About by Meryl Wilsner, which is a delightful queer romance set in Hollywood! If that's not self care, then I don't know what is!
I've got a bunch of bookish excitement, news, and deals for you, but remember to practice safe social distancing and wear a mask!
Trivia time! Edith Wharton was the first woman to win the Pulitzer Prize–but which book snagged her the prize?
Deals and Squeals!
Calling all Brat Pack fans! Andrew McCarthy has announced a deal with Grand Central Publishing to release his memoir, Brat: An '80's Story, set to release in spring of 2021. This isn't the first time McCarthy has published–he's the author of The Longest Way Home, a memoir about his adult years, and Just Fly Away, a YA novel.
Major squeal time–Sandhya Menon announced on Instagram that her debut novel When Dimple Met Rishi has been adapted into a TV series by Netflix India! The show is set in India, not the U.S., so expect some major changes, but the show should be available on Netflix worldwide later this year. Can't wait? Here are 7 Bollywood Movies to Watch If You Loved When Dimple Met Rishi to marathon in the meantime.
Tor has announced that there will be a sequel to Seanan McGuire's Middlegame! The book will be called Seasonal Fears and you can expect it in spring 2022.
Speaking of new books, Colson Whitehead also revealed on Twitter that the title of his next book is Harlem Shuffle, and it will hit shelves fall 2021!
The production company Sister has acquired TV rights to Jennifer Weiner's Mrs. Everything, her novel about two sisters whose lives and relationships change as they come of age in the 20th century.
Lucifer Season 5 now has a trailer! Watch the season on Netflix starting August 21.
Riot Recommendations
At Book Riot, I am a cohost with Liberty on All the Books!, plus I write a handful of newsletters including the weekly Read This Book newsletter, cohost the Insiders Read Harder podcast, and write content for the site. I'm always drowning in books, so here's what's on my radar this week!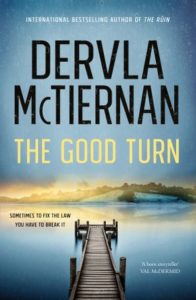 Excited to read: The Good Turn by Dervla McTiernan
Last week's news that McTiernan has signed a deal for three new mysteries set in the U.S. made me really wish that I had a copy of her latest, which is sadly not published here in the U.S. yet (Penguin, c'mon!). I loved The Ruin and The Scholar (which are available in the U.S. in paperback), so I decided to heck with it, and I bought an international copy of The Good Turn because I can't wait for American publishing to catch up! I also listened to two Audible exclusive shorts she wrote over the weekend (The Roommate and The Sisters), so I cannot wait. Fingers crossed that the book doesn't get lost in international shipping!
What I'm Reading This Week:
The Pretty One by Keah Brown (gotta get those Read Harder challenge books in!)
No Judgements by Meg Cabot (the sequel to this romance is coming out next month, and I can't wait!)
This Time Will Be Different by Misa Sugiura (this has been sitting on my shelf for a while and it's suddenly calling to me!)
Trivia Answer: The Age of Innocence
I'll leave you with this must-read on Book Riot–Contemporary Native Literature: Looking Beyond the "Indian Du Jour"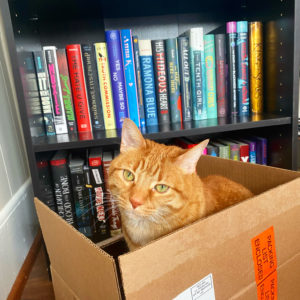 Please enjoy this photo of my orange monster in a box that was meant for a bunch of books before he decided, nope, it was his box now. Cats. There is no reasoning with them.
Happy reading!
Tirzah