Sponsored by Forge Books.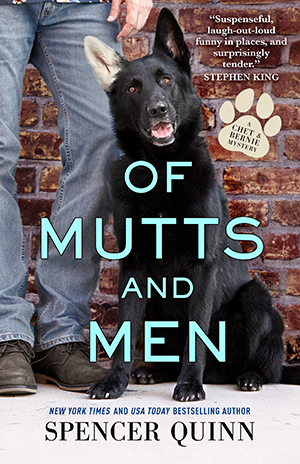 When Chet the dog and his human P.I. partner Bernie Little arrive to a meeting with hydrologist Wendell Nero, they are in for a shocking sight—Wendell has come to a violent and mysterious end. Chet and Bernie, working for nothing more than an eight-pack of Slim Jims, are on the case, and their investigation leads them from Wendell's work to a struggling winemaker who has received an offer he can't refuse. As the police arrest the wrong man and Chet smells water where there is no water, soon Chet and Bernie are in danger like never before.
Hello mystery fans! It's been a minute since we chatted crime books since Friday was a holiday weekend and rather than telling you about books I caught up on reading. But now I'm back to tell you about three excellent books to read: an upcoming suspense that you won't be able to stop thinking about; a narrative nonfiction about a badass spy; a twisty mystery where the past comes back.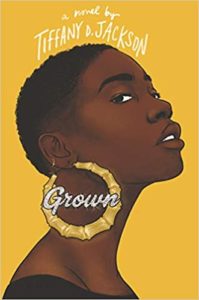 Grown by Tiffany D. Jackson: This is a September release that I'm shouting about early because 1: fall book releases are going to be packed and I don't want it to get lost. 2: It's THAT good. 3: In the meantime if you haven't read Jackson's catalog you should! She's writing fantastic mystery/crime books for and about Black girls and each book is different enough to satisfy different reading moods while all being great and very much written by Jackson. Allegedly (Review) will satisfy your twisty thriller wants, Monday's Not Coming (Review) is for your mystery loving heart, Let Me Hear A Rhyme (Review) blends coming-of-age with mystery and is a love letter to the '90s and Brooklyn.
And now about Grown. This book will grab you and shake you hard. It's about Enchanted Jones, a Black girl swimmer and oldest child of a large family who wants nothing more than to become a professional singer. We start with her in a room covered in blood and then get taken back a bit to work our way to that moment. It's a bit of a who and why mystery but, more importantly, this is a how crime novel. Because those are always the wrong questions asked about victims: How did they let it happen? How did their parents not know? This was a lot like the parable of the frog: if you put a frog into boiling water it'll jump out. But if you put it in tepid water and slowly heat it to boiling, it won't realize the danger it's in in time and will boil. So this is a super tense novel that shows how a smart girl with a great family becomes prey. (TW attempted rape, on page/ sexual assault, on page/ partner abuse, including emotional and manipulations)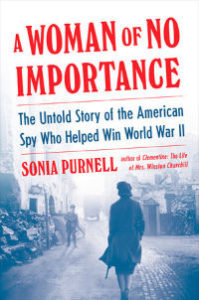 A Woman of No Importance: The Untold Story of the American Spy Who Helped Win World War II by Sonia Purnell: This is a fantastic narrative nonfiction (it reads like a spy thriller!) about a woman you've probably never heard of, Virginia Hall, even though, as the title says, she helped win the war as a spy! She was an American woman who, because of being a woman and having a prosthetic leg, was basically sidelined but kept pushing forward, which is how she ended up being sent into Nazi-occupied France as one of the first British spies sent in. This is a fascinating story about Hall–who deserves all the awards–and is an excellent read for fans of spies, secret agencies, history, hero stories, and the untold stories that deserved at least a chapter in our history books. Highly recommend the audiobook. (TW past attempted suicide, detail/ mentions types of tortures used, details, including rape/ alcoholism)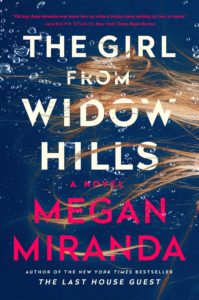 The Girl from Widow Hills by Megan Miranda: It's been a while since a book felt like a psychological thriller to me and actually worked for me, so kudos to Miranda. We follow Arden Maynor, who is like a Baby Jessica, and disappeared as a young child and days later was located having held on to a storm grate the entire time, close to death. As an adult she changed her name and tried to be a different person, wanting to no longer be followed by the media/society circus obsessed with her story.
But now the sleepwalking, which got her accidentally trapped in the storm drain as a child, has started again. And then there's a murder and she's a suspect. So it's only a matter of time before someone figures out that she's the miracle child from the storm drain, and that there's a connection between her and the dead body… This was a page turner for me because it felt like no one could be trusted as Arden–very much a wounded bird who has never quite figured out how to relate to others because she's always guarding the secret of her childhood–tries to figure out what is happening and how much she may know, if only she knew what happens when she sleep walks. So if you're looking for one of those what-is-happening page-turner mysteries, grab this one. And it was great on audiobook. (TW mentions possible past sexual assault, not graphic/ past professor and student relationship/ addiction in past, not MC/ past suicide mention, detail/ panic attacks, PTSD/ past ODs, not detailed or graphic/ past child abuse)
Browse all the books recommended in Unusual Suspects previous newsletters on this shelf. See 2020 upcoming releases. An Unusual Suspects Pinterest board. Get Tailored Book Recommendations!
Until next time, keep investigating! In the meantime, come talk books with me on Twitter, Instagram, and Litsy–you can find me under Jamie Canavés.
If a mystery fan forwarded this newsletter to you and you'd like your very own you can sign up here.