Sponsored by our Summer Reading Pack Giveaway courtesy of Harlequin.com.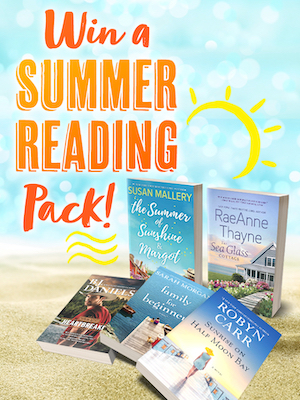 We're giving away a Summer Reading Pack courtesy of Harlequin.com. The prize pack which includes the following titles: Sunrise on Half Moon Bay by Robyn Carr, The Sea Glass Cottage by RaeAnne Thayne, The Summer of Sunshine and Margot by Susan Mallery, Heartbreaker by B.J. Daniels, Family for Beginners by Sarah Morgan.
It's Pride Month! Let's talk about one of the most famous and problematic trans characters in horror, Buffalo Bill in Silence of the Lambs.
Let me get this out of the way: I love the book, I love Ted Levine's performance and also find the actor/that character irresistibly magnetic, I know the movie is set in the 1990s, and so the language in the film is dated and not the most sensitive, and I realize that Thomas Harris had the expertise of Robert Ressler (author of Whoever Hunts Monsters: My Twenty Years Tracking Serial Killers for the FBI) for the sake of authenticity.
And yet, in that movie at the exact middle mark, Agent Clarice Starling and Dr. Hannibal Lecter have a really important conversation that sets the tone for the rest of the book/film AND sticks in my craw:
LECTER: Our Billy wants to change, too.
STARLING: There's no correlation in literature to transsexualism and violence. Trannsexuals are very passive–
…
LECTER: Billy is not a real transsexual, but he thinks he is. He tries to be. He's tried to be a lot of things, I expect… There are three major centers for transsexual surgery, Johns Hopkins, the University of Minnesota, and Columbus Medical Center. I wouldn't be surprised if Billy had applied for sex reassignment at one or all of them and been rejected… Look for severe childhood disturbances associated with violence. Our Billy wasn't born a criminal, Clarice. He was made one by years of systematic abuse. Billy hates his own identity, you see, and he thinks that makes him a transsexual, but his pathology is a thousand times more savage, and more terrifying.
When I taught the film to my ENGL 1102 class several years ago, I had a long discussion with one of my students who realized (admittedly) before I did that this representation is problematic, despite that the dialogue above seems to disclaim, "Buffalo Bill is not a REAL trans person, so don't let this character represent all trans people as serial murderers so 'covetous' of women's bodies that they would literally steal their skin." My student pointed out, for one, why should we or Agent Starling trust the cannibal psychiatrist for expertise on gender identity? And though the rejection from numerous hospitals might have been historically accurate for the time, why are we perpetuating the concept of disavowing someone's own identity in popular culture? And though in the conversation they seem to parse a separation between his nonbinary identity and his violent tendencies… the movie as a whole has us remember differently. Furthermore, outside the film's zeitgeist, many would argue that trans stories should generally be told by trans voices.
I learned a lot from that conversation, particularly from hearing the views that I had not considered. Here we find ourselves, though, with Buffalo Bill as one of the most iconic trans/not-trans figures in horror lore. Granted, his character is loosely based on Ed Gein, an actual serial murderer with a complex relationship to gender, but this version is largely dramatized.
In observance of Pride Month, I'm highlighting LGBTQ+ writers and characters in the horror world, featuring horror by LGBTQ+ authors and/or with central LGBTQ+ characters. As you may have guessed, you're in The Fright Stuff, Book Riot's newsletter about the latest and greatest in horror. I'm Mary Kay McBrayer, and I'll be your Virgil through this realm of hell. LET'S GO.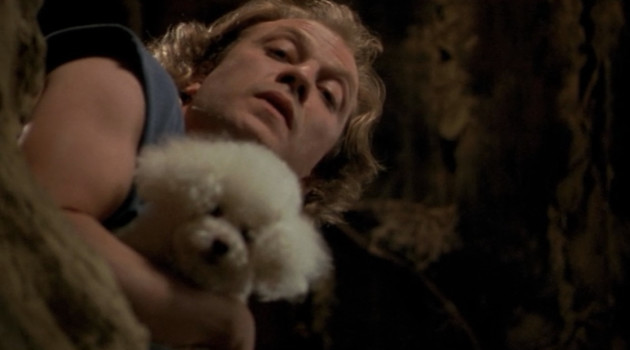 Ear worm: "Goodbye Horses" by Q Lazzarus. It's just such a great song.
Fresh Hells (FKA new releases):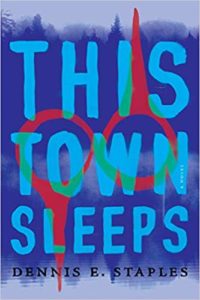 This Town Sleeps: A Novel by Dennis E. Staple
When Marion Lafournier, a mid-twenties gay Ojibwe man, unknowingly brings to life the spirit of a dog buried beneath a playground, he also unearths secrets of a murdered Ojibwe basketball star. This book explores the connections between inherited culture, personal identity, and legend all develop together.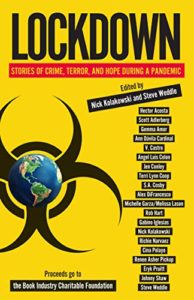 *bonus that could not wait* Lockdown: Stories of Crime, Terror, and Hope during a Pandemic edited by Nick Kolakowski and Steve Weddle
In this anthology, a fictional virus sweeps the U.S. It's perfect for our time, and it's a really interesting approach to a pandemic similar to the one we are currently experiencing. Over 20 authors contribute stories of different experiences and characters in similar settings. Say it with me: ADD TO CART. (Bonus: Proceeds from LOCKDOWN will go to support BINC, the Book Industry Charitable Foundation, as it seeks to help booksellers recover from the devastating COVID-19 crisis.)
Cryptkeepers (FKA horror from the backlist):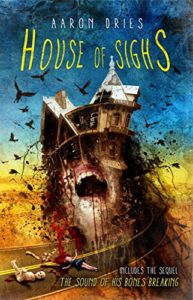 House of Sighs by Aaron Dries
In this novella, Liz the local bus driver decides not to die by suicide, but to wait one more day. Nine people board her bus, and from them, she tries to make a family, against their wills. (This edition includes the novella's sequel, too, The Sound of His Bones Breaking.)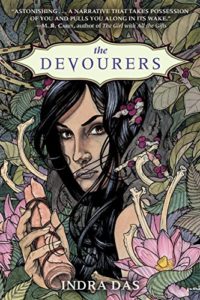 The Devourers by Indra Das
In this novel, Indra Das imagines a world of werewolf-like beings in 17th century Mughal India. I can't summarize the book better than this: "On a cool evening in Kolkata, India, beneath a full moon, as the whirling rhythms of traveling musicians fill the night, college professor Alok encounters a mysterious stranger with a bizarre confession and an extraordinary story. Tantalized by the man's unfinished tale, Alok will do anything to hear its completion. So Alok agrees, at the stranger's behest, to transcribe a collection of battered notebooks, weathered parchments, and once-living skins."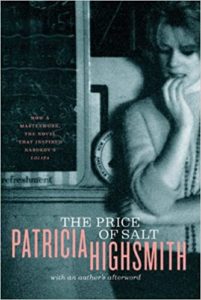 The Price of Salt by Patricia Highsmith
From the much-beloved noir writer of classics like The Talented Mr. Ripley comes the cult classic story of romantic obsession. Originally published in 1952, it's kind of the unsung hero of forbidden Lesbian romance thrillers. And it comes highly recommended by In the Dream House author, Carmen Maria Machado.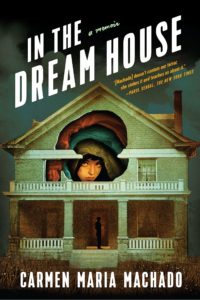 In the Dream House by Carmen Maria Machado
Celebrated author of Her Body and Other Parties released this horrifying memoir in fall of 2019. It depicts the experience of an abusive Lesbian relationship through numerous literary and film tropes, from the bildungsroman to the haunted house. It's a real piece of art.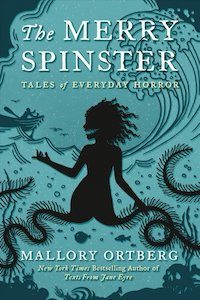 The Merry Spinster: Tales of Everyday Horror by Daniel Mallory Ortberg
Cannot emphasize enough how sincerely terrifying this collection is–and it's anything but "everyday," unless you consider the Velveteen Rabbit an enemy, or if folktales come alive in your nightmares. Seriously, if you want to be freaked out (and you do. I mean, you're in a horror newsletter, after all), go on and buy this one.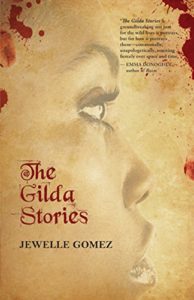 The Gilda Stories by Jewelle Gomez
"This remarkable novel begins in 1850s Louisiana, where Gilda escapes slavery and learns about freedom while working in a brothel." … Sold, am I right? But more than the description of the book itself, when this book released in 1991, it examined the cross-section of Black, Lesbian identity in the speculative fiction and horror world as few novels had before–plus, this novel has the erotic slant that vampire tales so easily lend themselves toward.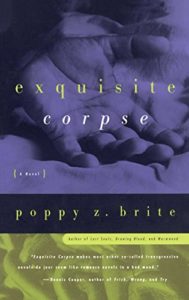 Exquisite Corpse by Poppy Z. Brite
Referred to by one author as the "guidebook to hell," this novel tells the story of a prison-broke serial killer, his lover who is also a vicious murderer, and the artistic nature with which they view their murders. It's Bonnie and Clyde, minus the heteronormativity and alleged do-good motivations.
Harbingers (FKA news):
Heads up! Horrorstor by Grady Hendrix will be adapted to film–and the novel's author will be writing it!
A museum celebrating Mary Shelley's Frankenstein just had plans approved in Bath.
Check out this list of nightmare hotels in books and movies, provided by Quirk.
According to Tara Isabella Burton in her article, "Searching for Meaning in Times of Despair: A Reading List," "In times of cosmic confusion, in other words, people search for meaning: whether through witchcraft or politics, drugs or sex or mysticism."
Learn about the deadly Irish epidemic that brought Dracula to life.
Look at this interview with Silvia Moreno-Garcia, author of Mexican Gothic. 
These authors (including our horror fave Carmen Maria Machado) weigh in on what Pride means today.
Here's how one author learned early from Alfred Hitchcock that nightmares can be real.
Isaac Newton's horrific notes on the Bubonic plague just sold for $81,000.
In a new VR adaptation of the Russian folk horror Baba Yaga (that's right, the crone-y witch that lives in the house with the chicken legs), Daisy Ridley plays the POV character, Magda.
While you're doing your lockdown re-watch of the ultimate crime horror, The Sopranos, give Made Women a listen: Drea de Matteo (who played Adriana on the show) and Chris Kushner host the re-watch podcast with other guests and stars.
In Bloody Women's on-going series, Comfort Viewings, filmmakers, fans, and writers talk about what they're finding comfort in right now, while we live through a real-life horror film. The fourth one comes from award-winning producer Jennifer Handorf.
Check out these 4 Apocalyptically Good Books.
Enter to win $250 to spend and Barnes and Noble.
Enter to win a 1-year subscription to Audible.
Tell us more about yourself and potentially win an ereader! We're doing a Reader Survey, it'll only take a few minutes, and you can see the questions and giveaway details at bookriot.com/2020survey.
Until next week, follow me @mkmcbrayer for minute-to-minute horrors or DM me there to let me know of other books I should include. I'm also on IG @marykaymcbrayer. Talk to you soon!
Your Virgil,
Mary Kay McBrayer
Co-host of Book Riot's literary fiction podcast, Novel Gazing