Sponsored by Magic Lessons. Enter for a chance to win an ARC of Magic Lessons, the prequel to Practical Magic by Alice Hoffman!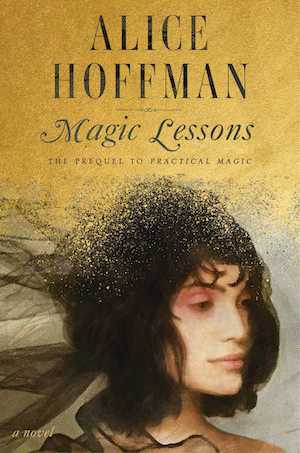 In an unforgettable novel that traces a centuries-old curse to its source, beloved author Alice Hoffman unveils the story of Maria Owens, accused of witchcraft in Salem, and matriarch of a line of the amazing Owens women and men featured in Practical Magic and The Rules of Magic.
Happy Thursday! I have been SO EXCITED to tell you about a book I read over the weekend. I have been talking about it pretty much nonstop to my friends and my cats (same difference) since I read it. You can learn about it for yourself below! I've also got a little bit of book news for you, and a cat picture, of course.
It's about to get really hot here in Maine for the next couple weeks, so I am looking forward to time inside in my hammock in the air conditioning. I highly recommend getting an indoor hammock, if you can swing it. (Ba-dum-dum.)
Whatever you are doing or watching or reading this week, I am sending you virtual hugs. Please be safe, and remember to wear a mask and wash your hands. And please be mindful of others. It takes no effort to be kind. I'll see you again on Thursday. – xoxo, Liberty
Trivia question time! What was Agatha Christie's pen name, which she used to write several non-mystery novels? (Scroll to the bottom for the answer.)
Deals, Reals, and Squeals!
Oprah's newest book club pick, Deacon King Kong by James McBride, is being developed for television.
Hulu is also making a series based on the upcoming book Action Park: Fast Times, Wild Rides, and the Untold Story of America's Most Dangerous Amusement Park by Andy Mulvihill and Jake Rossen.
Congratulations to Rioter – and All the Books! co-host – Tirzah Price on her first book! Book Riot has the exclusive cover reveal.
Michael Keaton will star in Hulu's limited series adaptation of Beth Macy's Dopesick.
Constance Wu and Sam Heughan are joining Freida Pinto, Sope Dirisu and Oliver Jackson-Cohen in Mr Malcolm's List.
Colson Whitehead teased an upcoming book for 2021.
You Can't Catch Me by Catherine McKenzie will be adapted for television.
Book Riot Recommends 
At Book Riot, I work on the New Books! email, the All the Books! podcast about new releases, and the Book Riot Insiders New Release Index. I am very fortunate to get to read a lot of upcoming titles, and learn about a lot of upcoming titles, and I'm delighted to share a couple with you each week so you can add them to your TBR! (It will now be books I loved on Mondays and books I'm excited to read on Thursdays. YAY, BOOKS!)
Loved, loved, loved: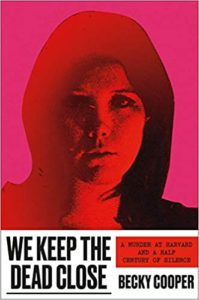 We Keep the Dead Close: A Murder at Harvard and a Half Century of Silence by Becky Cooper (Grand Central Publishing, November 10)
In 2009, while a student at Harvard, Cooper heard a story: Forty years ago, an archaeology student had an affair with her professor and when she threatened to tell his wife, he killed her and then the school covered it up. Cooper couldn't believe that this could be true, or that if it was true, she couldn't believe the professor in question was still teaching at Harvard. But there he was, waltzing around campus in a cape, like a villain. So Cooper decided to find out about the murder for herself, engaging in what became a decade-long search for answers.
And what she found was that yes, some of that story was true: In 1969, Jane Britton was murdered in her apartment and the case was never solved. But it wasn't that there was a lack of suspects. In fact, there were almost too many suspects. In the course of her research, Cooper found several people with ties to Jane's life who had mysterious deaths or suspicious disappearances in their lives both before and after her death. On top of that, she reveals decades of misogyny in academia and the Harvard archaeology department, as well as cover ups, poor property management, government stonewalling, more cold cases, and eventually, the solution to Jane's murder. Cooper also takes a hard look at her own life and how she relates to Jane and her obsessive interest in the case.
This is the best true crime book I have read where the identity of the killer is known, but not revealed until the end of the book. At the end of the first present-day chapter, Cooper says, "Decades passed, and her case remained unsolved. Unsolved, that is, until yesterday." And I was like, "OOOOOOOOOOOOOOO." I flew through this so fast to find out who it was, and the reveal is like WHOA. Honestly, the whole book is like WHOA. But this is not a book about Jane's killer, it's a book about Jane Britton and injustice. How were there this many sketchy people involved in this case? This book is absolutely bananapants, and sad, and sensitively researched. I cannot stop talking about it, and soon, everyone will be talking about it when it comes out. Write it down now!
What I'm reading this week.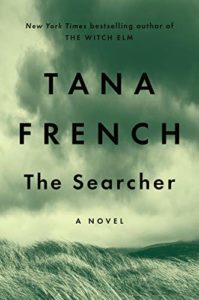 The Searcher by Tana French
How the One-Armed Sister Sweeps Her House by Cherie Jones
South to Freedom: Runaway Slaves to Mexico and the Road to the Civil War by Alice L Baumgartner
The Cold Vanish: Seeking the Missing in North America's Wildlands by Jon Billman
My Year of Rest and Relaxation by Ottessa Moshfegh
Song stuck in my head:
Alone by Heart (This is entirely the fault of Bob's Burgers.)
And this is funny:
I don't think I would be mistaken if I said almost everything I find funny involves cute animals.
Happy things:
Here are a few things I enjoy that I thought you might like as well:
And here's a cat picture!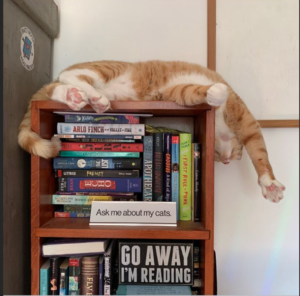 Is Zevon sleeping or melted?
Trivia answer: Mary Westmacott.
You made it to the bottom! High five. Thanks for reading! – xo, L