Sponsored by Sourcebooks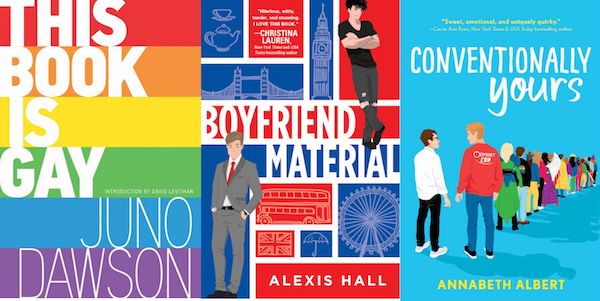 As a publisher, Sourcebooks is committed to changing hearts, opening minds, and being advocates for equality and that is why we feel it's important to publish a variety of books that include LGBTQIA+ characters and topics. Come celebrate Pride Day with these titles; This Book is Gay by Juno Dawson, Conventionally Yours by Annabeth Albert, Boyfriend Material by Alexis Hall, and many more.
From the history of the community to favorite reads across genres, we're celebrating all things LGBTQIA+ today on Book Riot. Happy Pride month, and happy Pride Day!
Get educated on Stonewall, and then dive into fun LGBT comics and graphic novels. Or maybe you need some audiobooks to keep you company? How about a rainbow of books for your shelf? You can get out of town (mentally) with these sci-fi/fantasy adventurers, and celebrate besties with some YA books. Our site is your oyster, friends.
Break out your glitter and start exploring!