Sponsored by Little Bee Books.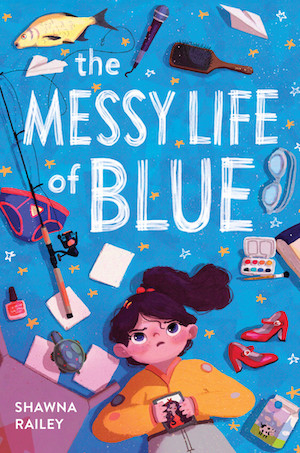 Eleven-year-old Beulah "Blue" Warren spends every waking moment surrounded by boys: her three brothers, her father, her best friend, even the family dog, but that's never stopped her from being her usual rambunctious self. Grappling with the loss of her mother, Blue is determined to do what she wants without fear of consequences. But everything changes on the day she explores the attic and finds her mother's death certificate. Blue will need to muster all the strength she has to deal with the truth, find forgiveness, trust in her father, and grieve for her mother once and for all.
Welcome to Check Your Shelf, where I am going to try not to talk about curbside services.
If you need a giggle, here's an example of a criminal living his best life during quarantine – taking selfies with dinosaur skeletons. 
---
Collection Development Corner
Publishing News
New & Upcoming Titles
What Your Patrons Are Hearing About
RA/Genre Resources
On the Riot
---
All Things Comics
On the Riot
---
Audiophilia
On the Riot
---
Book Lists, Book Lists, Book Lists
Children/Teens
Adults
On the Riot
---
Level Up (Library Reads)
Do you take part in Library Reads, the monthly list of best books selected by librarians only? We've made it easy for you to find eligible diverse titles to nominate. Kelly Jensen created a database of upcoming diverse books that anyone can edit, and Nora Rawlins of Early Word is doing the same, as well as including information about series, vendors, and publisher buzz.
Keep on keeping on, everyone. I'll see you on Friday.
—Katie McLain Horner, @kt_librarylady on Twitter.