Sponsored by Hannah Mary McKinnon, author of this summer's most bone-chilling read, Sister Dear.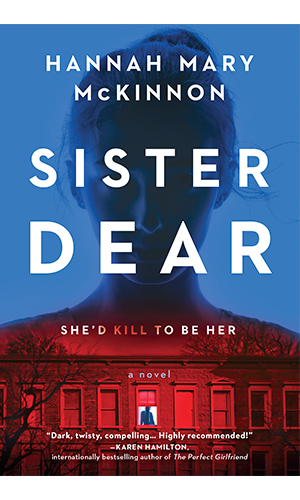 Everything is slipping through Eleanor's fingers… In a gut-wrenching discovery, she learns that she isn't her dying father's daughter: she was the product of an affair. With her personal life spiraling, she seeks her biological father out, and discovers something else- an infuriatingly enviable half-sister. Perfectly perfect Victoria has everything Eleanor could ever dream of. Loving childhood, luxury home, devoted husband. All of it stolen from Eleanor, who deserves it just as much. Consumed by an overwhelming obsession, she slowly begins to infiltrate her sister's seemingly perfect life.
Sister Dear by Hannah Mary McKinnon. Order your copy today!
Hello mystery fans! This week I have for you a PI series with a lead I really like, a serial killer thriller focused on the victims, and a murder mystery on an island where everyone is trapped thanks to a storm!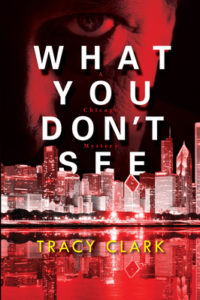 What You Don't See (Cass Raines #3) by Tracy Clark: This is one of the handful of ongoing series that I keep up with because I love the character: Cass Raines, a former police officer turned P.I. in Chicago. Unlike many of the PI leads that are loners or bad at personal relationships, Raines has a nice support system, is in a new romantic relationship, and has a great relationship with her ex police partner. That's how this mystery, her new case, starts: Ben Mickerson is working for Vonda Allen, the woman on top of a media empire, as a bodyguard because she's receiving threats. Mickerson convinces Raines to join him as a bodyguard and help figure out what is happening and immediately the job Raines didn't want to take becomes the job she hates: there's a shooting and Allen is so unpleasant that Raines probably wants to murder her rather than risk her life protecting her… Come for the great twisty mystery cases and stay for the found family. (TW suicide/ past animal cruelty, skippable and not graphic)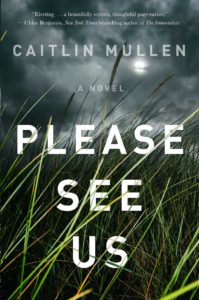 Please See Us by Caitlin Mullen: This is one of those mysteries that very much sinks you into the place, Atlantic City, and the residents' current struggles. It's told mainly by two characters but also by the victims and a coworker. There's a teenage psychic, Clara, working for her aunt since her mother left who is seeing visions that may be related to the recent missing women cases. And then there's Lily, heartbroken and newly arrived after running away from her art gallery life in NY. They meet one day in a spa Lily works in as Clara is trying to drum up business and steals from her. They have an instant connection as women who see the difficulty of being a woman in this world and the economic struggles Atlantic City has been suffering.
Both Lily and Clara have different backgrounds and thus struggle in different ways, but both are very aware of their place in the world and the struggle of moving from it. We also read as victims of the serial killer meet their end—written to give these woman voices, not to show gratuitous violence—and how close Clara and Lily's lives are circling this danger… The audiobook has a multicast that kept my earbuds in and had me ignoring everything until I was done. (TW addiction/ past date rape alluded/ eating disorder discussed/ teen sex work/ attempted rape/ past suicidal thoughts, brief detail/ recalls past thoughts of wanting to harm child)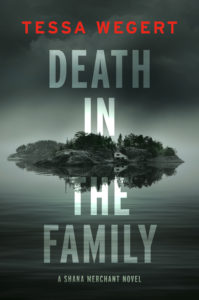 Death In The Family by Tessa Wegert: This is exactly as advertised—investigators and a wealthy family trapped on an island together with a missing man and tons of blood—but with the added story of the lead investigator's past. The mystery: in an Upstate New York private island, a man is missing from his bed and he's left behind his living girlfriend and a ton of blood. The wealthy family thinks he staged it, certainly, and is fine somewhere.  Former NYPD detective Shana Merchant and fellow investigator Tim Wellington disagree on whether the man is missing or dead, but they have plenty of time to look into it since everyone is stuck together on the island thanks to a storm. If you don't read the book summary: Shana Merchant's past trauma, which is why she left the NYPD and is currently engaged to her psychologist (gross!), is slowly revealed in more detail over the course of the investigation.
Everyone is a suspect here as you get the family with plenty of the usual motives for murder: infidelity, inheritance, secrets, people are aholes… This one reads like a standalone but it's labeled as the start of a procedural series, so it looks like we'll be getting more of cynical survivor Shana Merchant. And YMMV but I was having a hard time getting into the print copy and switched to audio and found myself finishing it in less than two days!  (TW panic attack/ PTSD/ talk of statutory)
Browse all the books recommended in Unusual Suspects previous newsletters on this shelf. See 2020 upcoming releases. An Unusual Suspects Pinterest board. Get Tailored Book Recommendations!
Until next time, keep investigating! In the meantime, come talk books with me on Twitter, Instagram, and Litsy–you can find me under Jamie Canavés.
If a mystery fan forwarded this newsletter to you and you'd like your very own you can sign up here.