Sponsored by Lit Stitch: 25 Cross-Stitch Patterns for Book Lovers.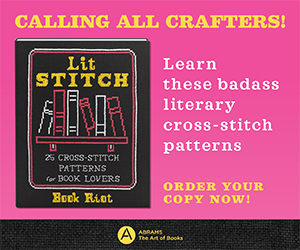 Inside Book Riot's Lit Stitch, you'll find a number of badass, bookish cross-stitch patterns. Some of these are for bookmarks, others are for wall decor, and still others can take on a whole host of finished outcomes. What they have in common is their literary bent—the patterns speak to all manner of literary-minded book lovers, who are happy to display their nerdier sides. And what better way than through your own cross-stitch art to hang on your wall, prop on your desk, or even gift to friends and family. And most, if not all, are beginner friendly and can be completed in a few hours—instant stitchification!
Or horse boy! Or anyone who loves horses! But I love the concept of horse girls, because almost everyone either knows one or was one. So identifiable. So real. The Preakness Stakes was scheduled for this month, and if you used to be a horse person, you know that that is one of the races in the Triple Crown (the other two are the Kentucky Derby and the Belmont Stakes). Horses like Man o' War and Secretariat won the Triple Crown, and those races are a Big Deal. The Preakness has been delayed this year, but that doesn't mean we can't read some horsey nonfiction in honor of it!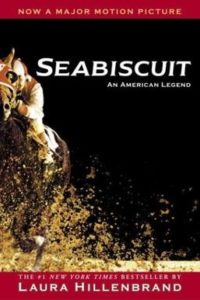 Seabiscuit: An American Legend by Laura Hillenbrand. Ol' Seabiscuit! Ok, I did not know anything about Seabiscuit, but Hillenbrand wrote Unbroken, so she's really into like, tough survival tales and perseverance, etc. He was a STAR of the 1930s, though described as the "crooked-legged racehorse with the sad tail." It's an underdog story, but a horse. An underhorse story. Honestly, with the way things are now, even seeing a picture of Seabiscuit makes me tear up, so I'm pretty sure I'd sob through this one. Horses!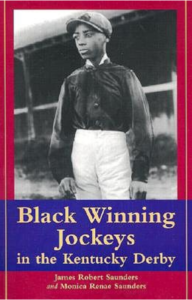 Black Winning Jockeys in the Kentucky Derby by James Robert Saunders and Monica Renae Saunders. The first black jockey won the Kentucky Derby at its inauguration in 1875. Between 1875 and 1902, black jockeys won the Derby sixteen times. This looks at why that trend stopped (the answer is racism) and the early and immense success of black men in the field of horse racing. Note: the first woman jockey rode in the Derby in 1970, and the first black woman jockey in the Derby rode in the Derby never.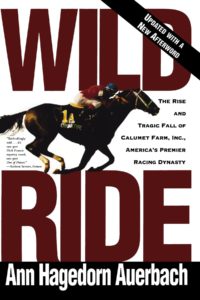 Wild Ride: The Rise and Tragic Fall of Calumet Farm, Inc., America's Premier Racing Dynasty by Ann Hagedorn Auerbach. I love a rise and tragic fall! Drama-wise. When it's deserved. A favorite Goodreads review of this is "The subtitle of this book should be 'Greedy, selfish people excel at destruction.'" This story also involves the "Bluegrass Bubble," which I also love as a concept. Basically the story sounds like, rich people try to get richer through horses and then fail at it. And that's why you never misuse a horse.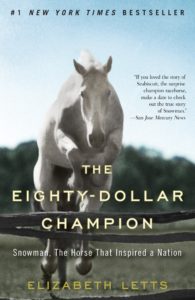 The Eighty-Dollar Champion: Snowman, the Horse That Inspired a Nation by Elizabeth Letts. ANOTHER UNDERHORSE STORY. Snowman was a plow horse that his rider bought for $80. He went on to become an incredibly beloved show jumper and oh no, I'm gonna cry again. If you think Snowman doesn't have his own entry in Horse Stars Hall of Fame, you would be MISTAKEN (they call his story nags-to-riches!!). All the feelings for Snowman.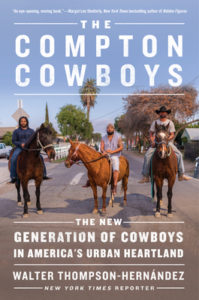 The Compton Cowboys: The New Generation of Cowboys in America's Urban Heartland by Walter Thompson-Hernández. We've definitely talked about this on For Real, but I want to talk about urban cowboys (and cowgirls!) again. The Cowboys have their roots in a program from 1988 called the Compton Jr. Posse. The Compton Cowboys became friends in that program. Their motto is "the streets raised us, the horses saved us" and oh no, I'm gonna cry again because humanity's precious bond with horses, oh no my feelings. Part of their work is to combat negative stereotypes about African Americans and the city of Compton.
As always, you can find me on social media @itsalicetime and co-hosting the For Real podcast with Kim here at Book Riot. Until next time, enjoy those facts, fellow nerds.