Sponsored by Lit Stitch: 25 Cross-Stitch Patterns for Book Lovers
Inside Book Riot's Lit Stitch, you'll find a number of badass, bookish cross-stitch patterns. Some of these are for bookmarks, others are for wall decor, and still others can take on a whole host of finished outcomes. What they have in common is their literary bent—the patterns speak to all manner of literary-minded book lovers, who are happy to display their nerdier sides. And what better way than through your own cross-stitch art to hang on your wall, prop on your desk, or even gift to friends and family. And most, if not all, are beginner friendly and can be completed in a few hours—instant stitchification! So grab yourself some excellent embroidery floss, hoops, and needles, and pick out one or more of these great cross-stitch patterns for your next project.
Hello readers,
It's a bright sunny day here, and I write this by my window-sill which is absolutely full of tiny succulents. These stubborn little wonders are my top tip for anybody who is challenged at the whole "keeping plants alive" thing. (My other top tip is an ivy – those suckers are robust…!).
Anyway, enough about my horticultural inadequacies! Let's check out the new releases from the world of children's literature this week – there's some good stuff there!
The Total Eclipse of Nestor Lopez by Adrianna Cuevas
The animals are disappearing – and Nestor's grandmother is prime suspect number one. But Nestor can speak to animals and his investigation reveals that they're being taken by a tule vieja – a witch who can absorb the animal's powers by biting it during a solar eclipse. And the next eclipse is about to happen….
Anything with a title that riffs on a Bonnie Tyler song gets my attention. My attention stays got when there's a brave Cuban American lead, a band of brilliant people (and animals!) coming together to Sort Things Out, and a whole ton of adventure.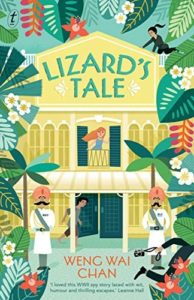 Lizard's Tale by Weng Wai Chan
1940, Singapore. Twelve year old Lizard lives a complicated life – and after he steals a Japanese code book, it gets a whole lot more difficult. The world of wartime espionage means that he doesn't know who to trust, and right at the top of the list is his friend Lili…
Street-smarts, bravery and a city full of secrets – what's not to love about this middle-grade debut?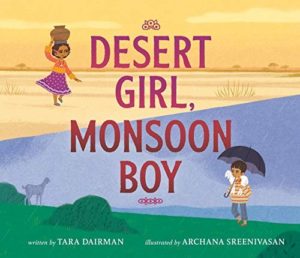 Desert Girl, Monsoon Boy by Tara Dairman, illustrated by Archana Sreenivasan
Picture book time! This is the story of two children who live in India and experience all the extremes that the weather has to offer. It's grounded in well-researched text and illustrations, and provides a valuable new perspective on how climate-change impacts indigenous communities. A really strong, knowledgeable, and elegant told book.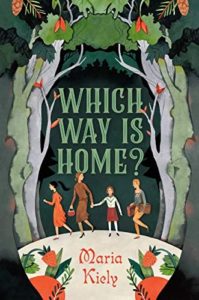 Which Way Is Home? by Maria Kiely
It's 1948 in Czechoslovakia, and the impact of the Communist takeover means that Anna and her family must leave the country. Not knowing who to trust, or whether she'll ever see her father again, Anna and her sister and her mother are forced to put their lives in the hands of strangers in order to survive.
Drawing on the author's own family history, and highlighting a rarely represented period within children's literature, this is a strong middle grade debut full of adventure, heart and bravery.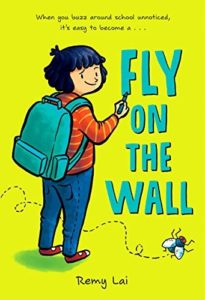 Fly On The Wall by Remy Lai
Henry Khoo has an overprotective family. His sister is his chaperone/bodyguard, and his (former!) best friend knows to expect an interrogation when Henry's actually allowed to come to her house. The last thing that Henry's going to be allowed to do is travel halfway around the world by himself – but he's not waiting for permission…
Told in an illustrated diary format perfect for Wimpy Kid fans, this lively coming of age story is very funny, very heartfelt and very much a celebration of being a little bit quirky.
Okay! We'll leave it there for now, and I'll be back in a week with more new releases. Between then and now, you can stay in touch with me via social media (Let's talk about how great The Lord of The Rings films still are), on my website, or over on the biweekly literary fiction podcast Novel Gazing (we just did an episode which featured a lot of YA and picture books – check it out!).
Happy reading!
Louise.