Sponsored by Scribner Books.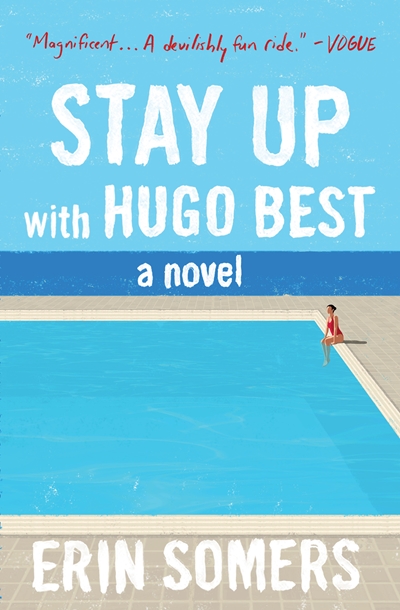 Now in paperback—one of Vogue's Best Books of 2019
"Incisive, funny, and tinged with melancholy, the timely novel follows two lost but clever souls desperate for connection." —Entertainment Weekly
"This timely and often very funny novel speaks to how the #MeToo movement swept Hollywood—and the comedy world in particular." —LitHub
June Bloom is twenty-nine, broke, and an aspiring comedy writer. Hugo Best is a beloved late-night TV icon and notorious womanizer who invites her to his mansion for Memorial Day weekend. This is the story of their four days together, a "zippy…magnificent…devilishly fun ride" (Vogue).
Welcome to In The Club, a newsletter of resources to keep your book group well-met, well-read, and well-fed. This week's inspo comes by way of the gentle British cooking shows I've been using as a salve for anxiety during this pandemic. With that flavor of comfort in mind, this week's book club suggestions are all about food.
Ready to get culinary? To the club!!
---
Nibbles and Sips, Seared to Perfection
I was craving a nice steakhouse dinner the other night and realized I could throw one together pretty quickly at home. I think it would be super fun to have a fancy dinner with your book club over video chat, it's fun to feel fancy for a night these days!
Cooking the perfect steak doesn't take long at all which is great for the cooking fatigued. I like filet mignon and cooked it as instructed here. The gist of it is that the steak should be brought to room temp and patted dry before cooking, seasoned liberally all over, seared on both sides, then finished in an oven. (Unpopular opinion: I love A1 sauce and will absolutely smother my steak in it because it tastes good DON'T AT ME). My steak only cost me seven American dollars and it was delicious!
Mushrooms in a wine sauce: Sauté some mushrooms (I used crimini) with some sliced shallots, garlic, and red wine. Season to taste and boom shaka laka, you're done.
Salad: Make yourself a wedge salad! Slice a hunk o' lettuce and top it with crispy bacon and blue cheese dressing.
Drinkity drinks: had to go the wine route here. A chose a big, bold glass of syrah to pair with that luscious steak plus a giant glass of water. We're staying hydrated out here, okay?
Delicious Reads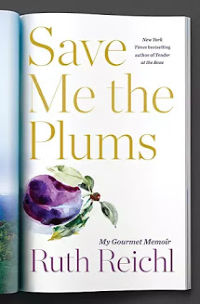 Save Me the Plums by Ruth Reichl – This memoir from my foodie high priestess focuses on her time at Gourmet Magazine, during which she was tasked with revamping the publication while also trying to be a wife and a mother. It includes lots of wonderful recipes, too, from a decadent chocolate jewel cake to a quick, comforting noodles.
Book club bonus: discuss the unique challenges that women face with respect to balancing a career and running a household. This is especially relevant during this pandemic: raise your hand if you know a woman who's shouldering all of the home and child responsibilities right now!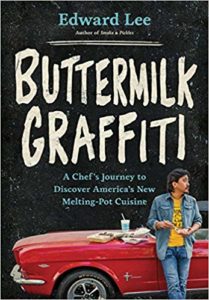 Buttermilk Graffiti by Edward Lee – Edward Lee spent two years on the road traveling to every corner of the country in the pursuit of interesting stories about food. The result of that endeavor is this part memoir, part travel book that shines a light on how immigrants and refugees have shaped modern American cuisine. By all accounts, this is a work of beautiful food writing with truly intriguing interviews, conversations and 40 mouthwatering recipes.
Book club bonus: what did you learn about immigrants + food? Talk about this important impact and unpack how American food culture chooses so often to appropriate rather than uplift + appreciate.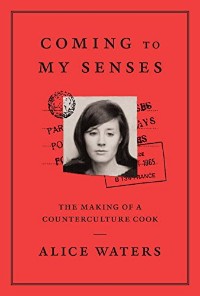 Coming to My Senses by Alice Waters – In 1971, a 20-something woman opened a "little French restaurant" in Berkeley, California as a passion project. That woman is Alice Waters and that restaurant is Chez Panisse, the now iconic institution that's largely considered America's most influential restaurant. This memoir is a collection of stories, recipes, and letters that chronicles Waters' evolution from "a rebellious yet impressionable follower to a respected activist who effects social and political change on a global level through the common bond of food."
Book club bonus: There is so much to talk about in Waters' journey: the catalyst for her early involvement in politics, her ascent into influential activism, and her brand of foodie excellence to name a few.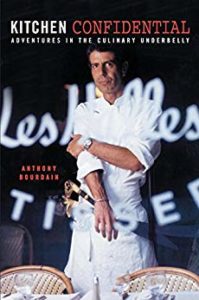 Kitchen Confidential by Anthony Bourdain – I had to include this one, okay? I just couldn't not. Read it in print before? Do it now on audio. I actually teared up hearing his voice and immediately watches some Parts Unknown afterwards.
Book club bonus: Uncle Tony preaches many a word in this food writing masterpiece, so where to start? The restaurant industry's treatment of immigrants? Its misogyny? Should we do away with brunch (sorry but the answer is no)?
Suggestion Section
Over at the Riot: how to join a book club online
Station Eleven author Emily St. John Mandel will join the L.A. Times Book Club on May 19
Veronica Roth's Chosen Ones is The BuzzFeed Book Club's May pick and you can read the first chapter online now.
There's a Star Wars Show book club!
WaPo has been hosting a Wolf Hall book club since late march (my bad). If you're either a super speedy reader or already read the book and want to join the convo, the book club chat schedule is here.
---
Thanks for hanging with me today! Shoot me an email at vanessa@riotnewmedia.com with your burning book club questions or find me on Twitter and the gram @buenosdiazsd. Sign up for the Audiobooks newsletter, catch me once a month on the All the Books podcast, and watch me ramble about even more new books every Tuesday on our YouTube channel.
Stay bad & bookish, my friends.
Vanessa